Last Friday (27th March) I was up early in the morning as I'd intended getting tickets to see Kate Bush when they went on sale from 9:30am. It seemed that the moment it turned 9:30am, with the laptop set up ready, the internet decided to go down! Stu got it back up in the next couple of minutes, but I thought that my luck wasn't in; every time I refreshed the page there were no tickets available. By some sheer fluke however, and just 2 minutes before the tickets did actually sell out, as I later found out, I managed to bag two tickets for her show in London.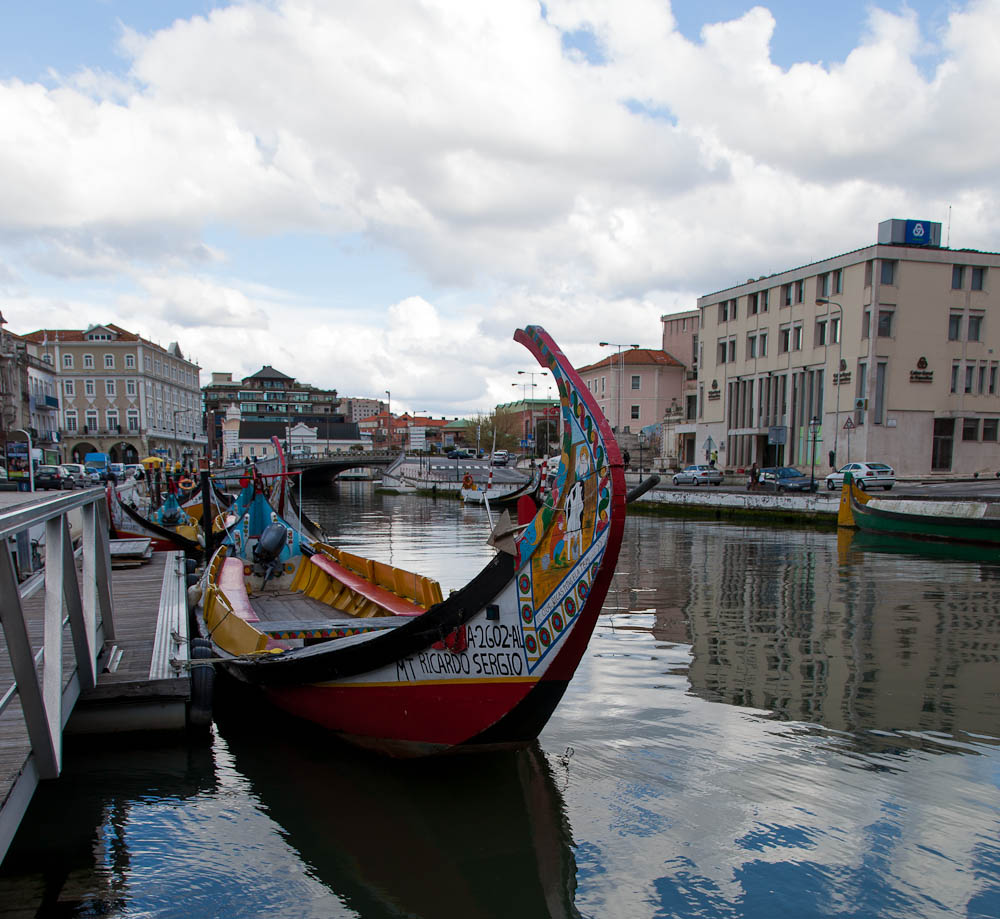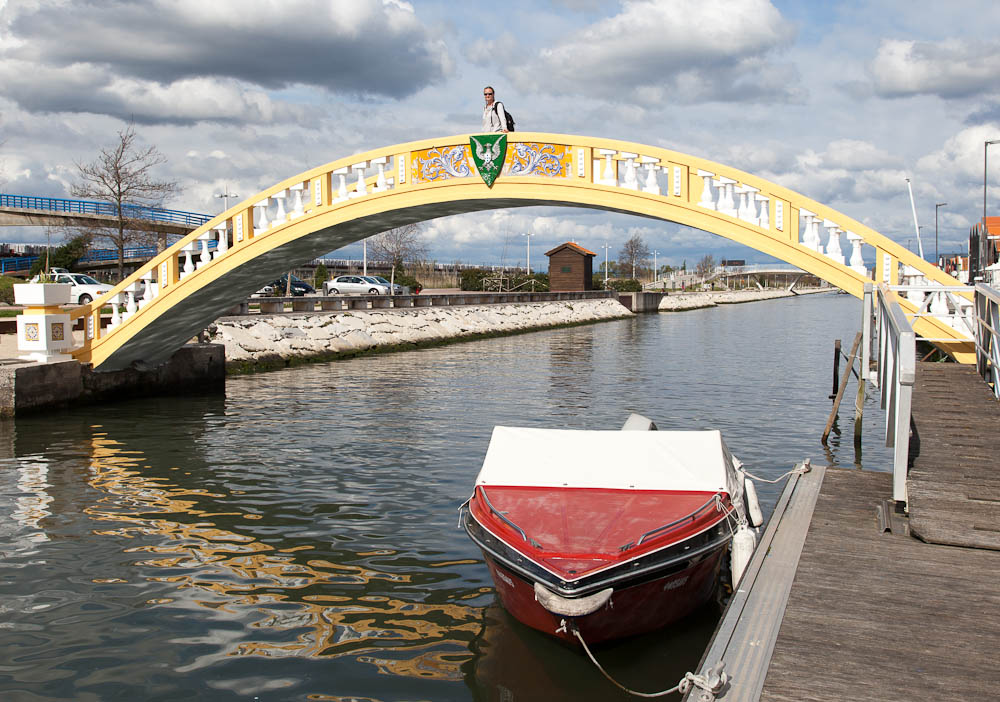 Feeling happy, we left our stop in Coimbra and drove to Aveiro. We found the free stop here and walked into town. It appeared that the main appeal of this town was the canal and motor-powered gondolas. It was quite nice around the canal, but its attractiveness soon dropped off from there. We took little walk around, and I was pleased to find a wool shop so I start my next knitting project.
We decided it wasn't worth stopping in Aveiro, so moved on towards Porto. We stopped a little short of actually getting into the city, instead finding ourselves a free stop on the side of the road that followed the coastline. We had a nice view out to sea, and as the sun was setting we watched as a big dark cloud came across, bringing with it a big lightning storm and heavy rain.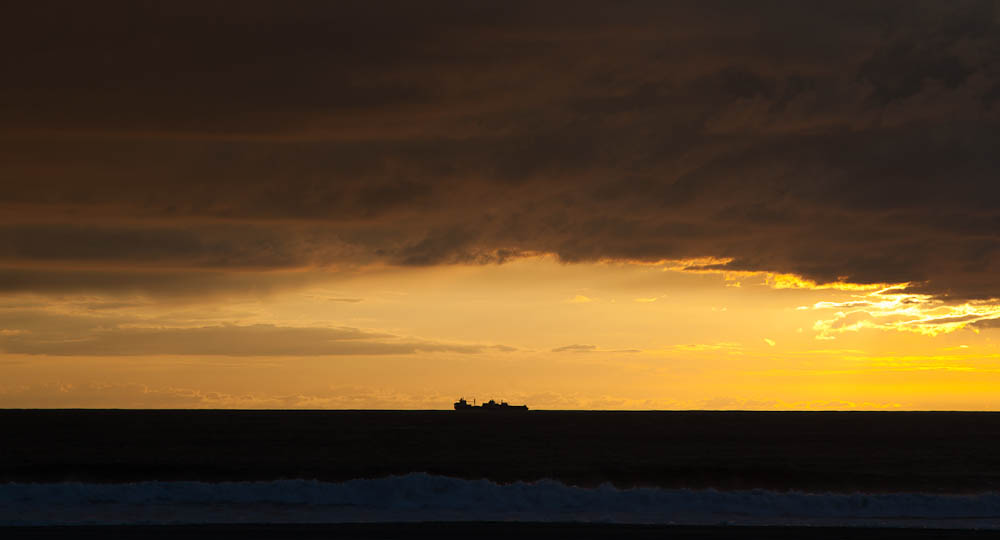 The next day (Saturday) the weather had cleared again and we drove further into Porto, finding ourselves a free stop just over a mile from the centre, along the waterside. It was a lovely walk down the river into the centre of Porto, and as we saw the main part of the city come into view we both immediately loved it, and also remarked that it reminded us both of Bristol - although the central area is quite a bit bigger.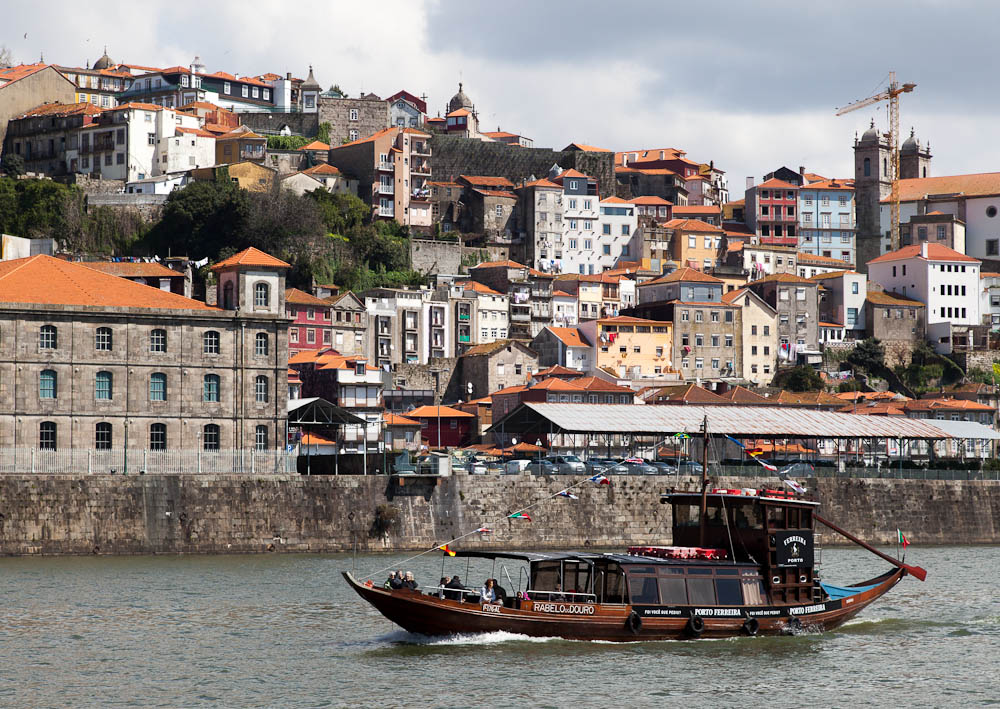 Porto was really pretty, with some lovely old Port boats on the water and the big old bridge connecting the two sides of the city. We took a walk over the bottom part of the bridge - for cars and pedestrians - and found ourselves a nice restaurant just over the other side, which had the perfect spot for looking out across the water and the other side of the city.
Feeling quite full after a large lunch, we took a slow meander around the city. There seemed to be some kind of festival going on as we walked past a small stage with some live music going on. Some parts were quite hilly, but we loved walking around and seeing Porto - definitely a highlight of a trip in Portugal.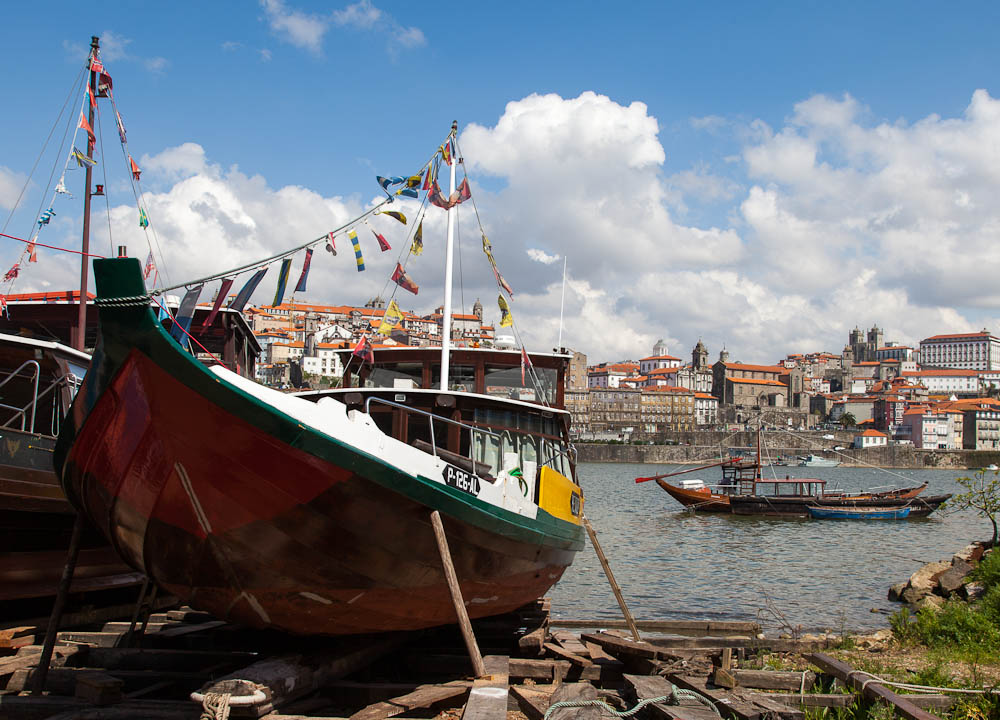 Later on, after taking in a couple of beers at another place along the river side, we took the funicular up to the higher part of the city. From the top we could walk back across the top level of the bridge - for trams and pedestrians - and this afforded us a lovely view across the whole of Porto. Unfortunately, as we headed across the bridge we were a little late to get the cable car back down - it had shut about half an hour earlier - but we took a casual walk down and back along the river to the motorhome.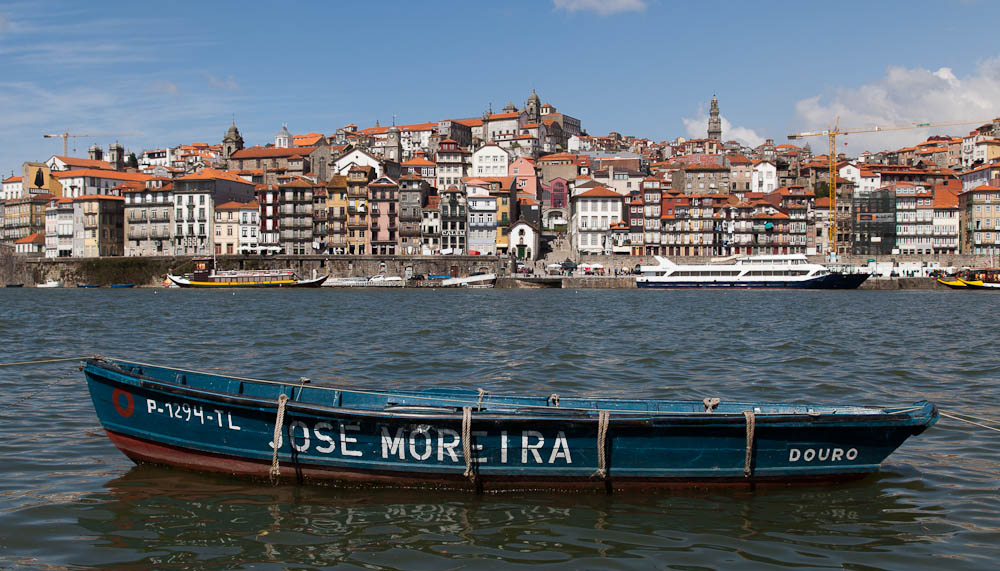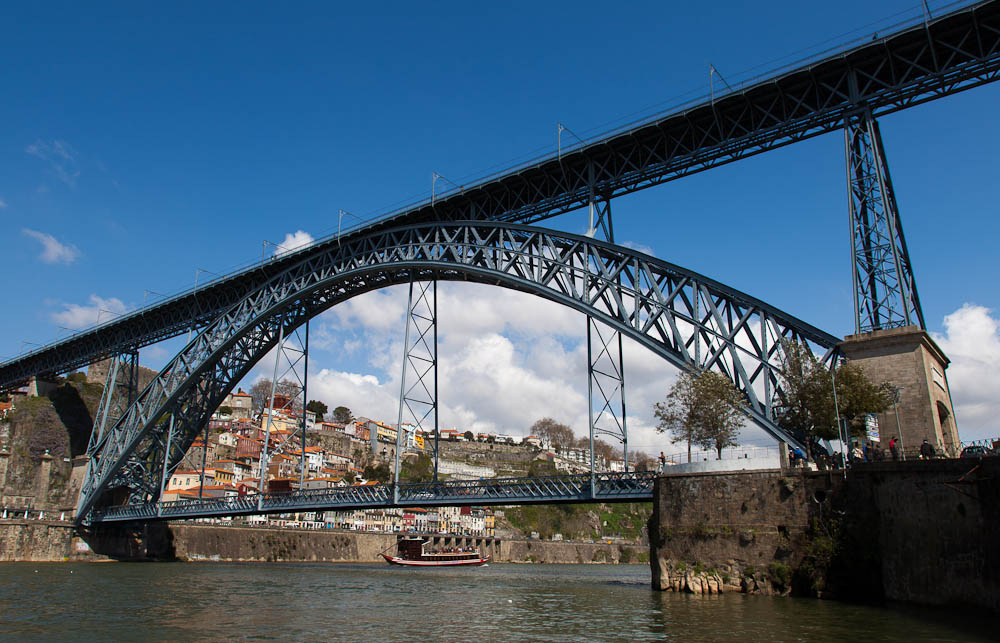 The rest of our evening started off fairly uneventful, until a small van pulled up beside our motorhome. The man and woman jumped straight into the back as soon as they arrived, so we made our own assumptions about what they were up to! However, Stu spotted a man towards the back of our parking area creeping around in the bushes. At first we were a bit worried as we had no idea what he was doing. After creeping back and forth a few times we saw that in fact he was actually trying to spy on the couple next to us! It really gave me the creeps, but thankfully I think the arrival of another car a few minutes later must have startled him, and he got in his own car and left. It made for an 'interesting' evening I suppose!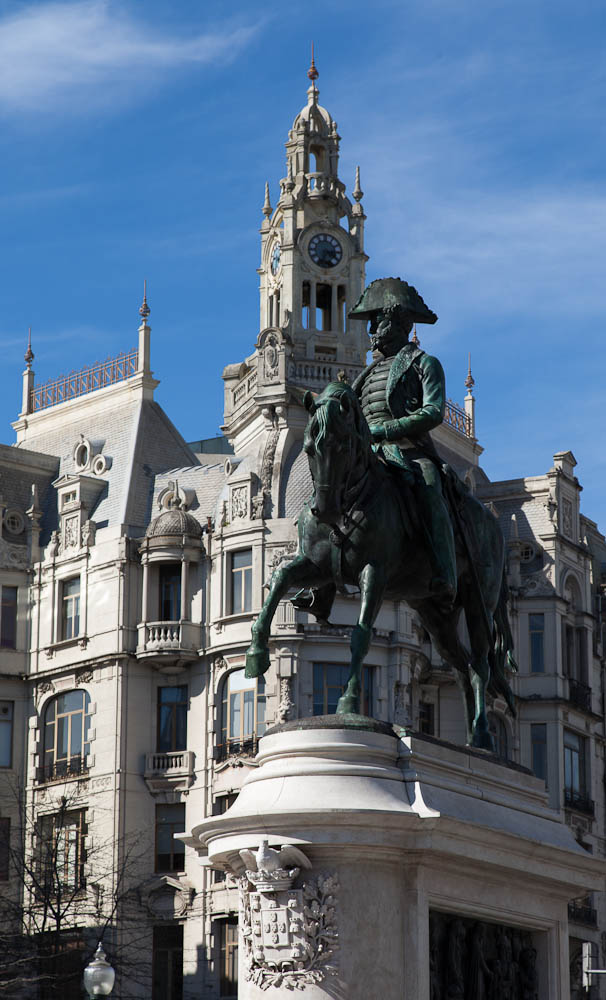 On Sunday, the weather took a turn for the worse again. The day started with heavy rain in Porto, and it looked like it wasn't going to clear. It seemed little point staying in Porto if the weather was bad, so we decided to make the big push out of Portugal and into northern Spain. To keep to our approximate timings we needed to make our way up towards France anyway. It was heavy rain most of the way, but it was fine taking the big motorways for most of the journey. We had forgotten about daylight savings and the clocks going forward an hour. This, combined with crossing over into Spain, and into another time zone, meant that we actually lost two whole hours. Thinking we were arriving at our Aires in Spain for about 6:30pm, we actually arrived at 8:30pm Spanish time. At least our small free stop at Valencia de Don Juan was free, and it also had water and toilet disposal for free too, so it worked out well in the end. With the rain still falling we just made ourselves a quick dinner and settled in at our quiet stop.
The next day (Monday 31st) the weather hadn't improved at all. We had no intention of staying in Spain long, as we had already spent a lot of our trip here. Instead, we wanted to move onto France. We decided that as the weather was bad and we were at a quiet free stop, with some 'free' internet, it would be a good idea to spend the day planning our journey through France. We needed to do it, and we also needed to give some warning to our friends in France, Debbie and Chris, about when we were likely to be paying them another visit.
Feeling pleased that our route through France was all planned, on Tuesday we left Valencia de Don Juan, and Spain, doing the long drive into southern France, which took the best part of the afternoon. Thankfully, the weather gradually began to improve along our journey, and by the time we entered France the thermometer was reading 24 degrees and the sun was shining again. We arrived at around 7:45pm at our free Aires in Anglet, with the intention of visiting nearby Bayonne the next day.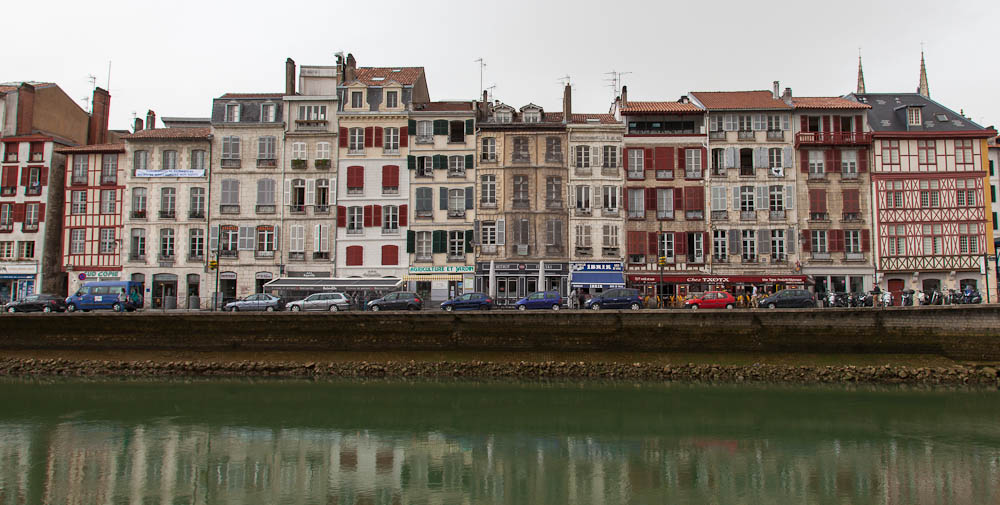 On Wednesday we took the bikes for a ride into Bayonne about three miles away. Bayonne was a pretty little town, and we loved the half-timber houses and tiny backstreets. It was a fairly quiet place, and easy to get around by bike. We found a nice little restaurant for lunch, with some outside seating by the river. Both opting for the 'Plat du jour' of pan-fried duck, we were not disappointed, and with a lovely glass of wine too. I'm sure this is just the start of a lovely gastronomic adventure in France.
We cycled back to the Aires, through the town of Anglet. Deciding that we didn't need to stay another night here, we moved on to Pau. Again, another free stop was found in the town and we took a walk around. The town itself was quite nice, and it had an attractive Chateau, but the main reason for visiting was the panoramic view of the Pyrenees from the edge of town - an impressive sight, and worth a brief visit. We also took the opportunity to buy some croissants for breakfast and some delicious bread from the local bakery.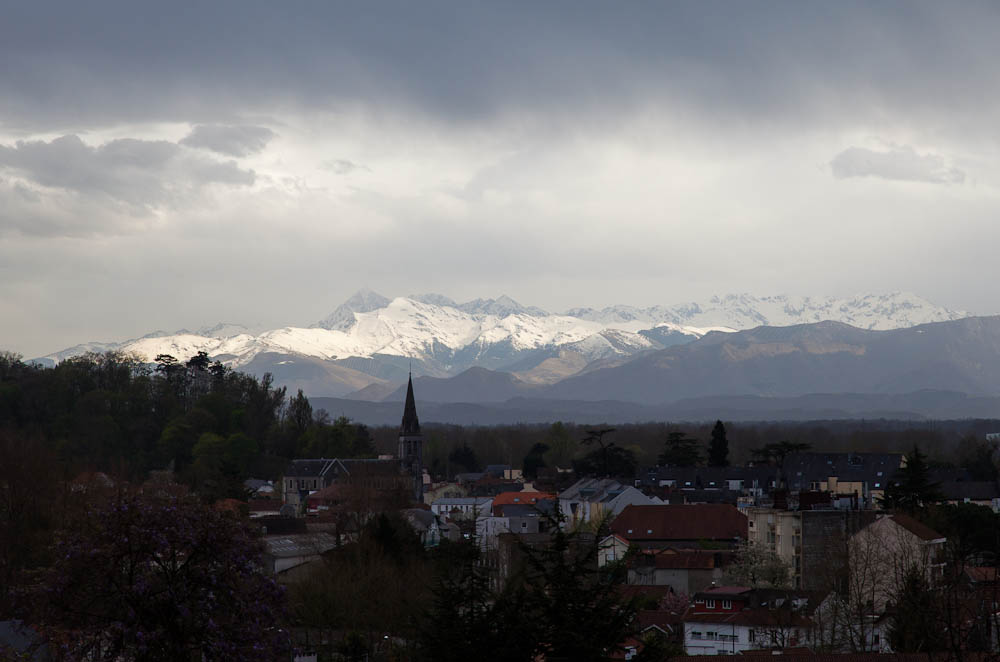 The free stop in Pau was a little noisey, as it was right in the centre of the town, and having already seen what we wanted here, we moved on again. It was only about an hour drive to Aire de L'Adour, arriving around 8pm. The free stop here was by a little river, and there were already a few other motorhomes in attendance when we arrived.
On Thursday we had another rainy day. We had thought the camp stop at Aire de L'Ardour might have been free, but we had a knock on the door in the morning asking for €3 - not too bad at all. After our croissants for breakfast we drove to Bazas. Our guide book had described it as having "stunning Gothic architecture". I think it was mainly referring to the cathedral, which was OK I guess - but we have seen lots of cathedrals on our trip now. We moved swiftly on to Chateau Roquetaillade. This was another fairly quick stop, which was handy due to the rotten weather. It was a pretty Chateau, but after a few pictures we hit the road once more.
We headed on to Bordeaux. As there didn't seem to be any camper stops with access into Bordeaux, and we also had a huge pile of washing to get done, we headed for a campsite. Our first since Luz on the south coast of Portugal! As the weather had been raining all day, and most of the pitches were already taken, we were left with a pitch that was quite water logged. The area to park the motorhome was OK, but all the grass around it was filled with mud and puddles - what fun! I think there was also some sort of event going on at the site restaurant as there was loud music going on until really late. I think we have started to go off campsites on this trip!
On Friday, the wet weather had cleared, and we decided to spend the day getting all our washing done. On Saturday we made our way into the centre of Bordeaux. As the site where we were staying was a few miles outside the city centre we had to get a bus, then a tram - but it didn't really take too long and it was fairly cheap. Fortunately the bus we wanted to get was running late, as we wouldn't have made it in time otherwise.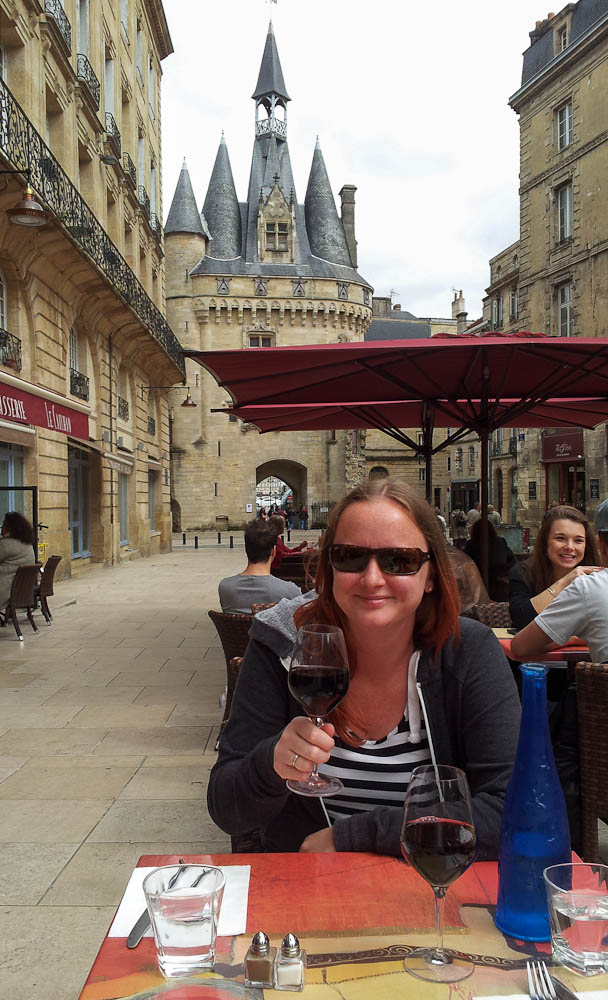 Our immediate impression of Bordeaux was that it was quite grand, and not especially French looking, but still very attractive. We arrived around lunchtime so looked around for a nice looking place to eat. The restaurants located along the river all seemed very pricey, but we found something far more reasonable off this main stretch and on a little square. The man who ran the restaurant was very friendly and helpful, telling us what they had on the menu for that day. We both opted for the quiche of the day and some local wine - Bordeaux wine, of course. Once again, the food and wine were delicious, and after lunch we took a walk around the city. We found Bordeaux to be very attractive with some impressive buildings and lots of lovely looking places to eat and drink. You would never go hungry here! After a great stroll around we headed back to the square where we had eaten lunch, finding another little bar to sit outside and enjoy a beer.
We took the tram back to the bus station, and managed to catch the last bus back to our campsite. Stu bought a bottle of wine from reception. Despite talking to man in reception in French, the guy was extremely rude and it all seemed like too much trouble for him to pick up a bottle of wine and serve him. Then, later on they decided to put on another event in the restaurant so we had loud music again late into the evening. I think I might be writing a review of this campsite on Tripadvisor...
We left the site in Bordeaux yesterday (Sunday), and drove to Saint Emillion. We were certainly driving through wine country here, with nearly every field we passed covered with vines. After checking the map we managed to find a suitable road for us to drive into the town, (the first one wasn't wide enough for our vehicle) and we found ourselves a free stop just on the outskirts of the town, in a small sports centre car park.
The town was small, but beautiful. Every other shop was selling wine from the area, and there were a few old buildings dotted about amongst all the nice looking cafes and restaurants. We opted for a nice looking restaurant on one of the main squares, and I think we made a great choice. It was a set three course lunch for €25 each, and it was worth every penny. We took a recommendation for a bottle of wine from our waiter, another great choice.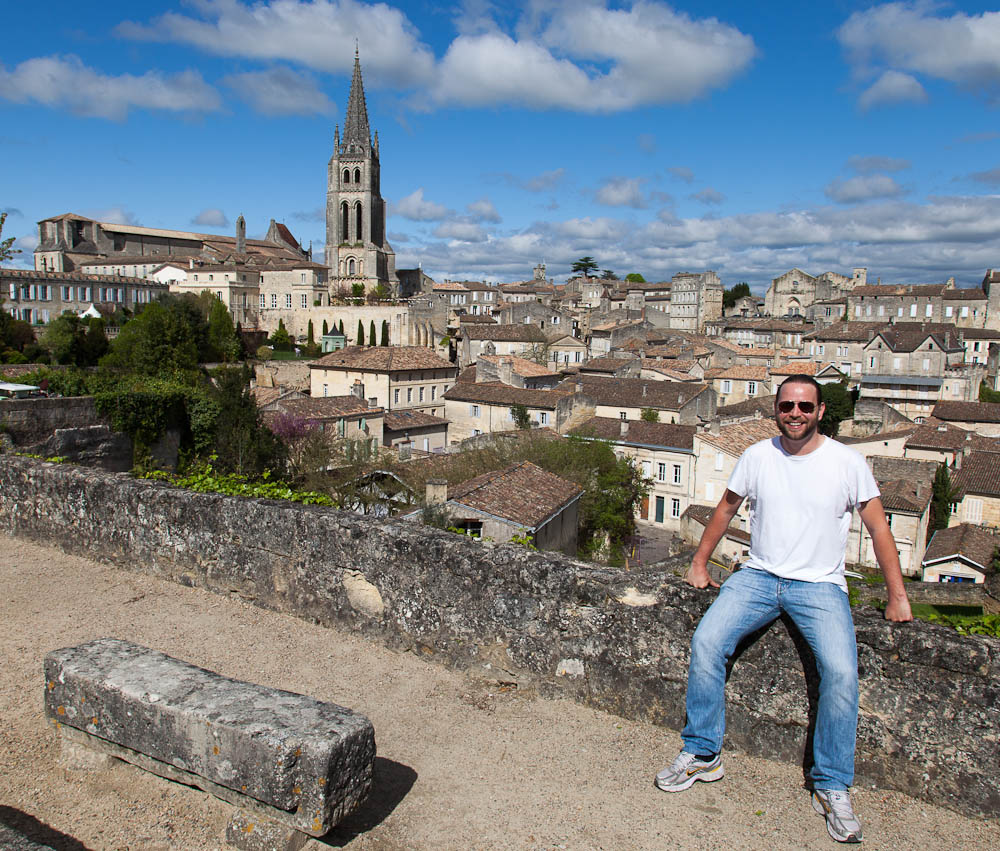 After a cloudy start to the day, over lunch the sun made an appearance and the day turned really warm. We headed over to the wine shop who supply the wine list for the restaurant we had just eaten in. The man who worked there was very friendly - actually a British guy who had lived in France for the last 30 years or so. He actually knew some people who ran the Clifton Sausage in Bristol - small world! We sampled a few red wines on his recommendation, and ending up purchasing a few to take back to the motorhome. We figured that if we were going to buy some nice wines, this would probably be a good place to do it.
After a good general walk around the town, we wandered back to the motorhome. It was actually a good stop for the night, and unlike the previous campsite we stayed in, quiet and free!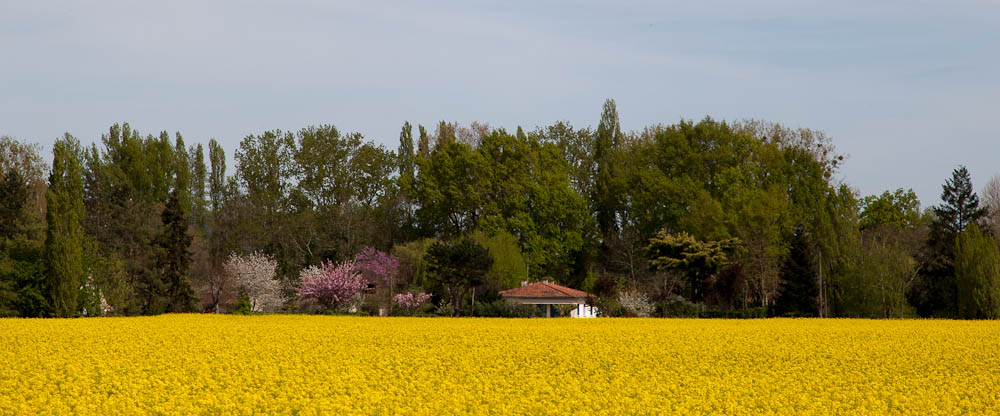 Today (Monday) we drove from Saint Emillion, to Bergerac. There was a camp stop, but we opted for the campsite instead as it had better access to the town. It ended up being a good option as it was quiet and situated right along the river. There aren't many people staying here so we managed to get a spot right by the side of the river. After some lunch we took a walk into the town, just a few minutes walk away across the other side of the river from our site.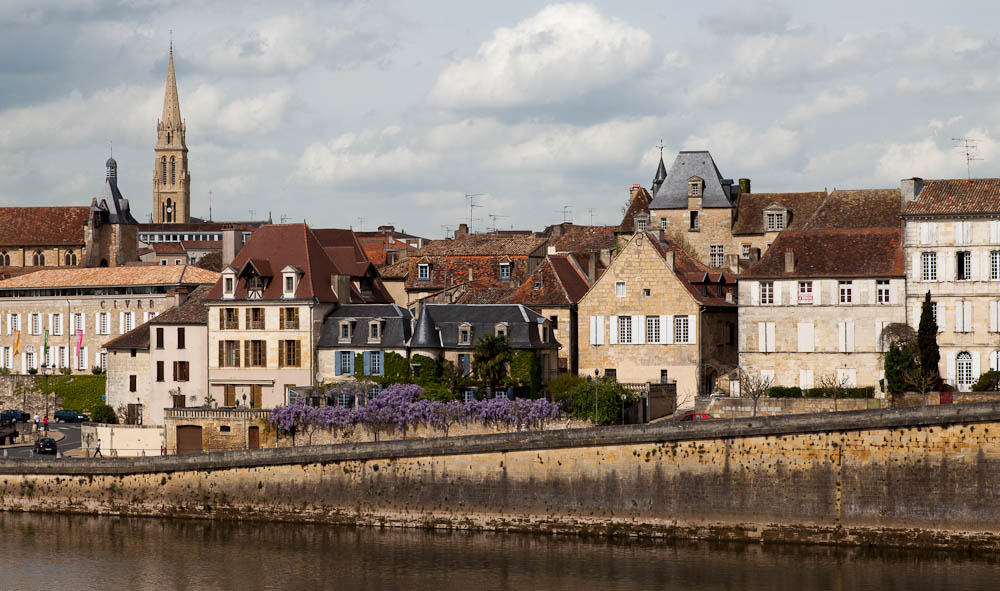 We really like Bergerac. Its historical centre is quite small, but it has some beautiful half-timber houses, attractive buildings and flowers. It made for a very pleasant stroll. The weather has been beautiful today too, so after our walk around the town we got the chairs out of the motorhome and sat by the river. Very pleasant. France has been great so far.