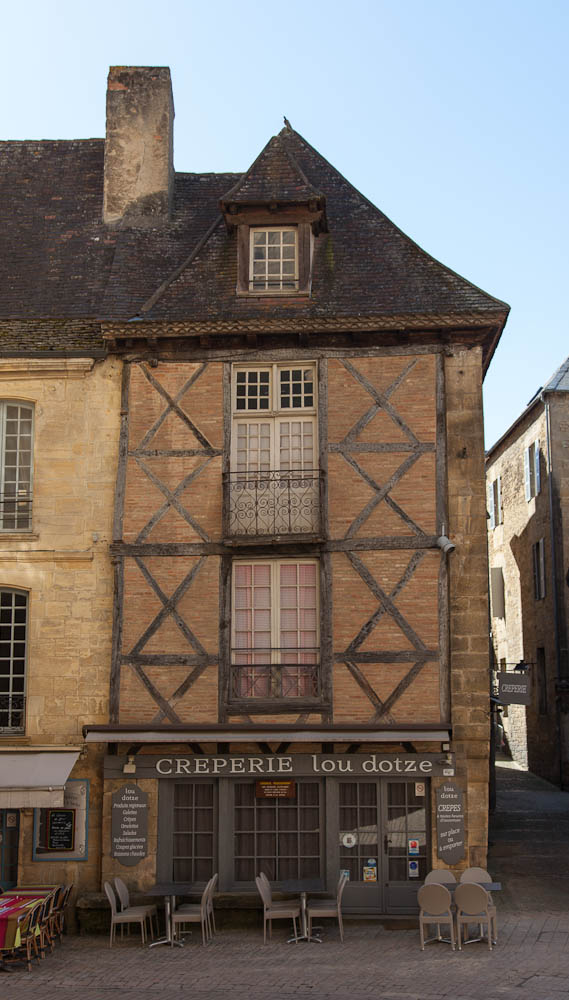 Last Tuesday (8th April) we decided to stay another night at our quiet stop in Bergerac by the river. Well, there was certainly no traffic or people noise, but the geese on the riverbank sometimes had a thing or two to chat about!
On Wednesday we headed out of Bergerac, driving about 70km west to Sarlat-la-Caneda. We found a cheap camper stop near the centre of the town, only around a ten minute walk away. Sarlat is a medieval town in the Perigord Noir region of France, and actually one of the best preserved medieval towns in the whole of France. We took a casual walk around the historic centre, and could see the justification of the UNESCO World Heritage Site status, and also why it has sometimes been used as a setting for films. The buildings were incredibly well preserved, and there were some pretty cafes and shops dotted about the place. As it is so well preserved, it is obviously a bit of a tourist magnet. We are glad to be here slightly out of season, as I'm sure it would get busy in the summer months. While we were here it was very pleasant, and the streets were not at all crowded.
After a good walk around, we stopped for lunch. There were plenty of lovely looking restaurants, but all quite expensive. We can't really eat out in expensive restaurants every day here, so opted for an Italian restaurant near the main square, which seemed a lot more reasonable. Perhaps opting for a French dish in an Italian restaurant was possibly not the best idea - I had better quiche for my school dinners as a kid! Oh well, it can't all be amazing in France. After lunch we had a further walk around, seeing the bits we missed, before returning to the main square for a drink in one of the cafes. After one drink we regretted our choice as we were sitting in the shade. Feeling envious of the cafe opposite, with seats in the sun and free wifi, we moved over there for the next couple.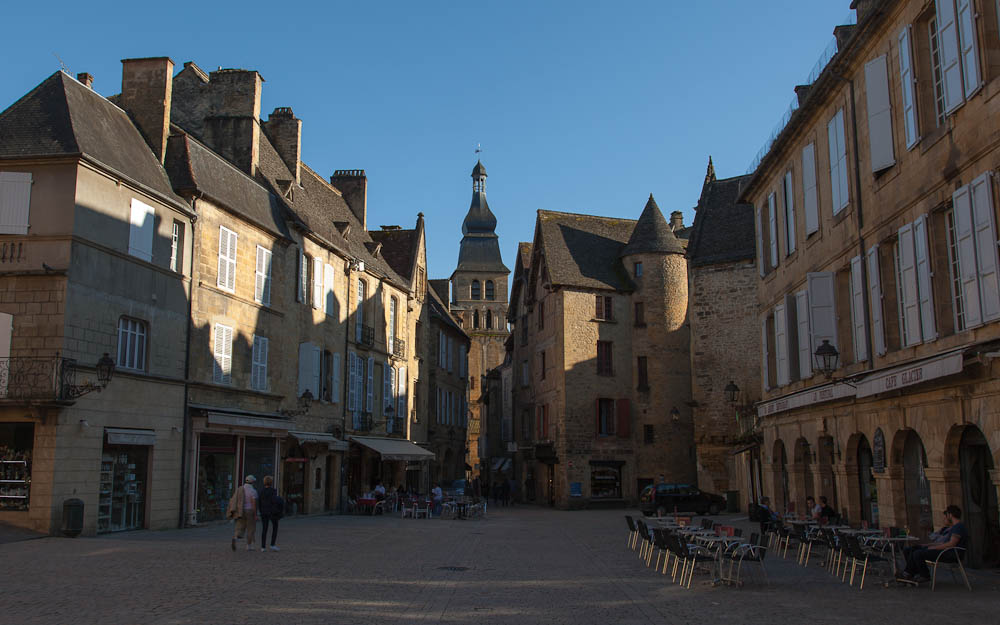 On Thursday we left Sarlat, driving further west again to Rocamadour, set in a beautiful gorge above the river Dordogne. We were unsure what the parking would be like closer to the town so we found a free spot just a few minutes walk away. As we headed closer on foot we spotted ample parking further along, but if we had driven there then we would have not been able to take the time to enjoy the views across the gorge.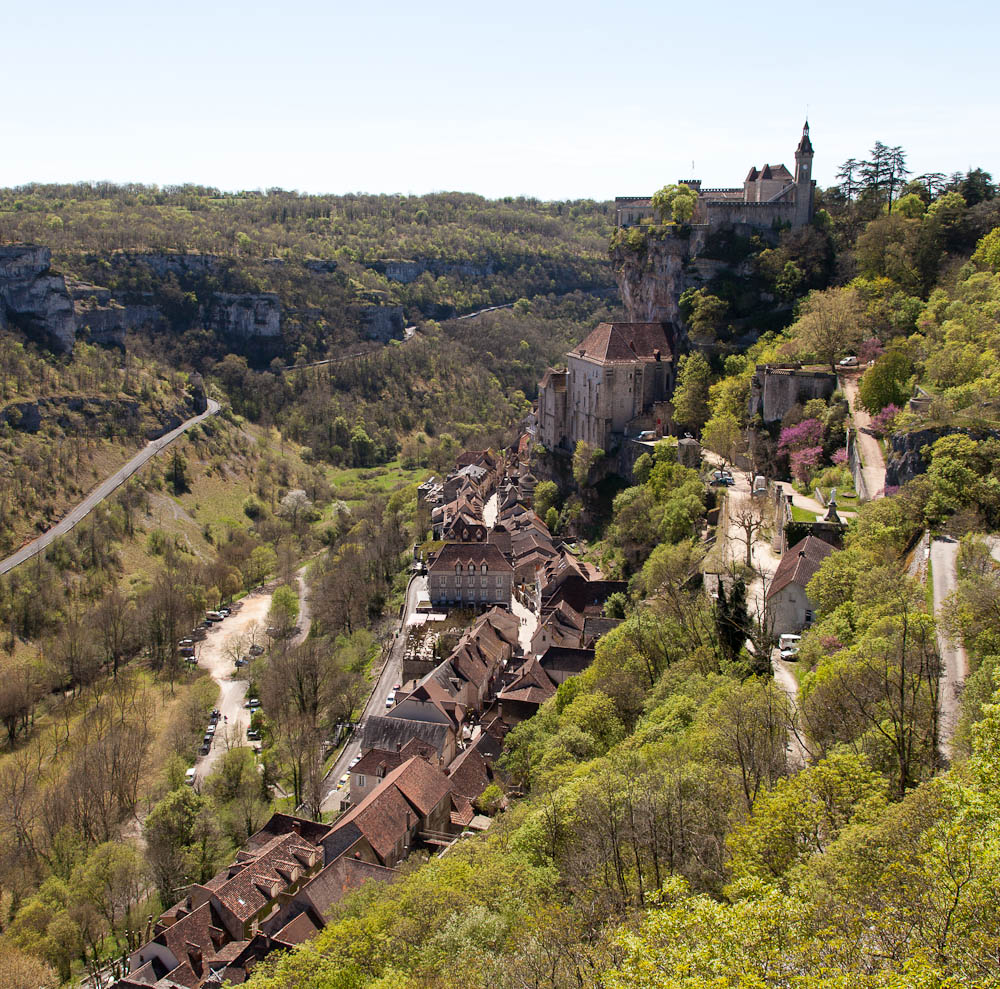 Near the top of the site are the monastic buildings and churches, the major one being the pilgrimage church of Notre Dame. At the very summit is the chateau which dates from the Middle Ages, built to defend the sanctuaries. It is the chateau sitting at the top of the rock that really stands out and makes this place so pretty.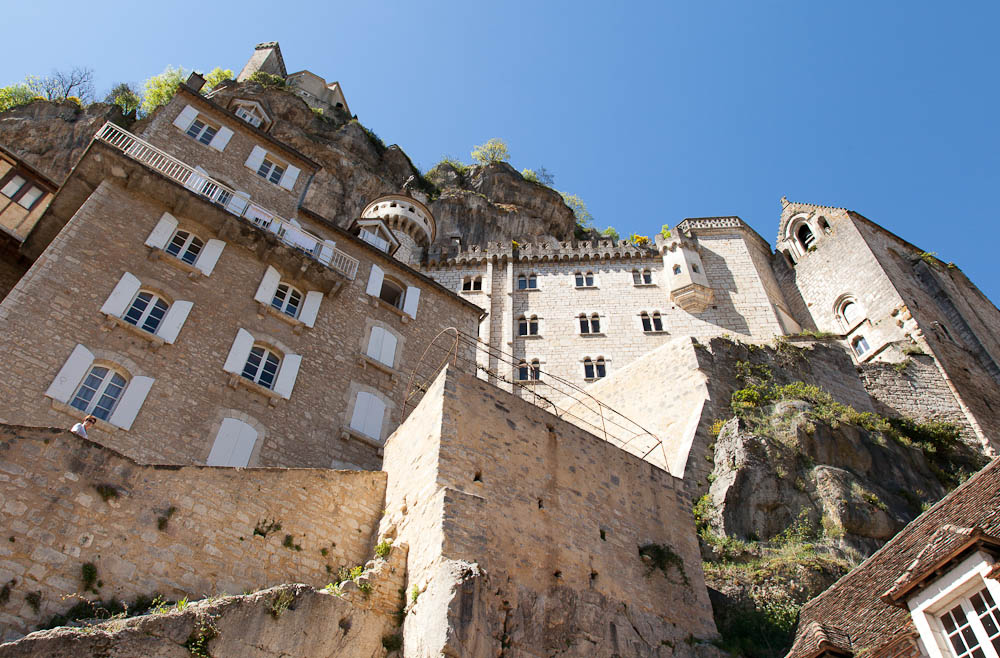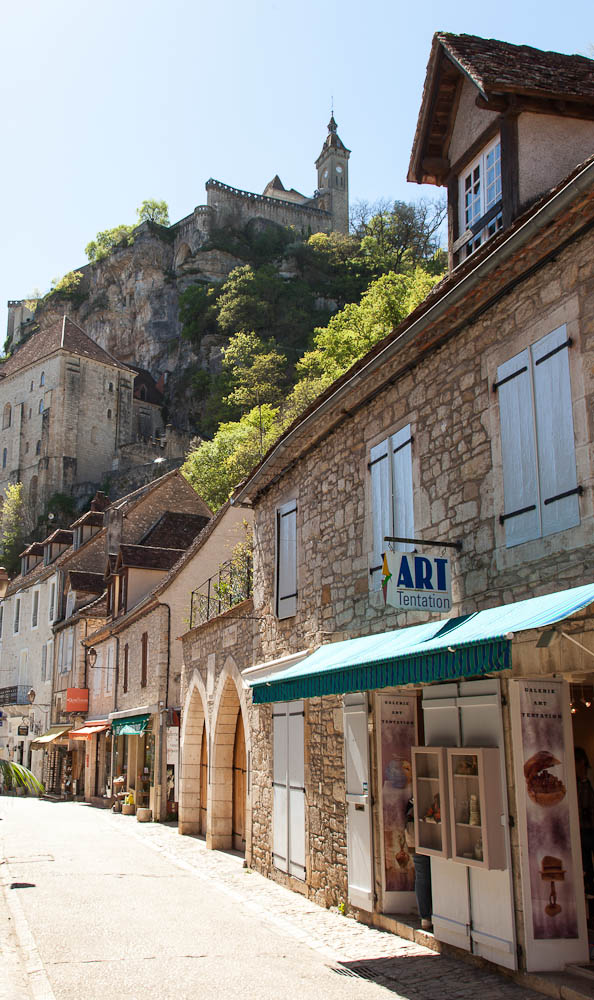 We took the steps from the chateau down to the town below. The town is now clearly dependant on the tourist trade visiting the site above, but it was pleasant enough to walk through the main street. With the weather being particularly hot, and having not yet eaten for lunch, we decided to take refreshment at a restaurant with an outside terrace that had a tasty looking menu. We were a little disappointed when they told us they had stopped serving food, and it was only about 2:30pm. (We are gradually getting used to the strict closing times of shops and restaurants in France.) Having already taken our seats, we decided on a liquid lunch of a couple of refreshing beers, before heading back up to the motorhome, where we sorted out our own food.
We considered staying at the free stop next to chateau in Rocamadour, but as it was only mid afternoon we decided to take the 100km or so drive north-west on to Perigueaux. There was a great camper stop not far from the town, so we found ourselves a spot for the night.
On Friday morning we had a knock on the door from the guy collecting the €5 charge for the stay, then we soon took a peasant walk along the river into the town. It was a pleasant place to walk around, having a nice cathedral, pretty part-timber houses, little streets with pretty looking shops - some great looking chocolatiers, if very expensive. We were on the lookout for a nice place to stop and have lunch, which wasn't too expensive (easier said than done), but eventually we found somewhere with ample outdoor seating that wasn't too pricey.
After lunch I popped into one of the lovely chocolate shops, getting a couple of little treats for my goddaughters Izzy and Chloe - as we would be seeing them on Sunday.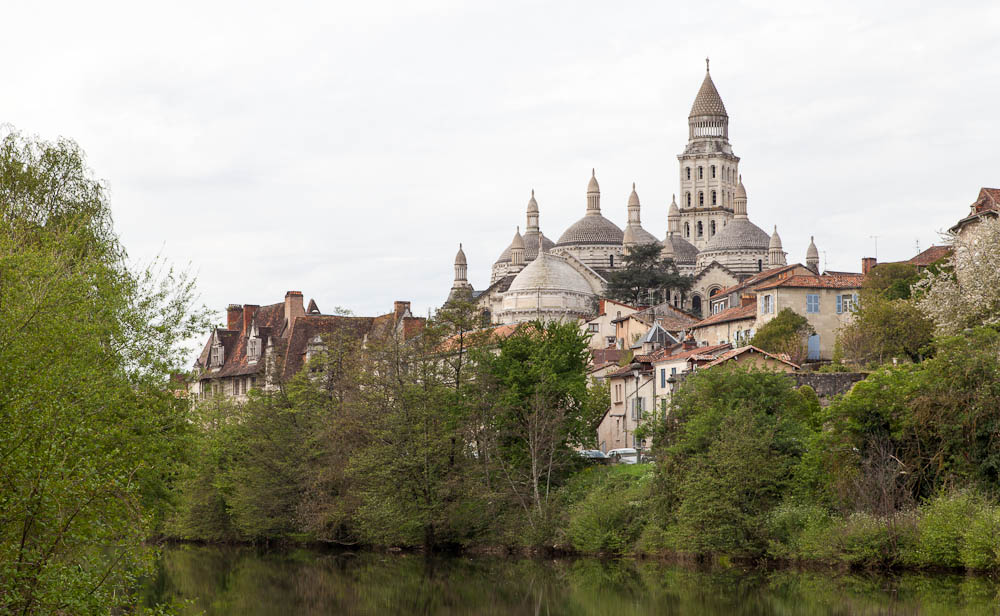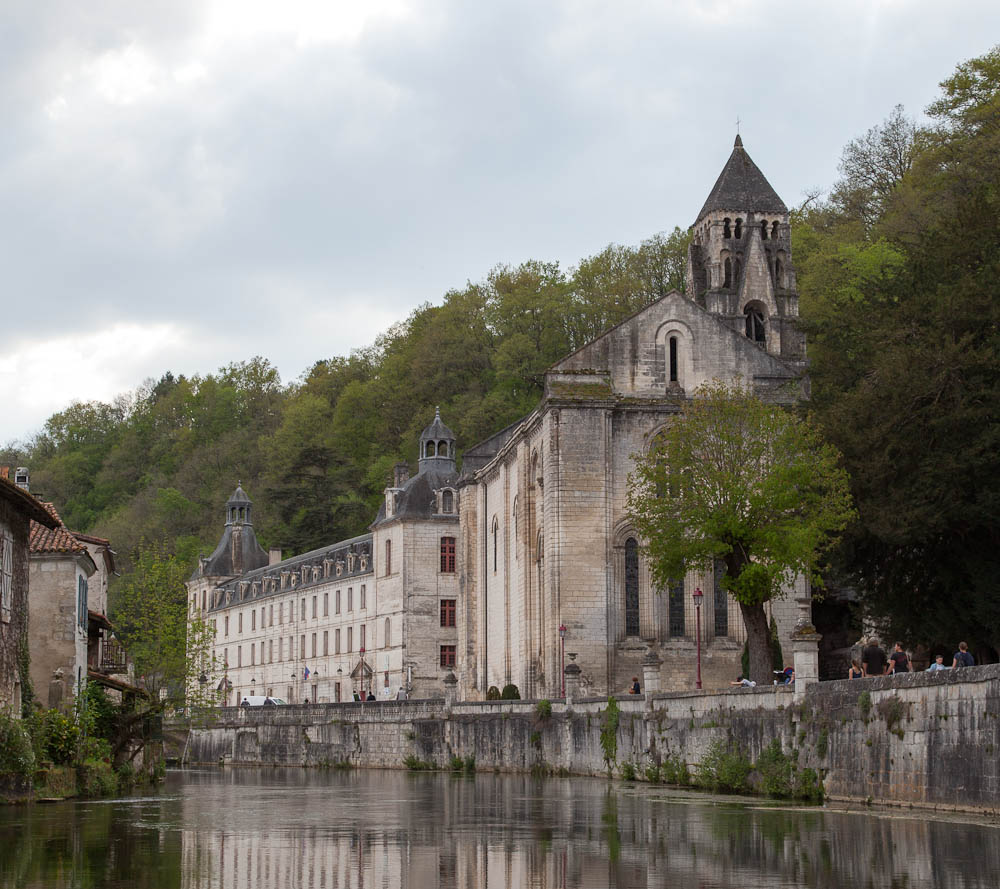 On Saturday we headed further north to Brantome, taking us a little closer to our friends Debbie and Chris, and their family, who live near Saint Pancrace. Brantome is a picturesque town situated along the river Donne. We found our camp stop situated right next to the river and a little park area. Whilst most of the other motorhomes there had parked in the gravel covered area, we took the lead from a few others who had parked on the grass and closer to the river. Fortunately for us, there was a free spot right next to the river, and after parking up we enjoyed some lunch and a drop of Leffe on a picnic bench on the river side - with the company of a family of ducks and ducklings. Stu decided to become the 'duck whisperer', feeding them some of our leftover bread from the previous day.
With the sunshine, blue sky and our lovely river spot it was very tempting to just relax here for the rest of the day. However, we had planned to visit our friends the following day so this was our only opportunity to walk around Brantome, and we were glad we did. It isn't a very big place, but what there is to see is very pretty. The main focus of the town is the Benedictine Abbey, which was founded in 769 and rebuilt in the 15th century. Its bell tower is apparently one of the oldest in the whole of France. We also took the opportunity to take a little boat trip, as we managed to arrive just at their departure time. It was all going very well, and it was a slow and pleasant trip down the Donne, until we needed to turn around and come back. We suspected that due to the reeds in the river, that the turning mechanism of the boat might not be that effective, and after we had our turn around we seemed to be heading straight for the river bank. Whilst they managed to turn the boat away slightly, the front of the boat crashed into the side, with an overhanging tree smashing the bar at the front boat! The boat had only been going at a snails pace, so there was no real impact on us, thankfully. In fact, once we realised that there wasn't too much damage, we thought it was quite amusing. Unlike, however, the woman running the trip. Stu overheard her talking to some French tourists behind us, and when asked if it was her boat it emerged that it actually belonged to her boyfriend. Oops! Oh well, it made the trip a little bit more exciting for us anyway!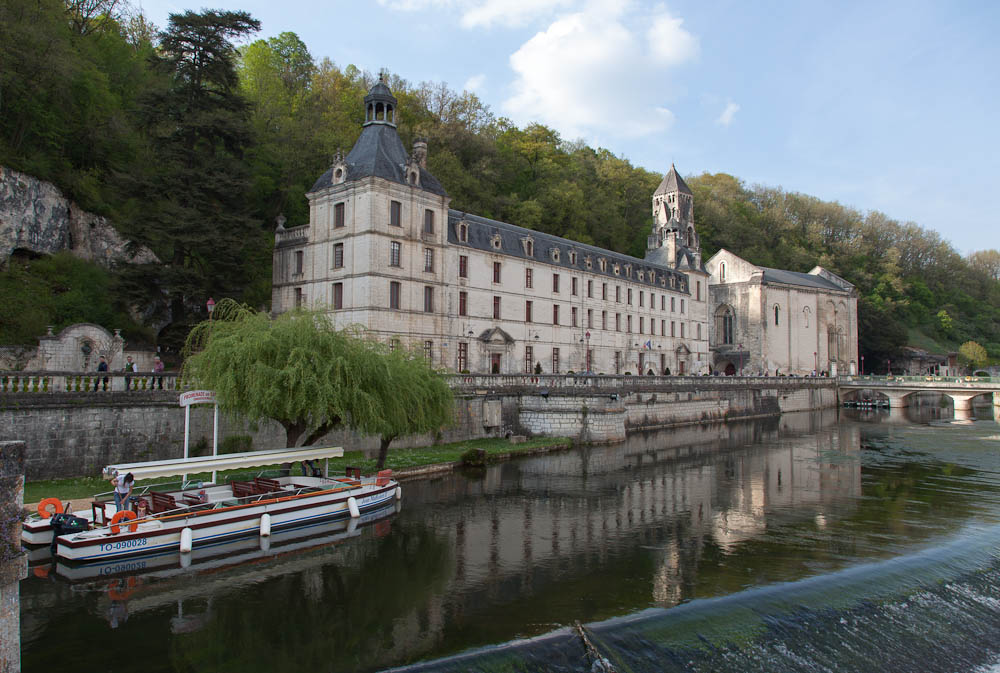 On Sunday we left pretty Brantome and drove up to see our friends near Saint Pancrace, just about 10km away. Debbie and Chris, their twin daughters Izzy and Chloe, and their parents Alison and Roland all live on a large estate near Saint Pancrace, from where they run their charity, Brantome Police Horses. We also met Alix, an English girl who is currently on her own travels in Europe, staying there for a while and helping out with the charity. We arrived just before midday, and we all found it strange that it was over four months ago when we were last here - it doesn't seem that long ago. They had had an event the previous day, which had required a lot of preparation, and had also attended another fundraiser the previous evening, so after our arrival they were all able to take a well earned rest with us. It was a lovely day relaxing and catching up around their pool in the beautiful sunshine. It was also wonderful to catch up with my goddaughters, Izzy and Chloe - who kindly reminded me that last time we were here they were only four, but now they are five. I think Stu also quite enjoyed spending some time with them and trying to teach them a bit of guitar!
Stu cooked a lovely meal on Sunday evening, and after the kids were in bed he and Chris watched a movie in the gallery - all set up with speakers and projector - and Debbie and I retreated in front of the telly for more catching up over a cuppa. As the family had Alix staying in their spare bedroom, and were also expecting guests the following day in their gite, Stu and I stayed the night in the motorhome on their land. It was probably one of the quietest places we have stayed at for a while - not a sound to be heard.
Monday was another beautiful day. We spent most of the morning and early afternoon sat outside once again, enjoying the weather and chatting. Debbie had also kindly invited her friend Jo over in the morning to give both Stu and I a much needed haircut. The last time were had a haircut was by her back in November!
Debbie was driving back to England mid afternoon with Izzy and Chloe, so after a wonderful bread, cheese and wine lunch in the sunshine, we waved goodbye to them as they drove away. Stu and I stayed a little while longer, but eventually had to tear ourselves away and move on. It was very tempting to stay another night here, but we still have lots to see on the rest of our trip, and now only around six weeks to do it in! We bid farewell to Alison, Roland, Chris and Alix, around 6:30pm, driving north to Oradour-sur-Glane. It was soon to get dark on our arrival, so we headed straight for our free stop at an Aires, not too far from the old town.
After Debbie and the kids had left, Roland took us all into the woods on their land, and we did a spot of shooting with his Remington 1858 replica gun. I felt a little apprehensive at first, and I'm not sure Alix felt too happy about it either, but we all had a go at shooting and it was actually good fun.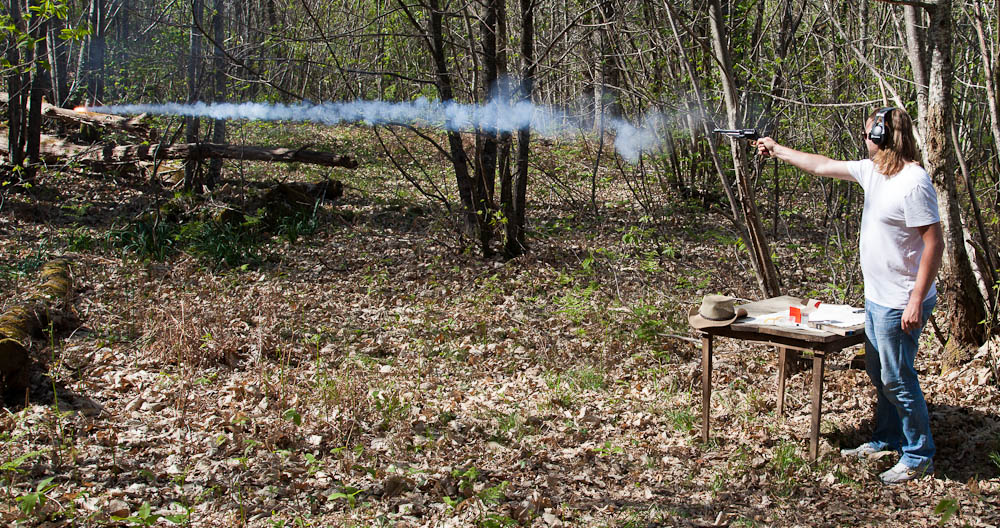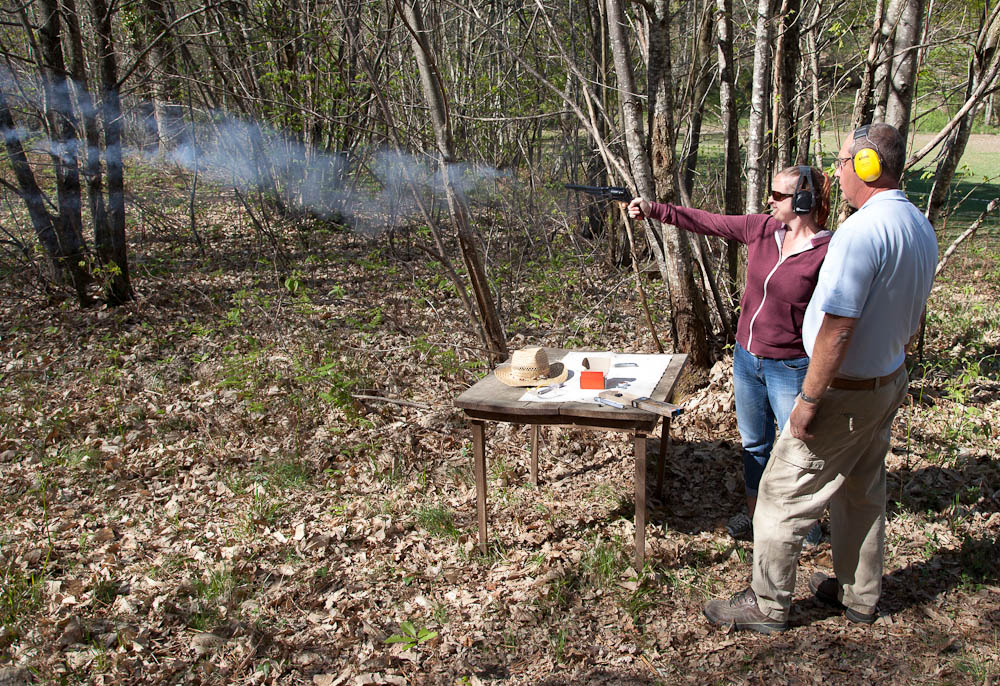 Yesterday (Tuesday) we took a walk into the site of the original Oradour-sur-Glane. Whilst there is a new village which has been built next to it, the original village stands as a memorial to the events of what happened there during the Second World War, on 10th June 1944. On that day, a German Waffen-SS company sealed off the town of Oradour-sur-Glane, and ordered the population to assemble at the village square to check identity papers. In reality, due to suspected partisan activity in the area, this was to help determine which of the towns people were partisans. While the village was searched, women and children were locked inside the village church. From here they could hear their men being shot at various garages and barns through the village. Then they themselves were burned in the church. There is some speculation about the exact sequence of events during the day, and also in the lead up to this day, but the end result was that 642 men, woman and children of Oradour-sur-Glane were killed and the whole village destroyed by SS soldiers. The remains of this original village were left and maintained as a permanent memorial to the people who died that day, on the orders of the former French President Charles de Gaulle.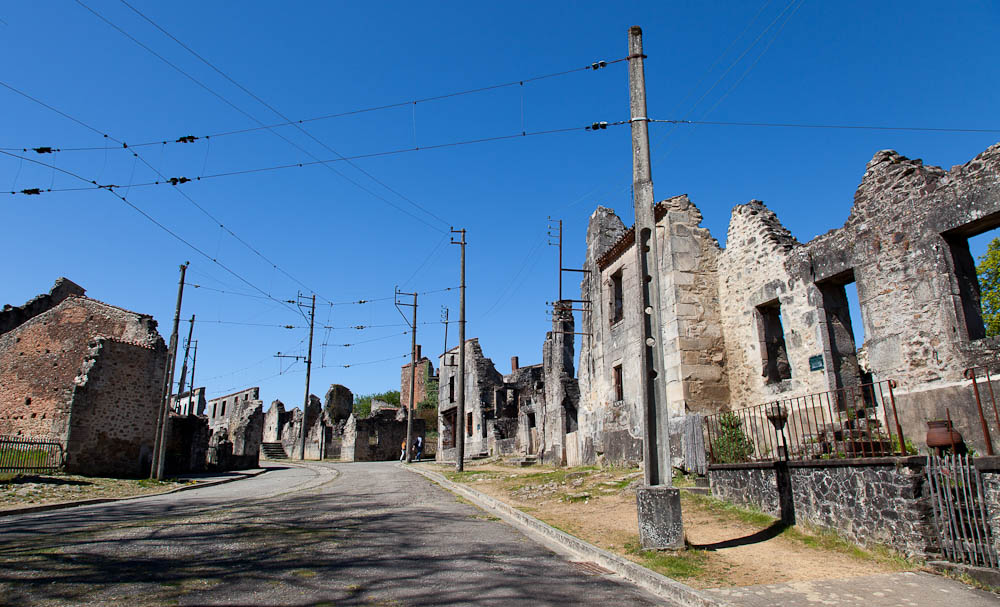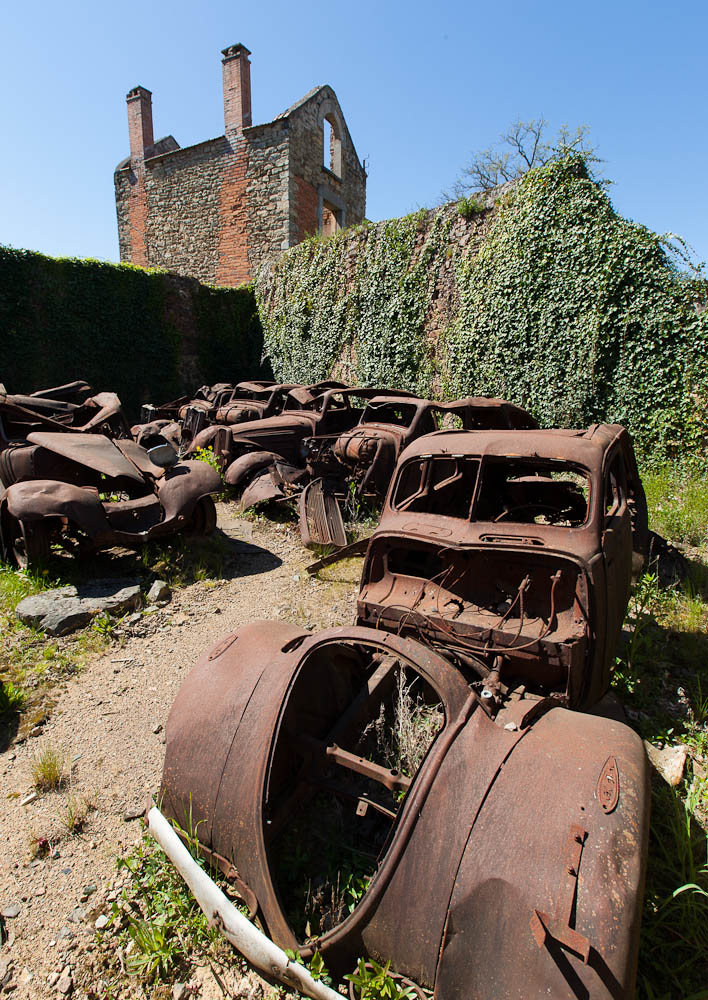 Entrance to the memorial village is free and we took a couple of hours to walk around. Whilst some of the people's belongings have been collected up and put inside the memorial building at the end of the village, inside some of the ruined houses in the village are still items left from that day, such as sewing machines, water pumps, bed frames, prams, bakery and ironmonger tools, and even cars. It was a solemn place to visit, but fascinating all the same. It was definitely worth spending the time to walk around and see all the buildings, and even the church which was partially destroyed in the fire that killed the women and children inside.
After an interesting time at the memorial village, we walked back through the new village of Oradour-sur-Glane, picking up some bread for lunch, on the way back to the camp stop. After some food we drove north to Portiers. When putting together our route through France, we had originally planned on visiting this city, described as having some picturesque religious buildings. However, having seen a vast array of religious buildings throughout Europe we decided while driving yesterday to give it a miss. Stu was reading a guide book while we were driving, and read about a theme park at Poitiers called Futuroscope. It sounds like it might be worth a visit, and it has ample parking for motorhomes too which is great. We parked up for the evening, and today (Wednesday) planned to visit the park later in the afternoon.
We went into Futuroscope after 5pm, getting our half price tickets. Upon entry we were able to aquire a little translator pack, which allowed us to plug in some headphones and hear English translations for all the rides and shows. On reflection, the half price evening tickets were a better choice than paying full price for the whole day. Our first impressions weren't great when we went into the "Time Machine" ride. I think it was clearly designed for very young children, and we didn't really have a clue what was going on. It was basically a little ride that just placed you in front of screens which displayed different moments through history, but in some sort of manic, childish, incomprehensible way. Even some of the kids on the ride didn't seem that thrilled by it.
Thankfully, the place managed to redeem itself a bit. The "Arthur 3D" simulator ride was actually really good, and along with the "Cosmic Collisions" display in the planetarium-type building, these were probably the best things we experienced in the park. It was a bit of a rush trying to see everything, as some only had specific showing times. We saw a few other films, the "Monsters of the Sea" 3D film being quite good, though the IMAX "Travellers by Air and Sea" was pretty dull. We also stopped off in the restaurant for some dinner - actually a perfectly cooked steak and chips for a theme park.
Probably the most hilarious point of the evening, and which probably made the entry price worth every penny, was the "Virus Attack" ride. This was another simulation ride. The animation and ride itself was certainly not as good as the Arthur 3D ride, and with our translator pack not working now for some reason, we couldn't really follow what was going on. However, I don't think I have ever been on such a violent simulation ride in my life. Stu and I were just laughing the whole way through as we were rocked and shaken about - it was hysterical. I so wish I could have filmed it somehow, I'm sure it would have given everyone a giggle to watch it.
After 9pm all the rides were pretty much closed, so we headed back to the bar for a beer before leaving the park. The evening show started at 9:30pm, but we weren't too bothered to see it, expecting it to be fairly cheesy and designed for kids. We caught a few minutes of it as we were passing and heading for the exit. It actually didn't look as bad as we'd imagined, with some lasers and animation projected onto water, but we still weren't too fussed and headed back to the motorhome. Our overall impressions of Futuroscope? Definitely not worth paying the full price day ticket, the evening ticket is the best option. Whilst there were a few things that were entertaining, we felt it would be far more enjoyable for kids. However, saying that, if you were going to pay for an expensive day out with your kids in France, I am sure you would have more fun at Disneyland instead. It was a strange place as it billeditself as being at the cutting edge of technology, when in fact it really just offered similar things to other theme parks, just without the roller coasters. (Stu note: go off season, queuing for these "rides" is just going to cause you misery).
---
The Brian Jonestown Massacre
Vacuum Boots
The Dandy Warhols
Country Leaver
Animals As Leaders
Another Year
---