Last Thursday morning, waking up in the camping area of Futuroscope, we were a looking forward to our croissants for breakfast, which we had reserved the previous evening at the camp shop. We were a bit disappointed to find that they had ignored our reservation and had already sold all of the croissants! We weren't the only ones; there was already a group of other people complaining about the same thing. In addition to that, people were also complaining that after 8:30am, they would be charged another full days parking charge (€7), but we were already aware of this and had decided the previous night that it was worth the € just to be able to have a lay-in and leave when we feel like it.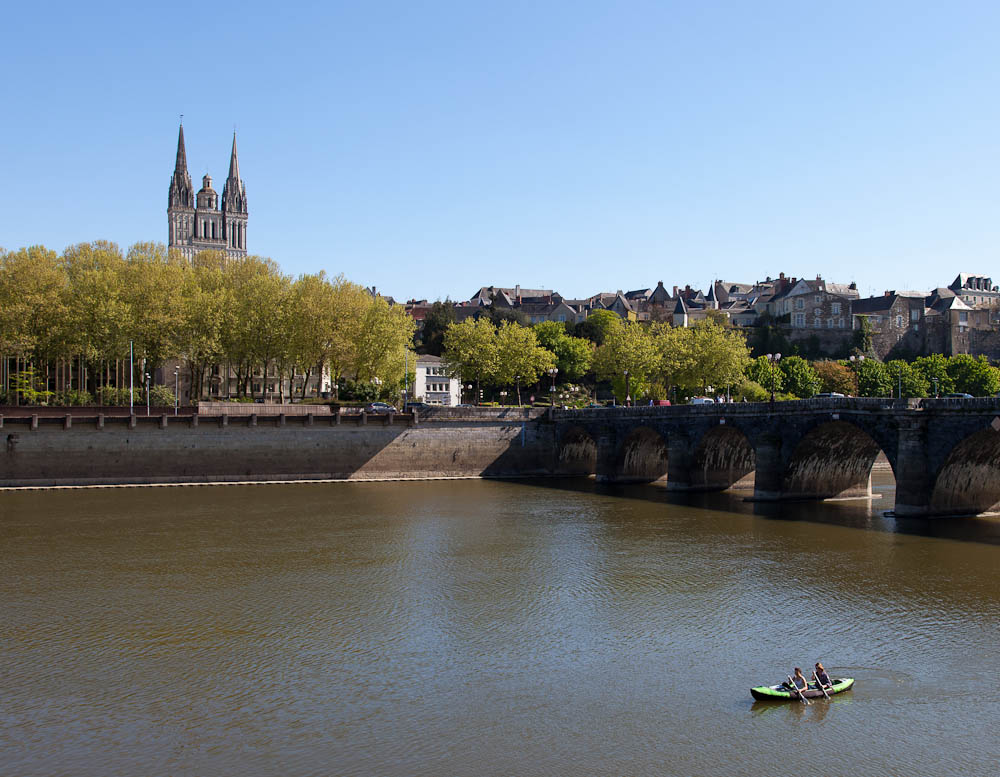 We left Futuroscope, and Poitiers, and drove north to Angers. We arrived at a camp stop which was fairly near the centre, but it had a secured gate. It seemed that the only way to get in was to obtain a code for the gate from the tourist office in another part of the city. This didn't make much sense to us, and it was clear by the empty camp stop inside that everyone else thought the same. Fortunately, there was another free stop near the centre of town. It was basically a huge, and busy car park, but we must have arrived at just the right time and took the space of a car just leaving.
We took a walk to the medieval centre, only a few minutes away, taking us firstly across the impressive bridge over the wide Maine river. The main sight of the city is the massive chateau, built between 1230 and 1240 by Louis IX of France. It is an awesome sight, with walls a kilometer long and containing 17 towers. We had planned to visit several chateaus during our trip through the Loire Valley, so we decided against going inside this one. Instead we walked all the way around the outside, before heading off to see the cathedral. Feeling a bit tired, and perhaps a little too tired to venture to all the sights, we were happy taking a more casual walk around, then heading out of the busy city to somewhere a bit quieter.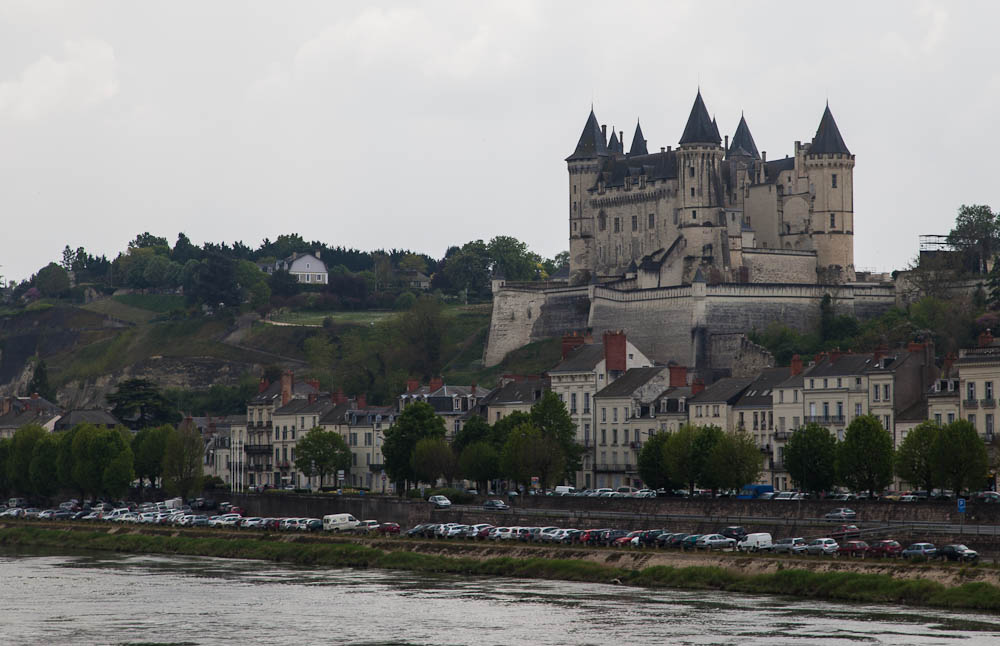 Once out of the city and well on our way into the Loire Valley, we were a lot happier. The scenery became prettier and the setting far quieter and tranquil. We began driving along side the Loire river, going through tiny towns and villages along the way, until we found ourselves a little camp stop for the night at Saint Clement des Levees.
On Friday we continued our drive east, mainly along the Loire river, and arriving at Chinon, situated a few kilmoteres from the Loire on the banks of the Vienne river. Being Good Friday we were pleased to find a supermarket open where we could stock up on food, before parking up near the chateau, the main reason for our visit here.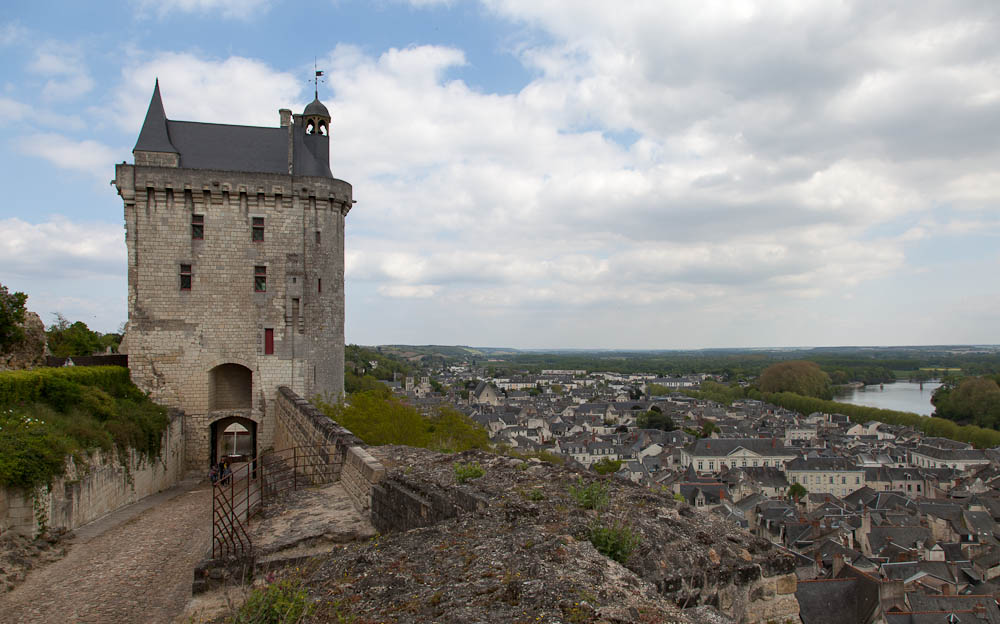 We found the chateau visit to be OK, but some of the exhibits inside were really dull. They had projected films onto large panels to help explain the history of the place, but they were silent films - I assume to ensure they could be understood in any language. However, the films were really long and didn't actually explain anything at all. I would rather have just read the text and not wasted my time! Besides the films and a few exhibits in cabinets, there wasn't a huge amount to see, so we didn't think the €8.50 was really worth it. It had nice views across the countryside though.
After some refreshment at a cafe in the town, we returned to the motorhome and drove to Villaines les Rochers, not far from Chinon, to a free stop for the night. It was a little parking area in the centre of this small village, and was fairly quiet.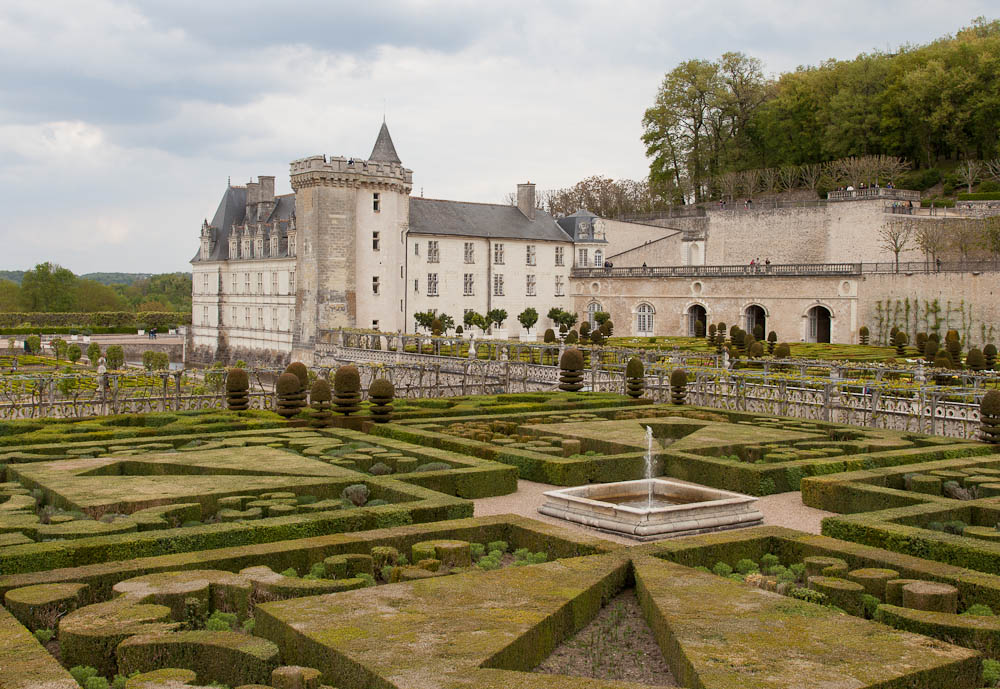 On Saturday we drove to Langeais, home of the medieval castle, rebuilt as a chateau in the 15th century. It was impressive from the outside, but we opted not to pay the €9.50 to go inside as reviews we had read didn't seem to indicate it was worth it. Instead, after a brief look around, we continued on our whistle-stop tour of the chateaus of the Loire Valley, and arrived not far away at Villandry Chateau. We decided on visiting the inside of this chateau, and glad we did. The inside was fully furnished and with really interesting rooms and displays. The gardens were really impressive, and are considered by some to be the most beautiful gardens in the world.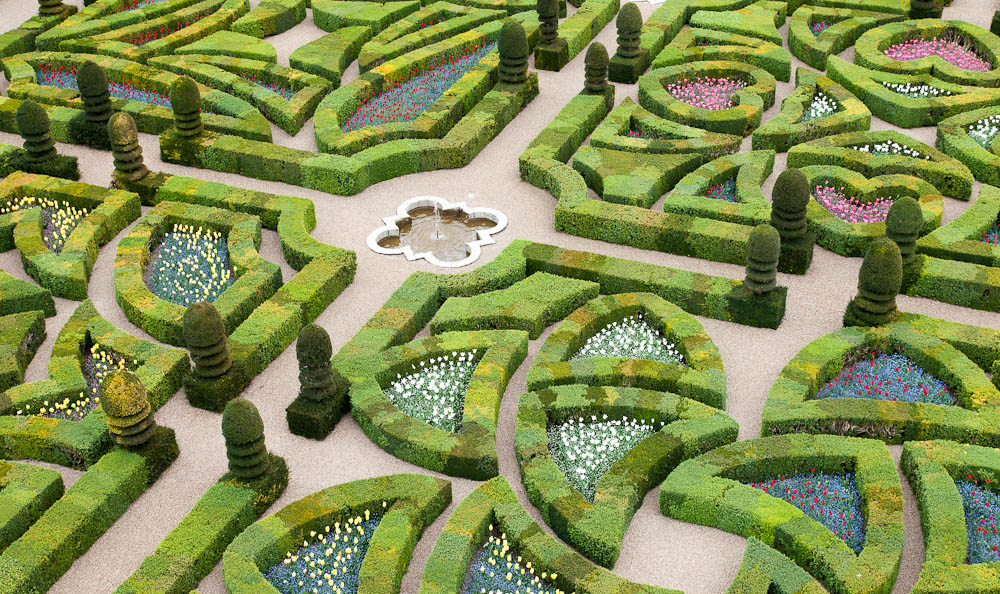 Next we drove on to Loches. As we were making our way to a free stop through the centre of town, we found the road ahead to be blocked, due to a fete being set up. The only turnings we could take were down two very tiny roads. By some good fortune, some policemen happened to be passing, so Stu jumped out to talk to them. They assisted in blocking the traffic behind us, allowing us to turn the motorhome around and head back down the road we came from and find an alternative route. How very helpful of them!
Not wanting to risk driving through the town again, we took a ring road leading us to the other side of the town, where we found our free stop. It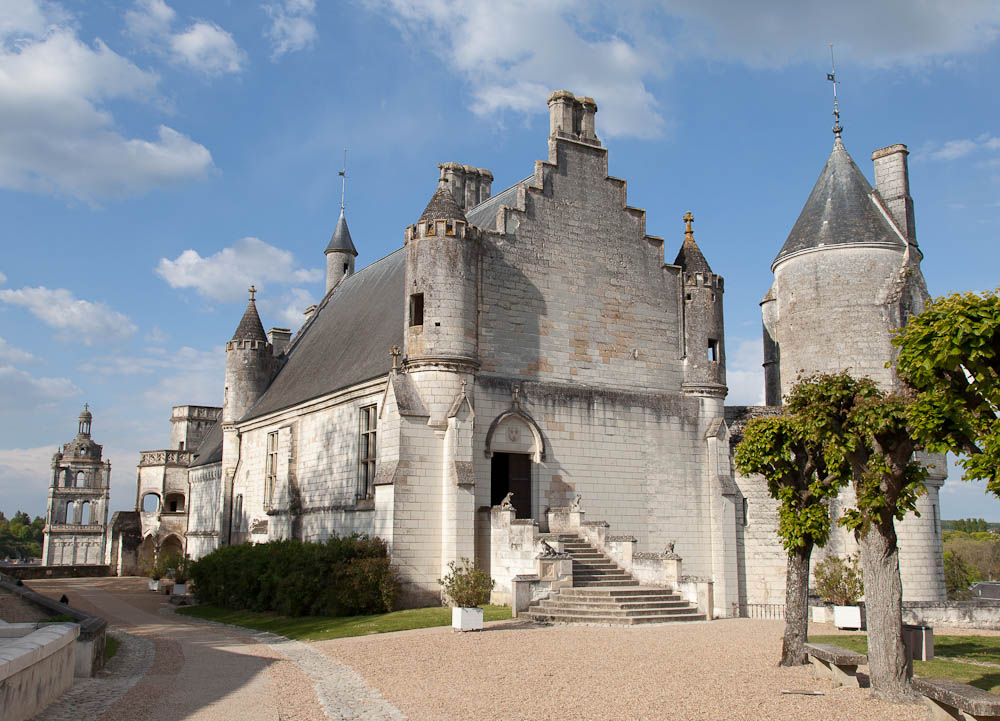 I'm not sure we would describe the town of Loches as "exquisite", as our guide book does, but it had a nice chateau, tower and keep which made for a nice wander around, but it didn't warrant a very long visit. So, after returning to the motorhome we drove a little further through the Loire Valley to Chenonceau. Once again, this was a chateau stop, but it was early evening by the time we arrived so we just parked up at the chateau - they had an area for overnighters - and planned to visit the chateau the following day. Not wanting to park too close to other motorhomes, we parked up between two others leaving a bit of a gap. We half expected that if it did get busy, that someone may turn up and ask us to move across so they could squeeze into, which they did. However, we didn't bank on it being a rude Italian banging on our window and shouting "You are taking up two places. Move.". We did the decent thing and moved, but a shame they couldn't have asked a bit more politely, and even knocked on the door rather than banging on the window.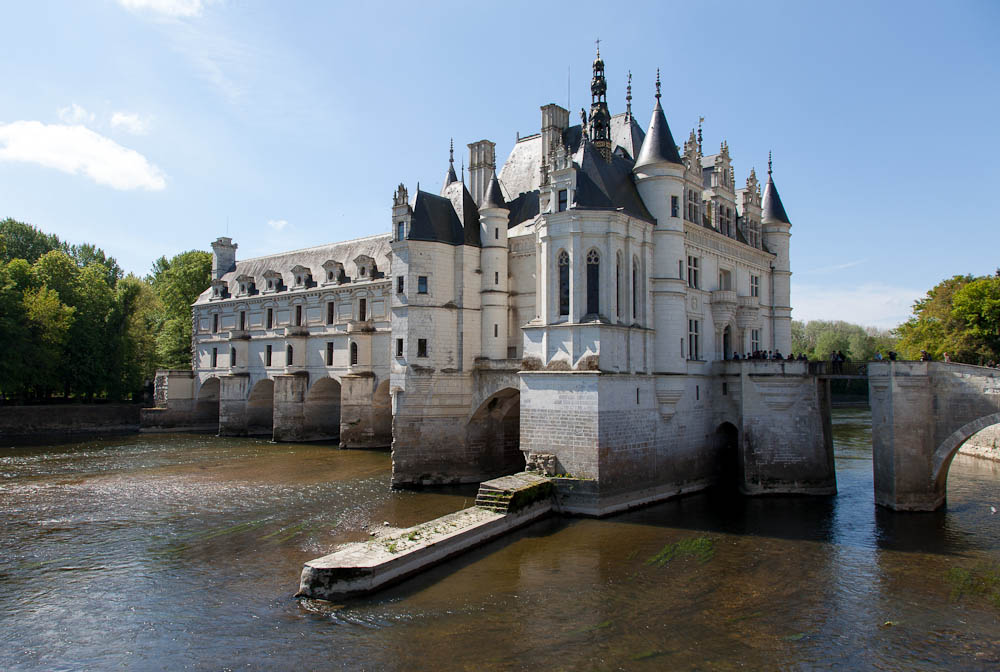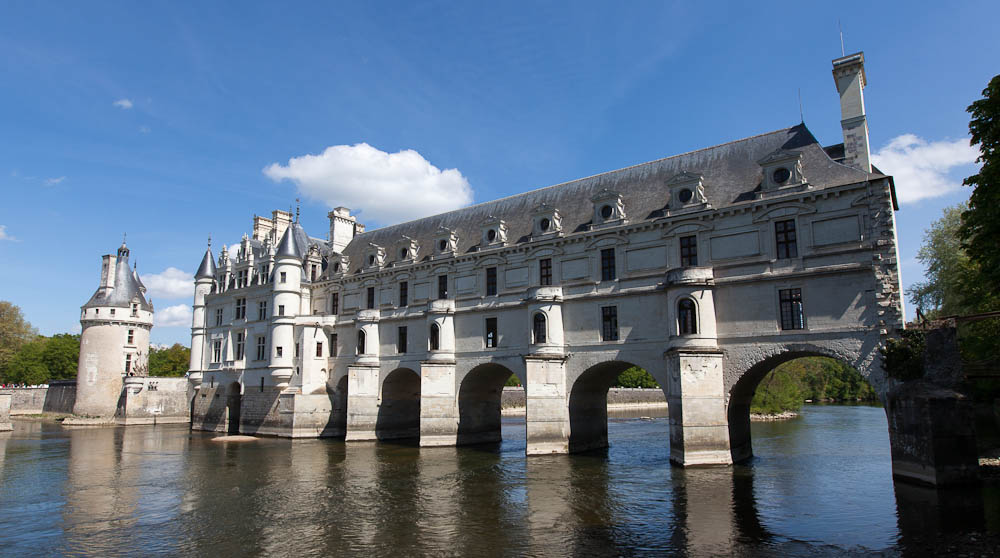 On Sunday morning we headed out for a visit to the Chenonceau chateau. It seemed that most of France had the same idea as us! This is, apparently, the second most visited chateau in the whole of France, after the Royal Palace of Versailles, and being Easter weekend too (which we had almost forgotten, with being on the road and away from television) it was a bit of a scrum getting through some of the rooms in the chateau. That said, it was still well worth the visit as the rooms inside were superb. We have discovered from this visit, however, that the French seem to have this incredible knack for standing in doorways and generally getting in the way. It seems that whenever they are in doubt about where to go next, or need to talk to their friends, they think the best place to do this is right in the middle of a bloody doorway, or perhaps right in the middle of a staircase. Quite infuriating sometimes!
After touring the inside, and relieved to be out of the scrum, we took a casual walk around the outide and the gardens, before heading out of Chenonceaux and driving to a campsite in Montrichard. As France is so well catered for in terms of Aires and free camp stops, we have had little need to stay at campsites. However, with a big load of washing which needed doing, staying in a proper site to get it done seemed like the best option, so that took up the rest of our Easter Sunday.
On Monday after leaving the site, we made a brief stop at the supermaket next door. I say brief stop, as they were actually just closing up when we arrived - as it was Easter Monday. We managed to do a quick trolley dash to get a few bits before they hurried us out.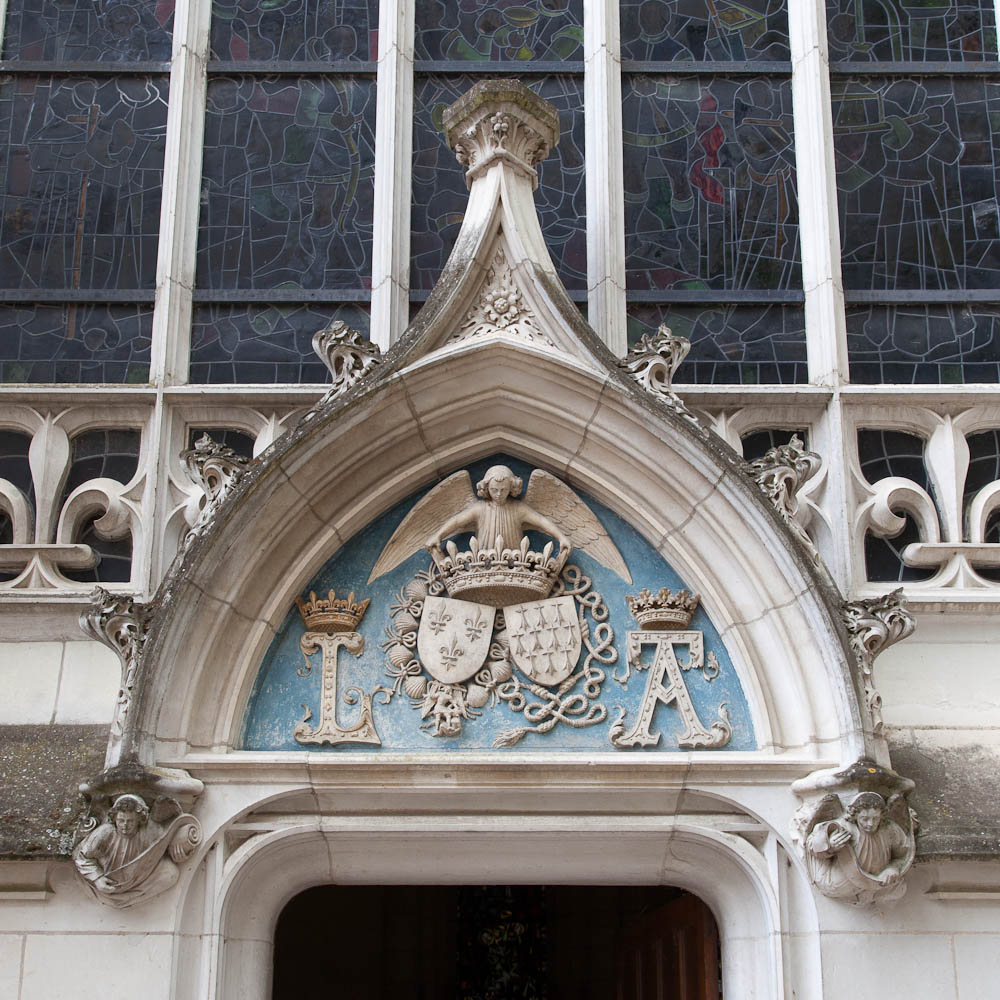 Then we headed to Blois. Another city, another chateau. This one is a Renaissance chateau, which was once occupied by King Louis XII. We paid to go inside the chateau, and it was certainly worth the visit as the rooms were well laid out and interesting. One slight annoyance was the continued request by people working there that I either put my rucksack in a locker or wear it on my front. I don't really trust all my valuables in a locker, and find that a rucksack sits far better on my back than my front, so I ignored all of these requests. Plus, I feel perfectly capable, at the age of 35, to be able to walk through a building without knocking it to pieces with my rucksack. This annoyance aside, it was a nice chateau and worth the visit. However, we several days of visiting chateaus was definitely taking its toll. We needed a coffee before heading out of Blois, and drove straight to a free stop at Tour-en-Sologne, not feeling energised to do anything else for the rest of the day.
On Tuesday we drove to Chambord, to visit the biggest chateau, and our last of the Loire Valley. We encountered some more rude people here, a couple of women who decided that the queue for buying tickets didn't apply to them, so they just stood next to the queue and pushed in. We weren't entirely surprised when the guy serving them asked their nationality and they replied "Italiano". Figures.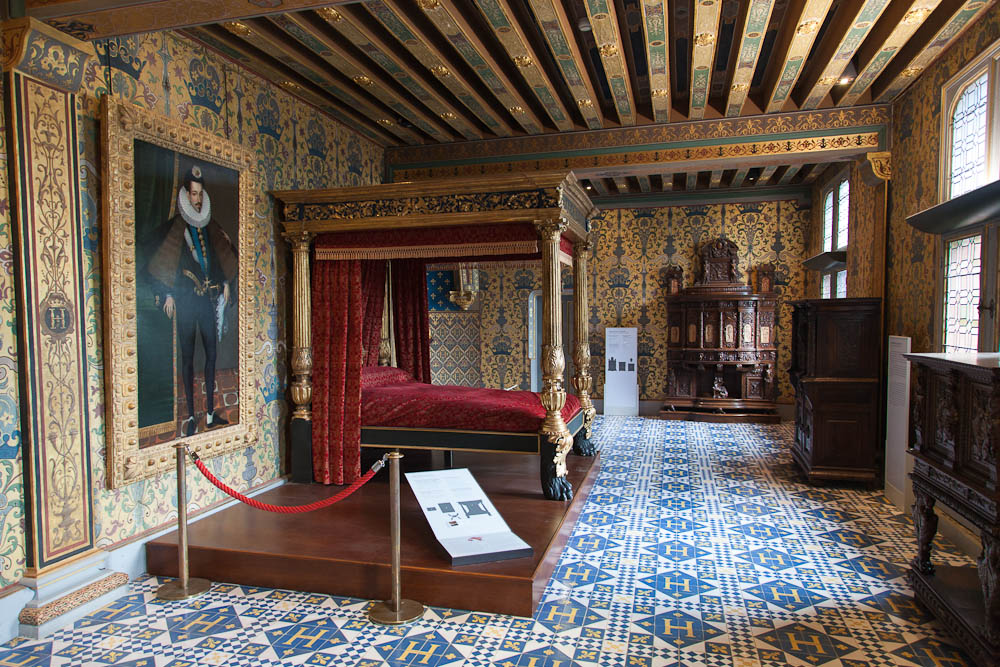 The inside of the chateau is quite sparse in places, but some sections of the interior were interesting, and in one of the rooms they had an informative 15 minute film, translated into different languages, to explain the history of the chateau. It was built as a hunting lodge for Francois I, though he actually spent very little time there. Whilst the design of the chateau is attributed to Domenico da Cortona, there is also a belief that Leonardo da Vinci may have responsible for some of its design. It is a truely amazing building, and a fitting end to our trip through the chateau-rich Loire Valley.
We decided to take a long drive for the rest of the afternoon, heading south-east. The weather was pretty rotten most of the way, with some of the heaviest rain we have seen for a while. Our next big destination is Lyon, so we wanted to make some headway, and managed about 230km to Saint Pereuse, where we found a campsite - the only reason being that Stu needed some reliable internet to sort out some business stuff. The site is nice enough though, and very quiet.
Today, both feeling tired after an enjoyable, but quite busy route through the Loire, we decided to stay at our site another day and relax. With good internet available and peaceful surroundings, it feels like a good spot to spend a relaxing day, before we continue into the last few weeks of our trip.