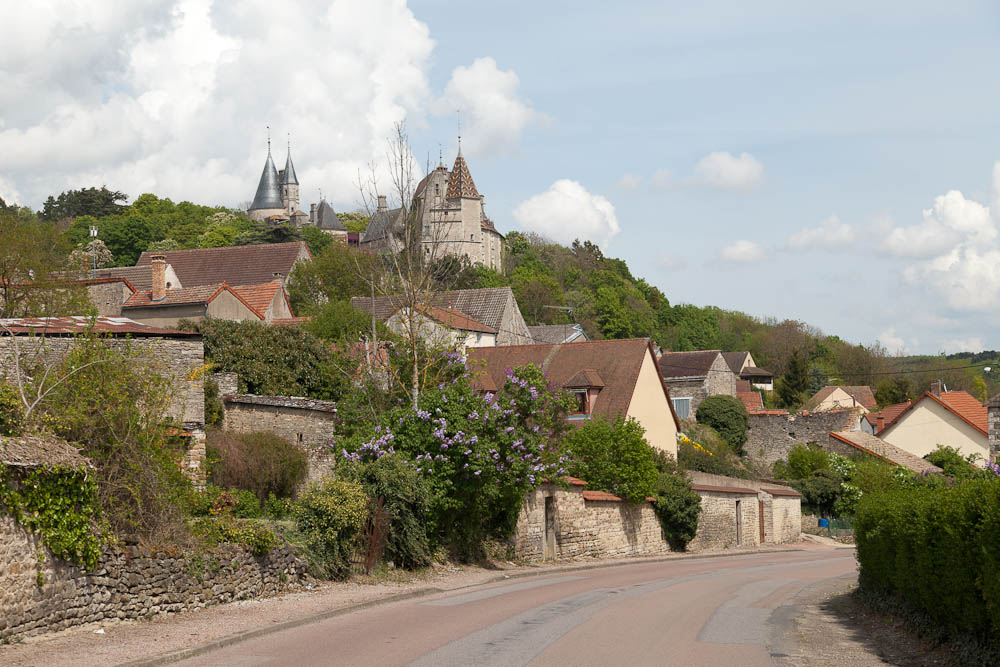 On Thursday, feeling fairly relaxed after a couple of days at our quiet campsite, we drove towards Autun. We didn't have much of an intention of visiting the city, but we found ourselves a free stop there for some lunch. We decided to be unhealthy today and go for the McDonalds close by. We have hardly done that at all on our trip, so we didn't feel too bad.
We headed east to to Beaune, the wine capital of Burgundy. It was a nice little historic, walled town, and it would have been rude not to have picked up a couple of bottles of wine while we were there. I spotted a bottle of Aloxe Corton at one of the cellars we visited, which we bought, but it's only recognisable to me because of the sketch in Fawlty Towers. I hope it's not corked!
We decided to do some wine tasting at one of the cellars - although I opted out as I would be driving. It was well organised, as you could take yourself on a little tour of their cellars, then help yourself to a taste of each wine set up on barrels along the way. We liked this approach, as it meant you could taste the wine at your own pace and not feel under pressure. We liked one of the wines so purchased a bottle after our little tour.
We moved on again, heading south in the direction of Lyon, but stopping short at a free top at Saint Jean d'Ardieres, which appeared to be at someones vineyard. A lady who lived their popped out when we first arrived just to say hello, then left us to it. The land wasn't very flat, so we had a bit of faffing about to try and get us as level as possible, then we could relax at our quiet stop.
On Friday we continued our drive to Lyon. We hadn't really intended to visiting this city to begin with, but Stu's camera has some stuck dust on the sensor, and he found a Canon shop located in Lyon where he could get it professionally cleaned - it isn't really something to do yourself without the proper equipment. Unfortunately, there were no campsites or camp stops in or around Lyon, so we had to just drive into the city to see if there was anywhere to park. Driving in cities can be a stressful experience at the best of times, but I always find it more stressful with the motorhome, being such a big vehicle. Anyway, the short story is we couldn't find anywhere to park at all. Maybe not a huge surprise, but at least we gave it a go. Having experienced as much as we wanted to of this huge city, we drove straight out the other side of it and headed east on to Perouges.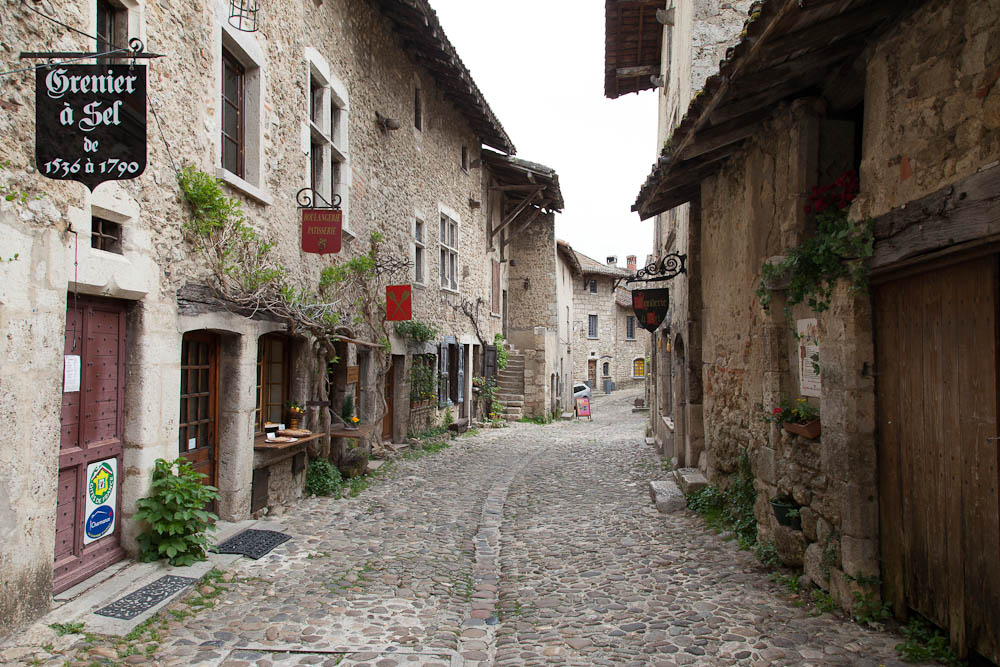 We found a cheap parking area right next to the little medieval town of Perouges, and after a bit of lunch in the motorhome, we took a walk up to the town. We were very impressed with this extremely well preserved town. It didn't take too long to walk around, but the whole place - walls, roads, buildings has been very well restored and maintained.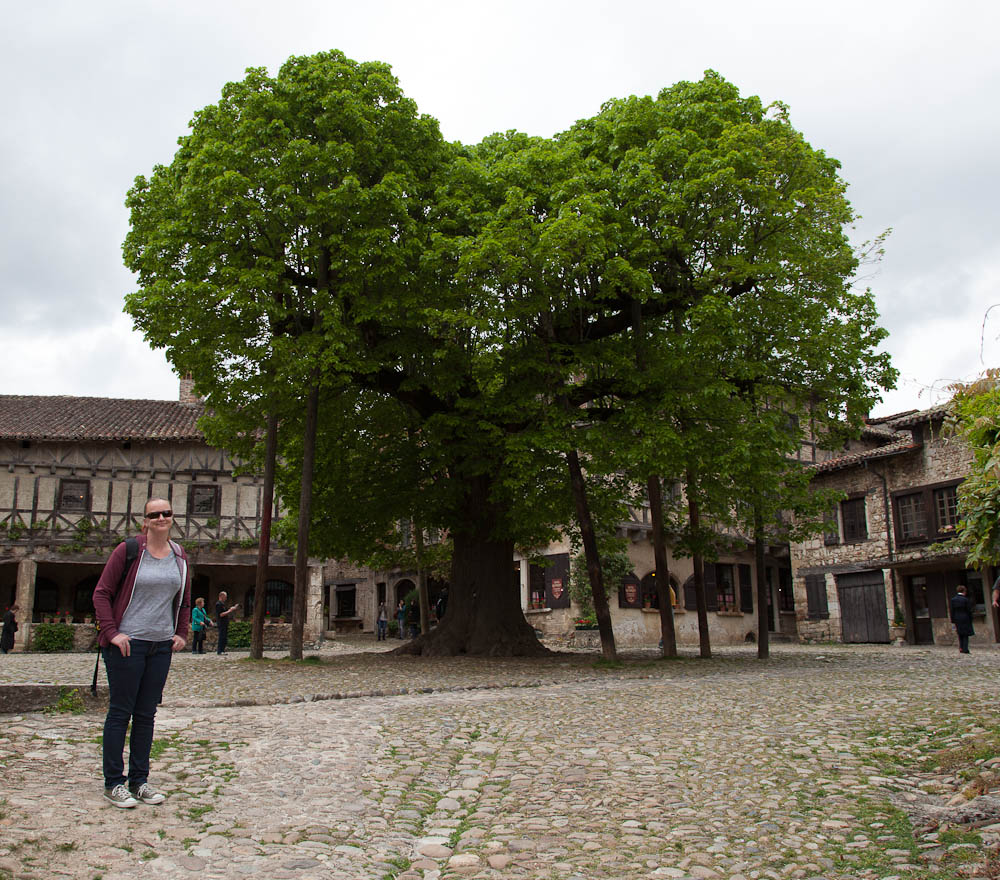 As we walked around we saw a few patisseries selling some kind of flat bread, and we also spotted quite a few people eating it. Not wanting to feel left out, we bought a slice each. It turned out to be Galette Pérougienne, a circular flat bread with a sweet topping of caramelised butter, sugar and lemon zest. To be honest, it was nothing special, but you have to try these things.
For our stop in the evening we found a free one in a little town called Poncin, only around 20 minutes drive away. The stop was located right next to a cemetery, so we felt fairly confident of a quiet night here.
On Saturday we decided to head straight for a campsite near the border with Switzerland. We hadn't yet planned our journey through Switzerland, and given that we were getting very close, we knew we had to spend some time doing it. Staying at a proper site would mean better wifi access, and also a chance to relax a little. We found a site just a little south of the border, in a place called Neydens, which our book described as having a swimming pool, sauna and hamam (turkish bath). We were a bit disappointed to find out on arrival that the sauna and hamam hadn't actually been built yet! Oh well, at least it had the pool. However, when Stu popped over to take a dip, he found it to be much smaller than he expected. Plus, there was a woman in the pool with her children, so Stu decided it might not be appropriate to get in with them, and gave it a miss. Despite these slight disappointments, we opted to eat at the site restaurant in the evening, and the food (duckling fillet) and wine were both very nice.
Despite the heavy rain during the previous night, Sunday morning started nice and dry, if quite a bit cooler. We decided to stay at the site another night as we wanted to get some planning done for our return to the UK and Australia emigration. Stu also discovered my Brompton bike had a flat tyre, so spent a couple of hours fixing that and giving the bikes a good clean. Not an travelling day, but a productive one nonetheless.
Yesterday (Monday) we left our site in Neydens, France, and drove up to the Swiss border. Here we needed to stop and purchase a vignette for driving through Switzerland - a simple sticker for the windscreen costing 40 Swiss Francs (around £27) and valid for a year. Then we drove into Switzerland, heading for Geneva. We already knew that there were few options for parking around Geneva, and no campsites. Our first option was a free stop located near the airport, but after driving in and around the airport we couldn't find it. So instead we headed to the other free stop, located right beside Lake Geneva, and just a couple of miles out of the city centre.

After a bite to eat, we rode our Bromptons along the lake and into the city. Lake Geneva itself is quite attractive, and massive. We rode past the Jet d'Eau, a large fountain in the lake and also one of the largest in the world, jetting water to around 140 metres high. Apparently, at any one moment there is around 7,000 litres in the air.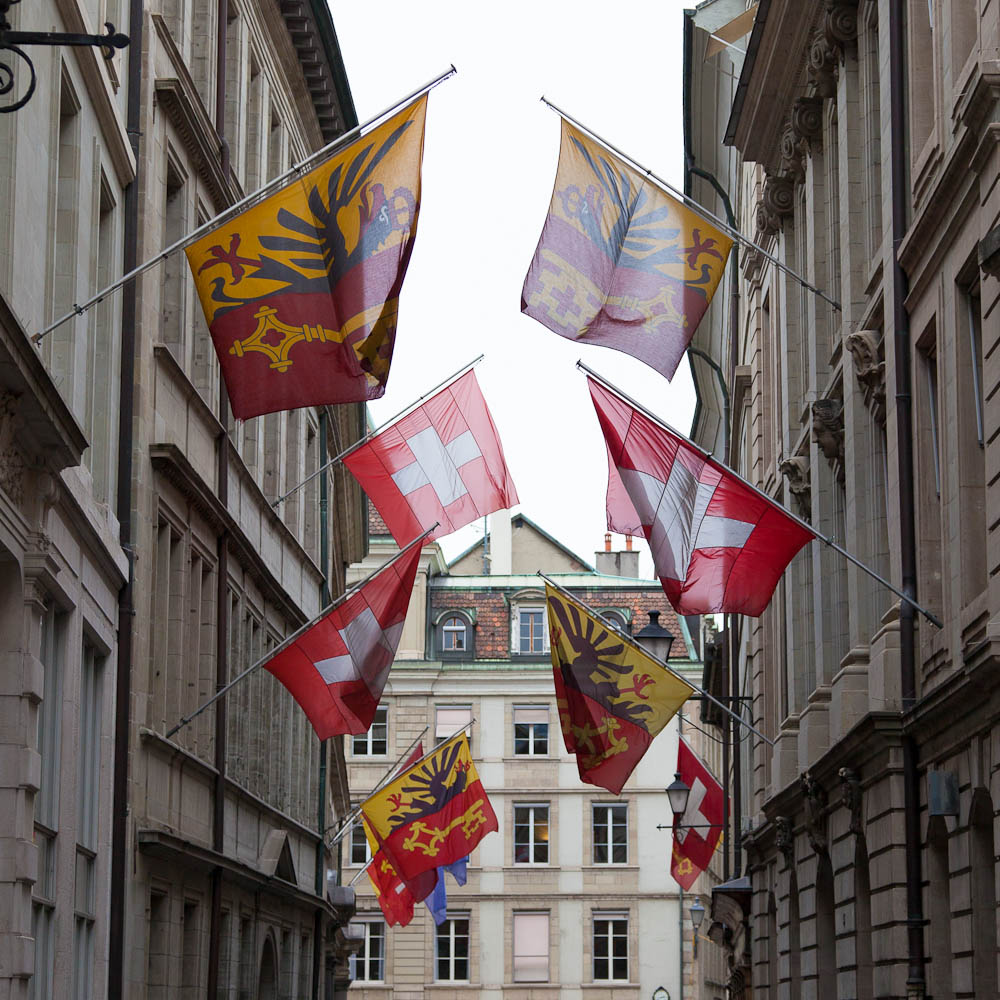 We headed to the Old Town first, as we had read that this was the location of the star attractions. Whilst the cathedral was nice enough, and we saw the Hotel de Ville - where the Geneva Convention was signed in 1864 - we weren't otherwise very impressed. The Maison Tavel, being the oldest private house in Geneva, wasn't very impressive. We took a casual ride around some other parts of the city, which we found to be nice and had some attractive buildings, but we weren't especially captivated by Geneva and found ourselves heading back to the motorhome within a couple of hours. We found our motorhome completely covered with mosquitoes when we got back, so it was a tactical manoeuvre to get the Bromptons and ourselves back inside without letting any in. We failed of course, but hopefully I managed to splat all the ones that did.
We headed east around the bottom of Lake Geneva, briefly driving back into France and then in Switzerland again as we did so. I think at one point we weren't actually sure which country we were in! Wanting the use of some internet, we opted for another campsite, finding one at Le Bouveret. The rain had returned by this time and continued for the rest of the evening. Despite the rain clouds and mist however, we still had a nice view of some snow covered mountains from our site - just about.