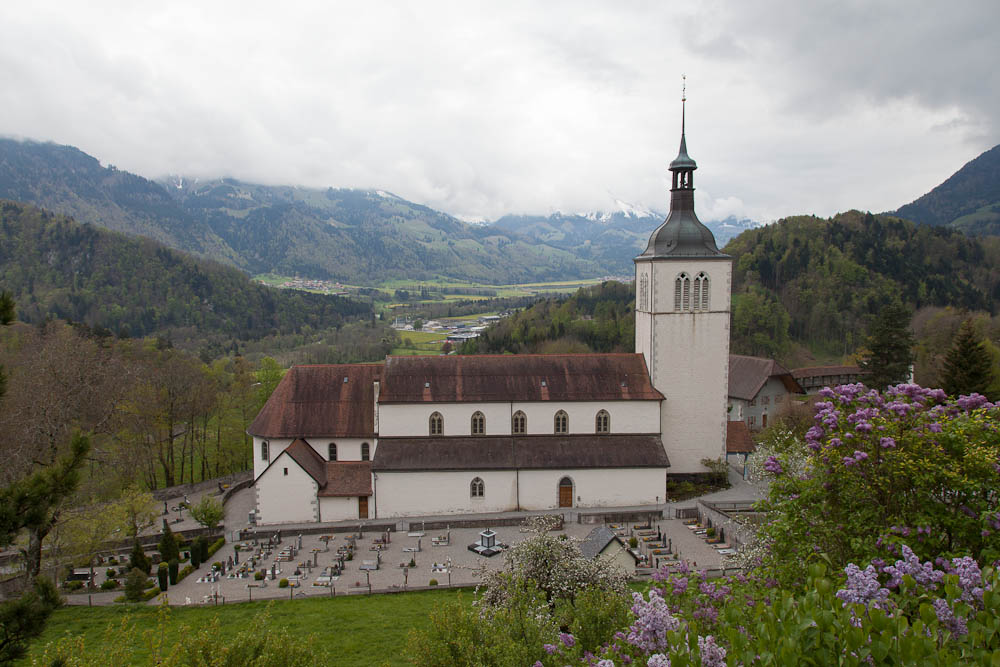 We awoke last Tuesday (29th April) to sunnier weather and a much clearer view of the mountains surrounding our campsite. It is lovely to be in the mountains again. Running a bit late for the 12pm check-out time, we loitered in the site carpark for a few minutes just to get our last blog post uploaded using the internet, then hit the road heading north-east to Gruyeres. We had originally planned to visit the city of Lausanne, and whilst I'm sure it's a nice place I think we have both had enough of big cities and decided on somewhere a little quieter. In retrospect, I think we made a good choice. The town was set in a beautiful area with some stunning scenery of the surrounding snowy mountains. As we hadn't really planned for visiting Gruyeres we weren't sure where to park, so found a quiet spot in a nearby town. There was a train station close by, and we must have timed it just right as a train came along headed for Gruyeres just a couple of minutes later. We hadn't had time to work out the ticket machine, so ended up travelling for free! We can't complain about that. However, on arrival in Gruyeres we saw that there was ample parking space for our motorhome here - so we could have not had to bother with the train at all!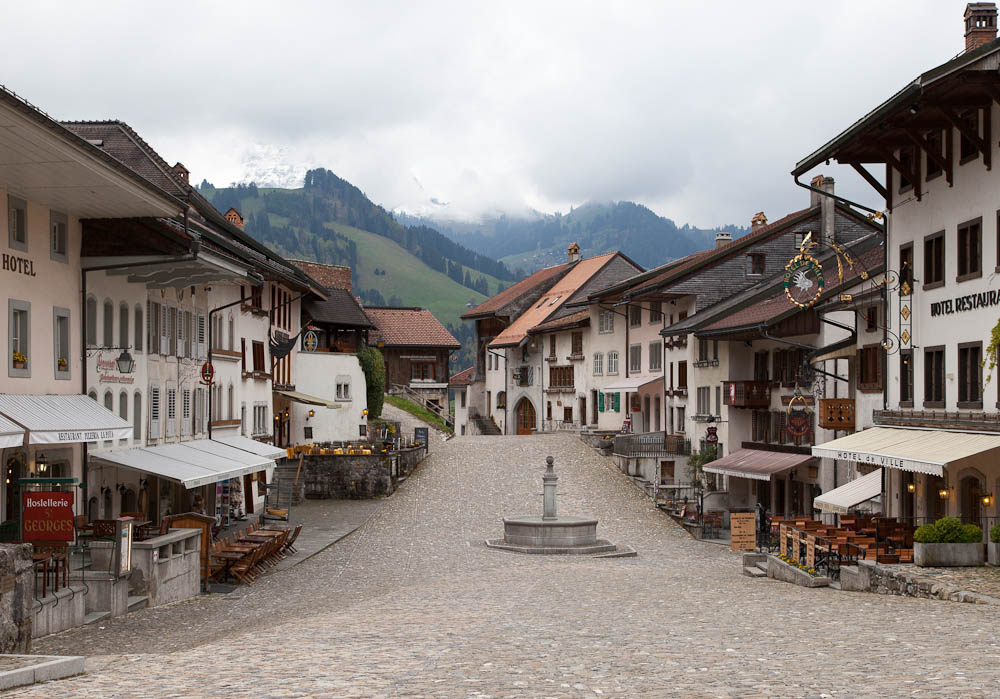 Gruyeres is probably most famously known for its cheese, which you can watch being made at the fromagerie near the station. However, the demonstrations of the cheese making were already over by the time we arrived, so instead we took a walk uphill to the main part of the town. Stopping briefly for a couple of coffees at a cafe, we took a casual walk through the town which we found to be very pretty and fortunately, fairly quiet. Guide books may tell you that one of the big reasons to visit Gruyeres is to visit the Chateau at the top of the hill, but we weren't especially bothered about going inside and seeing the art and antiques on display. The view from the outside of the Chateau, however, was well worth it. Some more stunning mountain scenery. We like Switzerland a lot already!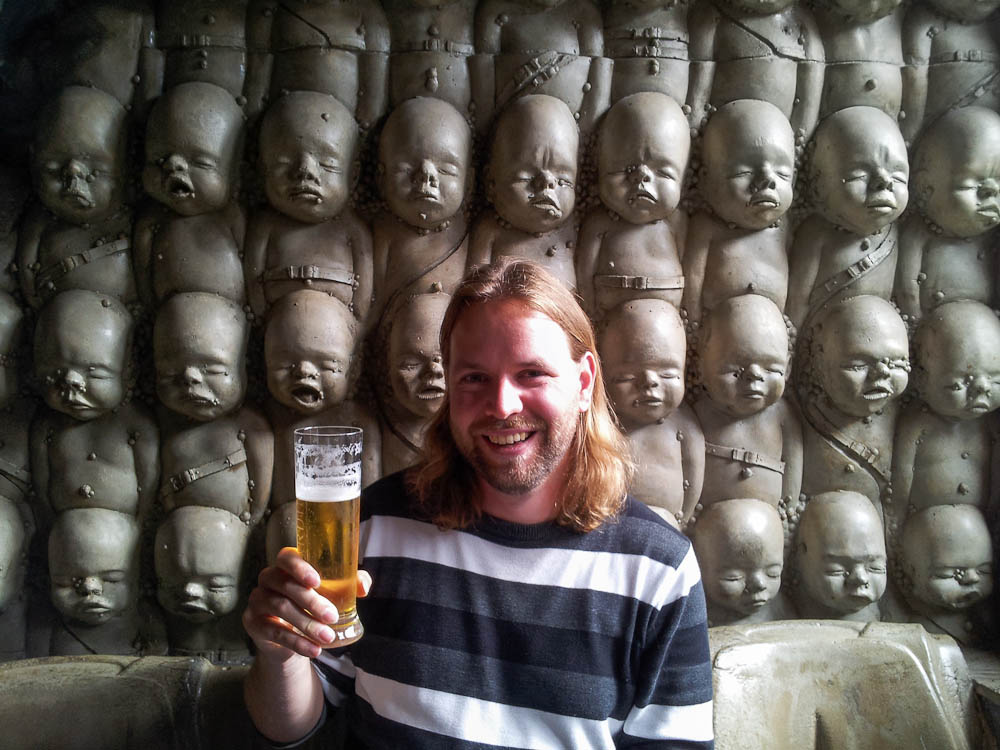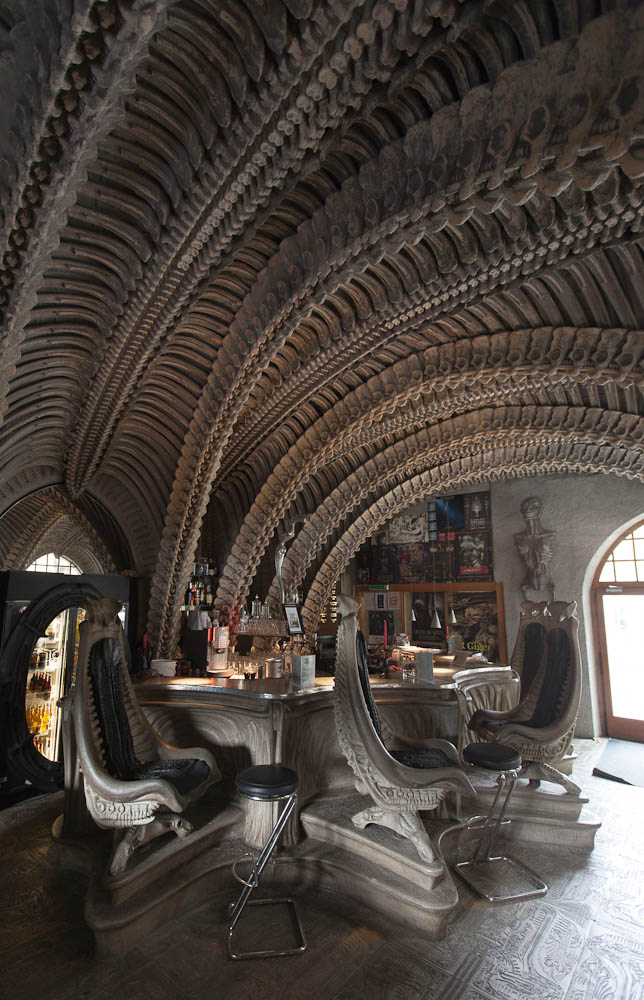 Quite by accident, we stumbled across the HR Giger Museum - having not realised it was here in Gruyeres. For anyone who doesn't know, HR Giger is a Swiss surealist, most famous for designer the Alien in Ridley Scott's groundbreaking film, for which he won an Academy Award. We thought the museum was excellent and well worth the visit - it actually topped off our visit to Gruyeres nicely. We also visited the museum bar next door, which had an amazing layout - we loved it. I will let the pictures do the talking on that one.
After a lovely afternoon in Gruyeres we headed back to the train station to get back to the motorhome. Our lack of planning failed us again, as we had not noted down the returning train times. It seemed we had arrived just after the last train had left and they only run every hour. However, the weather was still nice, and the scenery still beautiful, so we decided to walk back to our motorhome several kilometres away. It turned out to be a lovely walk and didn't really take too long.
As it was getting late we didn't want to drive too far for our overnight stop. We decided to just drive into Gruyeres (probably what we should have done originally), and stay in the carpark by the fromagerie. There was a Swiss faimly in their motorhome doing the same thing, so we were happy to stay for the night.
On Wednesday, we decided against watching the cheese making demonstration in the fromagerie - it didn't interest us that much - and instead drove on to a town called Murten. We certainly noticed the change coming here from the French region of Switzerland, to the German. All the road signs suddenly switch language and the change in architecture is also more noticeable.
Murten was a nice enough town, although we didn't find it to be anything special. The ramparts were quite cool though, and we too a walk around them, which gave us the best view of the town.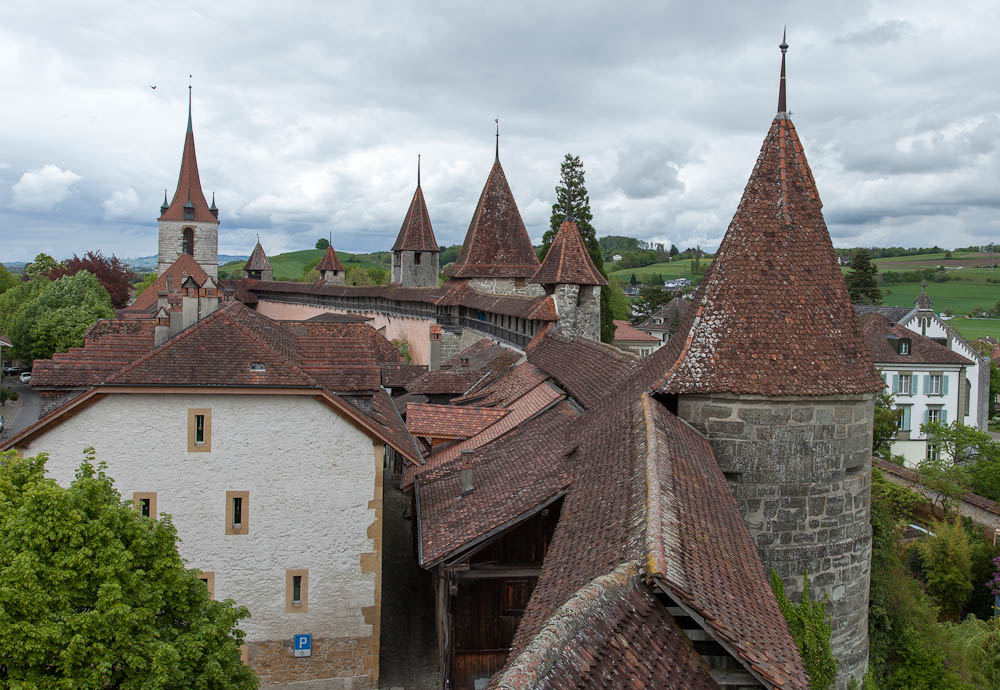 We found ourselves a free stop not too far away in a little, quiet parking area by the river at Hinterkappelen. Well, it was quiet until a whole group of people turned up with their canoes. We did wonder what was going on at first, and can only conclude that it was some kind of lesson, as they were thankfully only around for a couple of hours, and then moved on.
On Thursday we drove towards the capital city of Bern. There were no cheap camp stops available unfortunately, so we ended up staying in a campsite - which turned out to be our most expensive campsite of the trip so far at €37. The site itself was nothing special, but it was located really close to a bus stop, from where we could get right into the centre of the city.
We really liked Bern. Much more so than Geneva. It felt far more accessible and open. The buildings were attractive, and by the river they even have an area where they keep some brown bears in the Barengraben - freely open to the public. Thankfully these bears had a lovely open space to roam and seemed very happy - a whole world away from the bears we saw in Beijing Zoo a few years ago.
We stopped for a beer overlooking the river and back towards the city. Taking a casual walk back through the main part of the city and back to our bus stop, it had been a lovely day in Bern.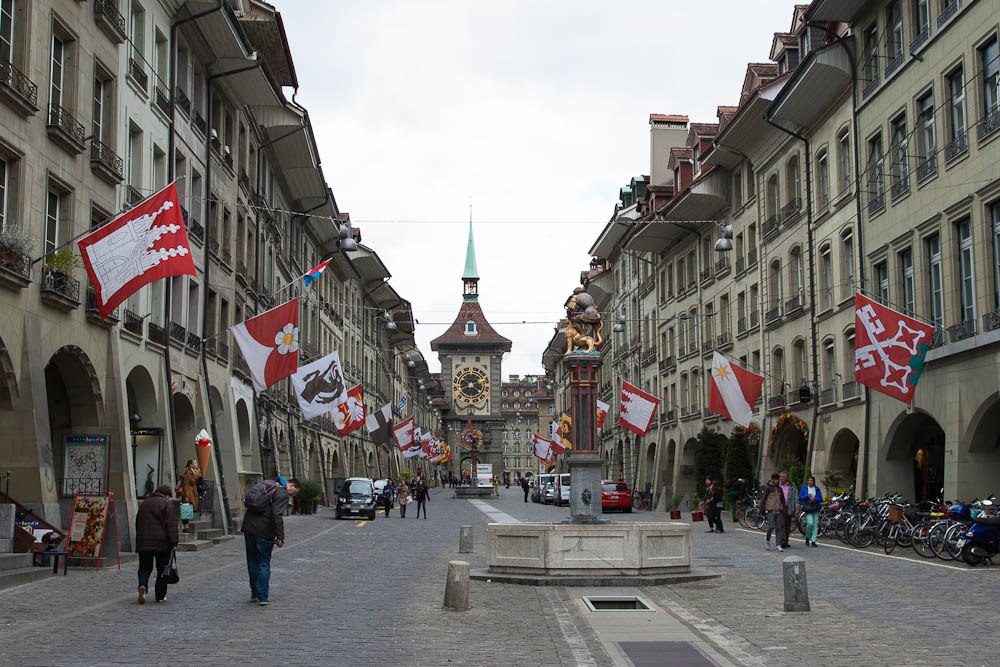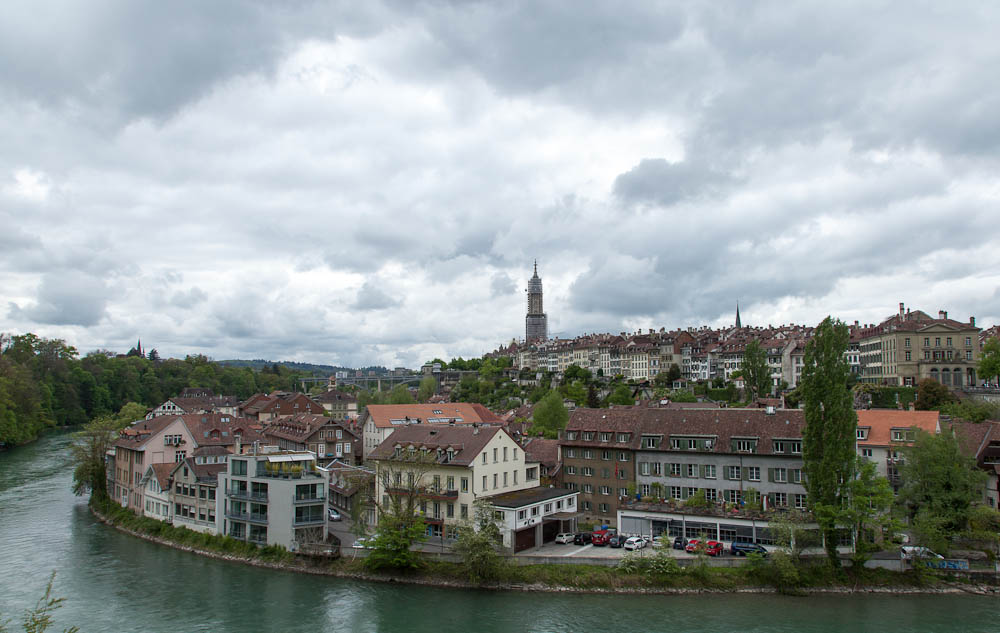 On Friday we took a long drive towards Lucerne, but it was a very pleasant drive past yet more glorious, mountain scenery. Part of the drive took us up very winding roads - some of my favourite kind of driving. The drive also took us past some beautiful lakes.
We slightly misinterpreted out camper stop book. We thought there was a camp stop located next to a campsite quite close to the city of Lucerne, but the camp stop WAS the actual campsite, and they wanted €38 for the night. Not wanting to trump our previously most expensive campsite price, we decided against that and drove a few more miles out of the city, finding a campsite a bit out in the sticks at Meierskappel. On arrival it appeared they were having some sort of Travel Festival. I'm not quite sure what that involves, but for us it meant only being able to park our motorhome right on the edge of the campsite near the car park. Thankfully, despite the festival, it was actually a very quiet spot. Perhaps the on/off heavy rain kept people inside.
Saturday morning was a very lazy one. With the festival taking up most people's attention, we were fairly sure they wouldn't care too much about what time we left. The weather was quite wet in the morning, but when it brightened up a bit later on we decided to venture into the local town to see if we could get a bus into Lucerne. At the ticket machine by the bus stop, it seemed to suggest a one-way ticket costing around €15. I know this is an expensive country, but that seemed a little ridiculous. Feeling a bit tired anyway, we decided to return to the motorhome, decide on a better plan for visiting Lucerne, stay at the campsite another night and just relax for the rest of the day.
<

On Sunday we were feeling very refreshed, and headed back a bit closer to Lucerne, finding some cheap parking at a train station. It only took around 15 minutes or so to get into Lucerne, and we were glad we had made the effort. Lucerne was very pretty, with yet more stunning scenery of the mountains in the distance, well viewed from the bridge across the river at the front of the town. We took a lovely stroll around the town, and stopped for lunch at a pizzeria - which was delicious! I guess we forget how close we actually are to Italy.

We didn't intend on staying very much longer in Switzerland. As lovely as it has been, it hasn't been very easy to find cheap camp stops, and with our trip coming to an end quite soon we needed to start making our way gradually back north. More as a bit of a novelty than anything else, we decided to drive north into Germany via Liechtenstein. Our camper stop book indicated a free stop in Liechtenstein, so we drove up to one of the smallest independent sovereign states in Europe.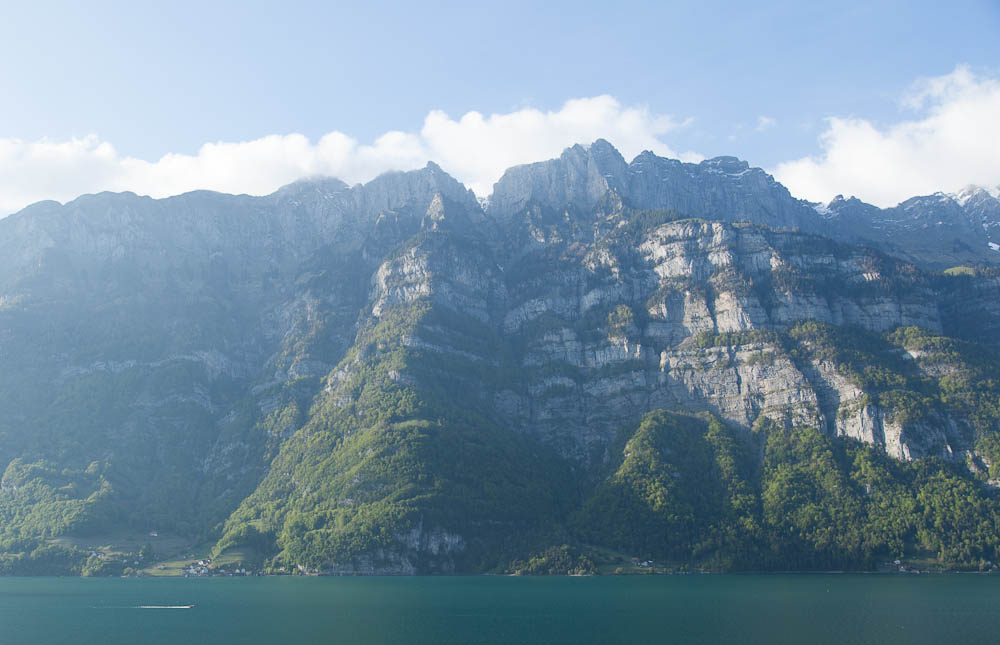 Our free stop in Liechtenstein would have been a stadium car park. We didn't really like the stop very much, and decided instead just to drive through the main town and continue our journey into Germany. This ended up being more of a 'ticking the box' exercise more than anything, as Liechtenstein didn't really have anything of particular interest that we could see from our drive.

So finally, after leaving Switzerland, driving through Liechtenstein and then Austria, by around 8pm we made it into Germany again. We took the nearest camp stop we could find, not far from the town of Lindau. We were a bit disappointed to find that it cost €20 for what was no more than a big car park. We took a drive to the nearest campsite to see if that was any cheaper, but reception was closed when we arrived and there was no way onto the site. So we just headed back to the camp stop for the night and swallowed the expense.

Having had a big lunch in Lucerne that day, we didn't fancy having anything much for dinner. I opted for a bowl of cornflakes just to tide me over, but ended up regretting it after opening the cupboard where they were, and the container falling out and scattering cornflakes all over the motorhome floor. Not being hooked up to an electirc point we couldn't use the vacuum, and we also didn't have a dust pan and brush. Stu fashioned a scoop out of an old cornflakes box so we could get it cleared up as best we could. Just what you need after a long day of driving!

At least the plus side of the expensive camp stop was that our ticket was valid for 24 hours. This meant that on Monday we didn't have to rush around, and left the motorhome around midday, taking the bikes for a ride into Lindau. After the somewhat variable and cool weather in Switzerland, it was nice to be back in Germany with a warmer feel to it, and luckily our day in Lindau was a clear and sunny one.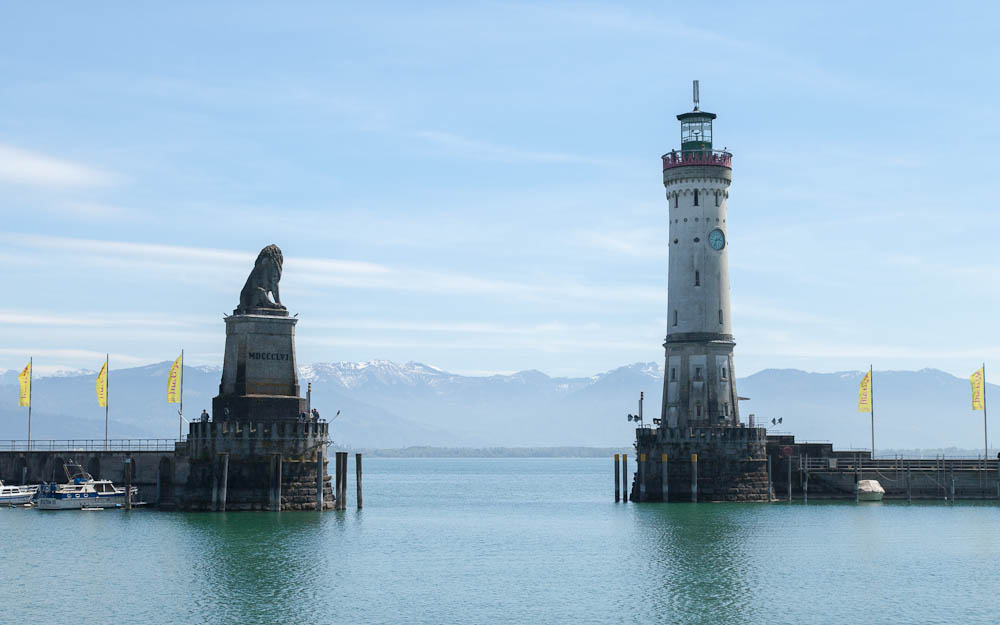 Lindau is set on an island at the east end of Lake Constance - the lake whose 260km long shore is shared with Switzerland, Austria and Germany. The island town is connected to the mainland by a bridge, which we rode across on our bikes. We headed over to the harbour, where there was a stunning panorama across Lake Constance and of the beautiful alps in the distance - quite a wonderful sight. We took a casual cycle around the rest of the town, which was also nice with lots of old, narrow streets. We bought ourselves some sandwiches from a cafe, and took them to a park bench right by the side of the lake. It was the perfect spot, and we spent a while just relaxing there and enjoying the views. Knowing we had to make some plans about where we would be making on our trip north through Germany, we decided against heading back and doing it in the motorhome. As this was such a nice spot, and Stu had his laptop, we did the planning right there.

Once back in the motorhome later on, we made our way north around Lake Constance, to Uberlingen. A big diversion, plus driving along small roads in rush hour traffic, made for a much slower journey than expected, but we made it to Uberlingen in time for dinner and found ourselves a nice, spacious camp stop for the night.

On Tuesday we left the Lake Constance area and headed north to Freiburg. Again, this was another slow journey due to the many lorries on the, mainly, single lane roads. However, it was a lovely drive all the same, passing through a region of The Black Forest.

After parking up at our camp stop, we cycled the couple of kilometres into the city. We found Freiburg to be nice enough, although we wouldn't have necessarily rated it quite as highly as our guide book! However, it was a pleasant cycle around, and finished off nicely by beer and pommes frites a cafe.

Yesterday, we headed further north, and temporarily back into France, for a visit to Strasbourg. Apparently, this city has flipped back and forth from being part of Germany or France over the centuries - which is quite evident from some of the signage and architecture around the city. A UNESCO World Heritage site, Strasbourg we found to be a lovely city, full of beautiful half-timbered houses, pretty canals and charming cobbled streets.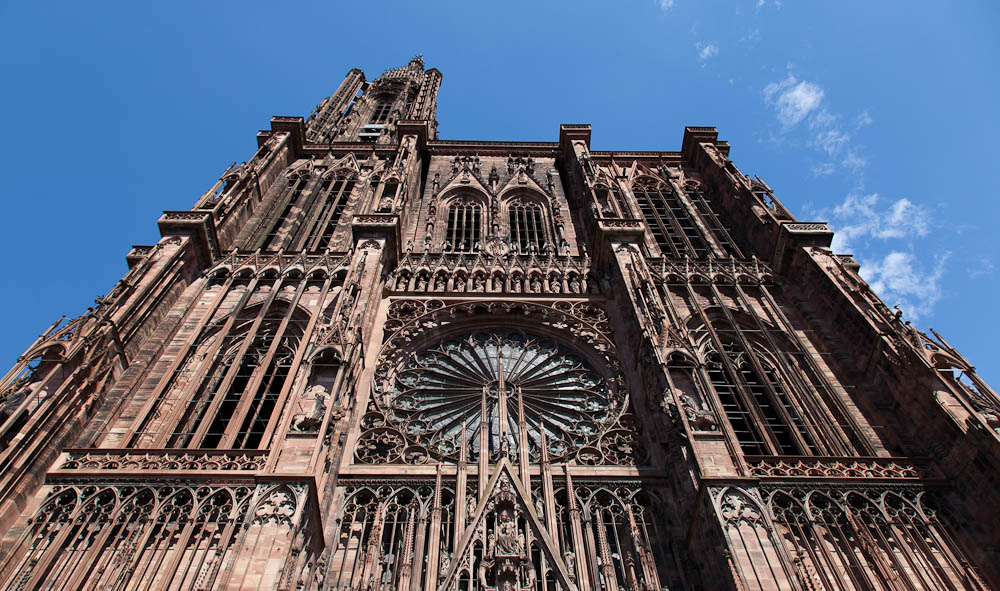 We took the bikes into the city, as our free stop was around 5km out of the city centre. However, it was an easy cycle as Strasbourg has fantastic cycle lanes. We headed to a few of the main sights first. The Gothic Cathedral Notre-Dame is quite imposing, looking similar to the cathedral we saw in Freiburg, only a more superior. We also saw the Palais de Rohan, cycled along the Place Gutenburg (the main city square), and then ventured over to La Petite France, a interesting area of the city which is a virtual island, completely surrounded by canals on all sides and attached to the rest of the city by medieval bridges. It seems that despite incurring some damage during the war, much of the old city still remains, and it was a lovely place to visit. In typical style, we rounded off a lovely afternoon with a small beer at a cafe, before cycling back to our free stop on the city outskirts.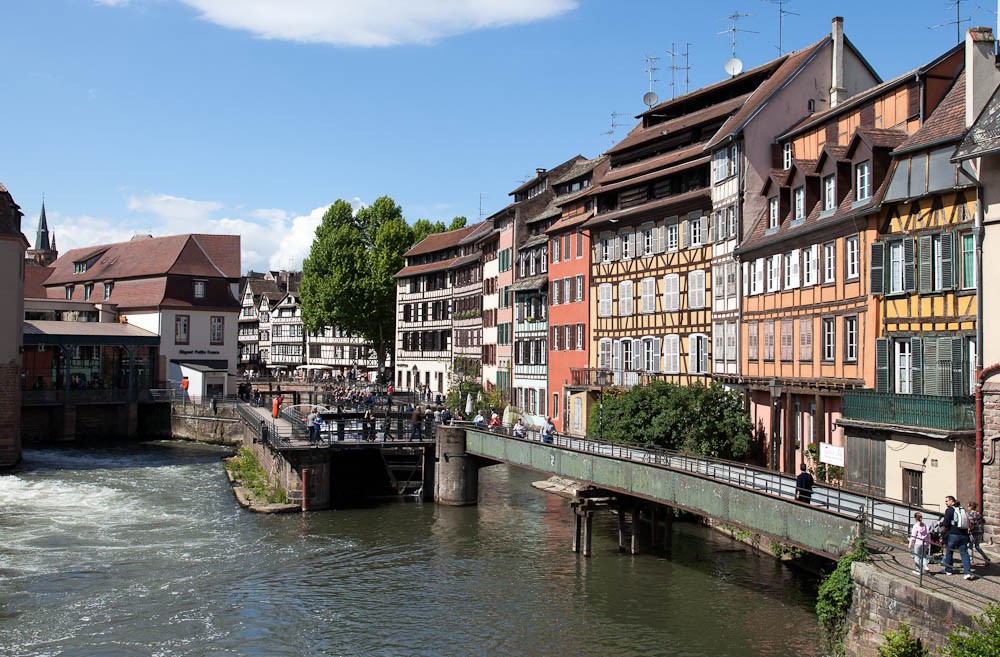 Today (Thursday), we drove north towards Heidelberg. We found a free parking area a couple of miles from the city, but decided against leaving our vehicle there. Instead, we headed to a campsite just outside Heidelberg, in Neckargemund, so we could do some washing, with a visit to Heidelberg tomorrow. It was a lovely drive to our site, alongside the Rhine. The site itself is quite nice, located right of the riverbank of the Rhine too. The woman who runs the site however, we are not so sure about. She seemed fine with me, but Stu said she was quite rude to him. She accused him of pushing in line at the laundry area, even though there didn't seem to be anybody waiting. Still, hopefully we'll get some washing done today and be able to cycle into Heidelberg tomorrow.