The last few weeks have been great, summer is on the way, hooray!
We've seen a lot of Jo and Paul recently. They came over our way a few weeks back to enjoy Freshwater beach. Paul and Stu were brave enough to go in the water, although they both remarked that the water was nowhere near warm enough! We rounded off the day with the traditional barbeque.
The following weekend we had the hottest day of the season so far. It was around 35 degrees - lush!
The Manly Jazz Festival was held earlier this month on the bank holiday weekend. We met Jo, Paul and couple of their friends in central Manly to enjoy the free event. Unfortunately, the weather took a bit of a damp turn so we ended up spending more time in the pub than listening to the jazz. Luckily where we sat you could overhear the music from the beach stage. Despite the washout it was a nice day, and we wound up visiting a couple of other bars in Manly. Jo and I headed home around 9:30pm as we'd been out drinking since early afternoon, but we left Stu & Paul to make a late night of it in The Steyne. I was awoken around 3am to the sound of Stu stumbling through the front door. Apparently the taxi services at that time of the morning in Manly aren't great and he ended up walking home – d'oh! They seemed to have a good night though I think he was regretting the long drinking session the next morning!
The following day was the AFL (Aussie footy) final between Manly Sea Eagles and Melbourne Storm. We're not exactly footy fans (despite The Footy Show being hilarious) but thought it was worth seeing if Manly would win. Manly annihilated Melbourne with an impressive score of 40 - 0! The atmosphere in Manly was electric!
After the match we met Jo & Paul in The Rocks at a pub called Mercantile, an Irish pub (and old haunt of theirs from when they travelled to Sydney years ago). They had a live band (apparently the same band that were playing all those years ago too!) playing some traditional Irish tunes - some we knew, some we didn't. The lead singer of the band looked like the old mafia woman from The Goonies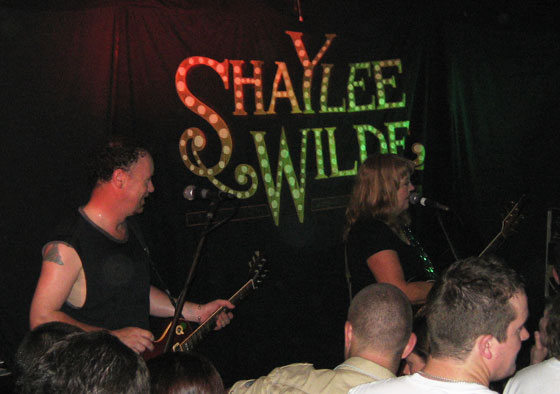 It was full of atmosphere and people – mostly drunk Irish by the sounds of things! When we arrived back in Manly there were no taxis available anywhere. People were still celebrating the win and the wharf area was a little chaotic. No taxis to be seen anywhere, so we ended up walking home.
The last couple of weeks I've had some temporary work at the Pharmaceutical Society of Australia, based in St Leonard's. The job is nothing exciting, I was allocating training courses for Pharmacists, but the people were really nice and the time passed fairly quickly. The only disadvantage was the commute. The northern beaches are not on any train line, which means a 50 minute bus journey to the nearest train line followed by a 10 minute train journey. Door to door it's around 1hr 20 minutes. In fairness, the public transport is cheap (my weekly travel card is $43) and the bus and trains are pretty reliable, but it's a shame about the length of time it takes. However, it was only for a couple of weeks so can't complain. It's given me the chance to do some reading.
I was offered a work extension, but some work has come along at Amnesia where Stu has been working. They need someone to come in and do some web testing, so I'll be starting there this week for a couple of weeks or so. Should be interesting working at the same place as Stu!
It's currently Good Food Month in Sydney, so we went to Hyde Park after work on Friday for the Noodle Markets. These came highly recommended by a friend at work. Being Friday night, it was heaving with people. Luckily we found a stall with a short enough queue, and grabbed some food. It was nice to sit out in Hyde Park and have some food and a beer, but at their high prices it wasn't sustainable, so we headed to a nearby pub in the city - then on to The Orient in The Rocks.
Another recommendation I was given was the Sculpture by the Sea. This is a free event held every year over 2 weeks. It is a display of work from local and international artists located along the coastal pathway from Bondi beach to Tamarama beach. The coastal walk itself is lovely and some of the art work was very impressive.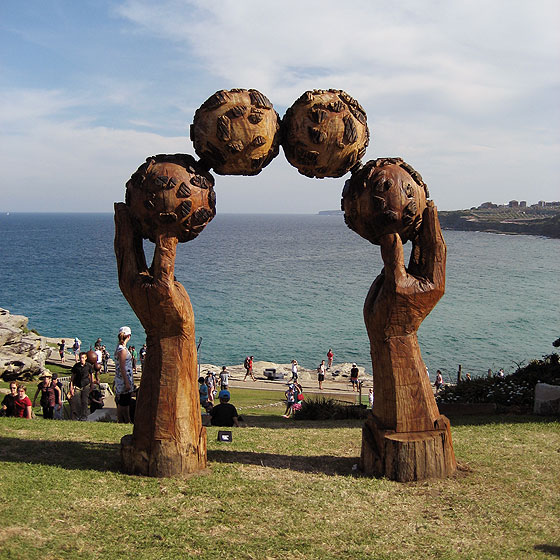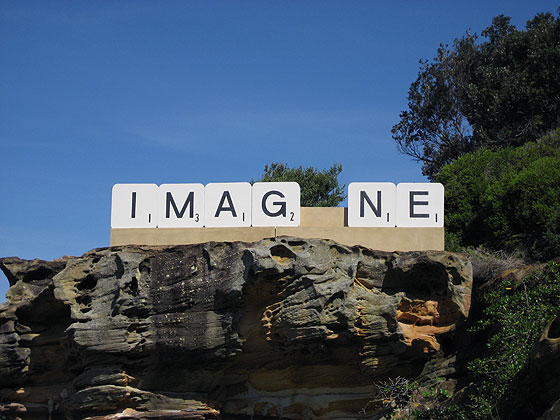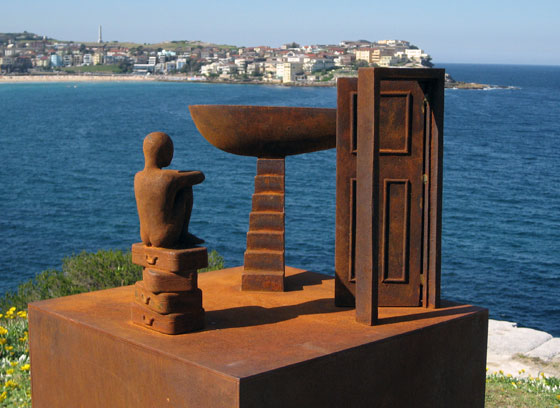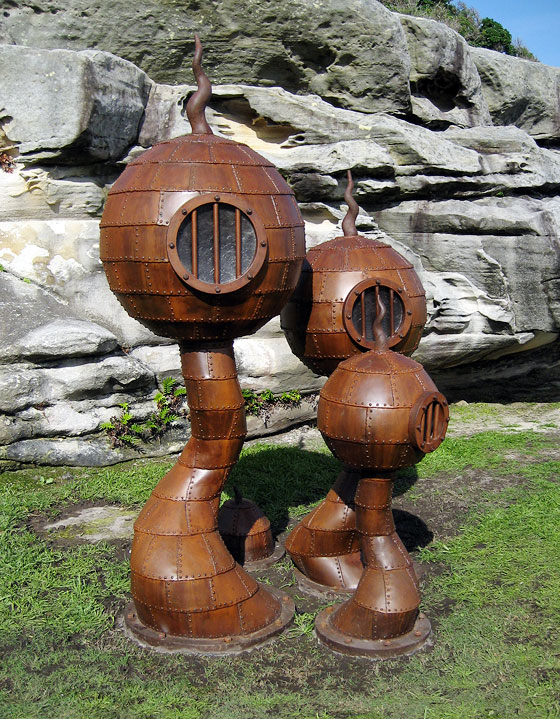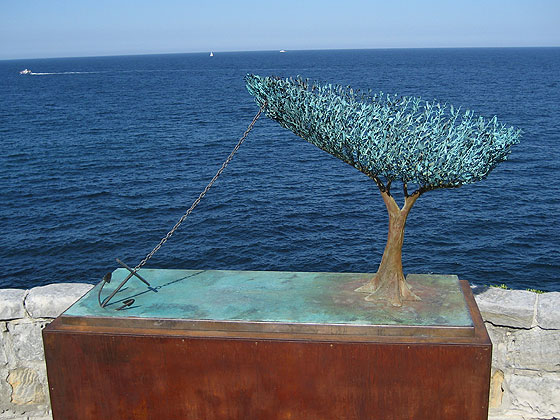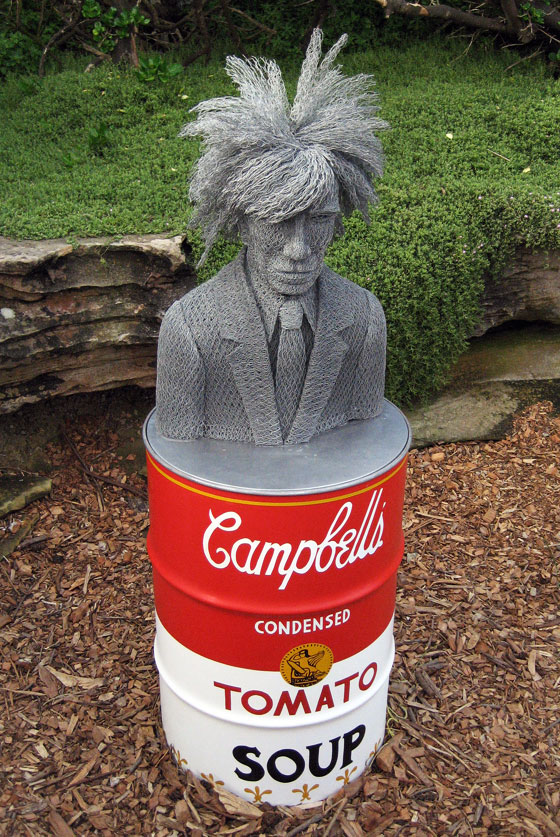 Jo & Paul were having a surf lesson that morning, so we met up with them afterwards at the Cock & Bull pub at Bondi Junction (another old haunt of theirs). One of the few places we've been to that sells pints of beer – and wow, after drinking scooners for several months pints seem enormous!
Despite having the coldest October day in Sydney in the last 40 years during the week, this weekend the great weather has returned yet again, so we headed over to Jo & Paul's place in Mosman. (Mosman is about a 15 minute bus journey from Manly - heading towards the city). They live a few minutes walk from Balmoral Beach, so we decided to spend a few hours there before heading back to their place for a BBQ. Balmoral Beach is really nice, and it makes a nice change to swim in the water without any surf - the water is really calm as the beach is located within Sydney Harbour. It appears to be a popular spot for weddings too - we saw one in progress on rocky point when we arrived.

It has hit us how soon we'll be leaving Sydney and hitting the road. My parents will be coming out to visit us in a couple of weeks, which we are looking forward to. I think they are going to love it here.
Speaking of our trip, we have booked our motor home for our trip around Australia for 3 months! We'll be hitting the road on 28th November (so just over a month away) and will be travelling for 3 months. We cannot wait!
We've also booked our flights back home too – boo! We leave Australia for New Zealand on 25th Feb 2009, then leave New Zealand for the UK on 26th March 2009. But that all seems a long way off yet.
I suppose the next thing we need to get sorted is our campervan for while we're in New Zealand...
Bye for now x