The past couple of days have been pretty hectic. We started viewing some properties on Friday and Saturday and have found that real estate agents in Sydney are just as useless as in the UK, if not worse.  To be honest, given our experiences in the past we aren't really that surprised.
Rental properties, up to a certain price range, are open to the public every Wednesday and Saturday. Potential tenants buy the local paper, scour the internet and call around to find out viewing times. There is typically a 15 minute window within which you can take a look around and pose questions to the agent. It's a good idea to be there 5-10 minutes early to make sure you don't miss the agent's arrival. However, the block numbering system is pretty confusing and even the locals seem to have a hard time. We couldn't even find one of the listed properties and we weren't alone...
Did I mention these viewings were public? It's not unusual to find yourself in the mix with 8-10 other like minded people. One estate agent told us, "during the summer months there can be 20+ people all crawling over each other to rent a single property... some are paying up front for the whole term and you won't find a lease under 12 months... it's a dog eat dog market in Manly!". Scaremongering? Oh dear, not a good sign.
It's pretty uncomfortable being thrown into confined spaces with other competitors. You start recognising the same faces from property to property and develop a sixth sense of others running around with pieces of paper looking at their watches. Are they viewing the same property? Will we like it? Will they like it and get in before us? Who's the president? All in all it's a thoroughly unpleasant experience.
On the flip side, elevate the price bracket a little and the story changes (well, in some cases!). "Inspection by appointment" are the three magic words you want to see. We were sure that this was the best way to proceed and lined up 3 appointments. Aside from one agent who had the conversational skills of a newt the viewings were all pretty good. We were told that finding a fully furnished 2 bedroom was going to be difficult, so we cast our net a little wider to incorporate 1 bedroom boxes apartments. 
The move paid off, and we managed to find Apartment 6, 1 Tower Street. We were shown in and were immediately impressed: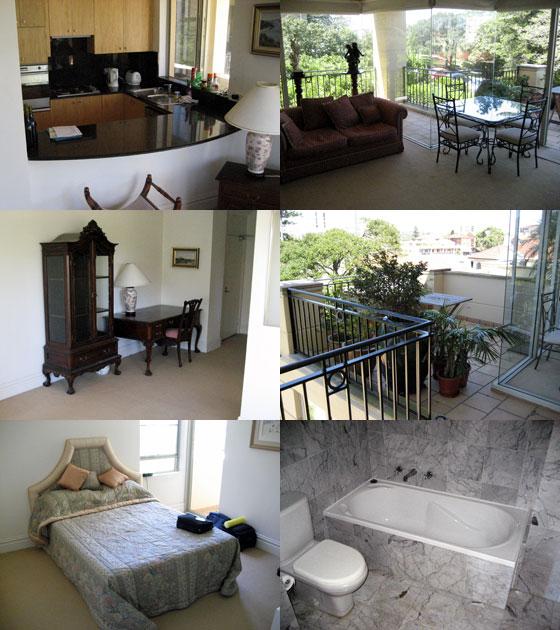 We had the rare opportunity in meeting the previous tenant. A 40-something male who had been managing a house construction in the local area. He was full of praise for the apartment; quiet, friendly neighbours, great staff and close to all of the amenities. He mentioned that he had originally intended to stay for 6 months but really enjoyed living there and ended up staying 2 years. Quite an endorsement! His construction was now complete and he's heading back to his family in Paddington. Whilst he spoke with the agent to clear up some leaving questions we took a look around.
The apartment is on the first floor of a small block, on the edge of a quiet street near to the wharf. One side of building is glass with a south facing aspect. This means that it's cool during the day with the patio area in the shade. This is welcome as the sun can be pretty powerful during the day. It receives natural light until pretty late into the evening without getting unbearably hot from the glass wall (ever stood in a greenhouse on a hot day?). It has some harbour views and it catches a nice breeze from the ocean. As a bonus the apartment has a sofa bed, so we can accommodate guests.
As it turns out we were the first to view the apartment and we both suspected that we'd have to move quickly in order to avoid disappointment. A bus ride and several forms later and our application was in. If successful, we could move in on the 4th/5th March. Perfect timing, and we are both hoping it goes our way.
To celebrate a good day and the excellent weather we took a walk from Manly beach around the coast to Shelly Beach:

Coastal path from Manly beach to Shelly beach:

Shelly beach. The waves, rather unsually, cut across the beach making for some interesting surfing!

Some of the wildlife near Shelly beach: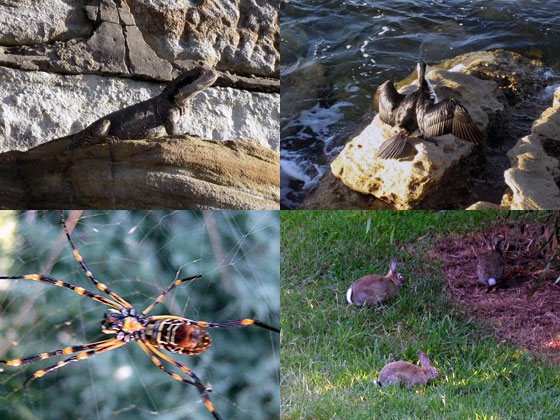 We came across quite a few spiders on the walk! Sarah was not best pleased... big ugly bodies and long legs.
Looking forward to a more relaxed day tomorrow as the most pressing todo's have been acheived. Bank account? check. Place to live? check(ish). Schooners on the beach? bonzer!
x