Despite the past few days being a rollercoaster tea-cup of a ride we think that the plans are finally beginning to come together...
Our main priority has been securing somewhere to live for the next six months. Stu and I want an apartment that's close to the beach for some time off and somewhere that's not a million miles away from the CBD via public transport. As you can see from our last entry it looked like we were on the right track with an apartment on Tower Street. We had briefly met the property manager who advised us that she could hopefully move us within a few days. We were in the running. So after handing in our application on Friday we had a relaxed weekend before ringing the agent, as requested, on Monday morning.
Stu had a brief chat with her on the phone to answer a few questions, then we waited to hear back. And we waited... and we called but she didn't call back... and this continued until we were finally told on Tuesday afternoon by the receptionist that the property had been let to someone else! To say we were disappointed is an understatement and just goes to reinforce our hatred towards estate agents. Avoid Mackinnon Estate Agents!
Over the weekend we popped to Warringah Mall to buy an Aussie mobile (number available on request!) and a few other bits and pieces. It's very big and not the easiest to navigate! The shops aren't in a nice straight line, like Lakeside or Bluewater, it's laid out like a little village on split levels with open air sections. It's a great place to go shopping, so I'm sure we'll be heading back once we've moved into a more permanent residence to get some essentials - more clothes!
We saw some pretty big 10-15ft surf near Queenscliff over the weekend. It was dangerous enough for the lifeguards to close the beach. Despite this there were some surfers willing to risk it!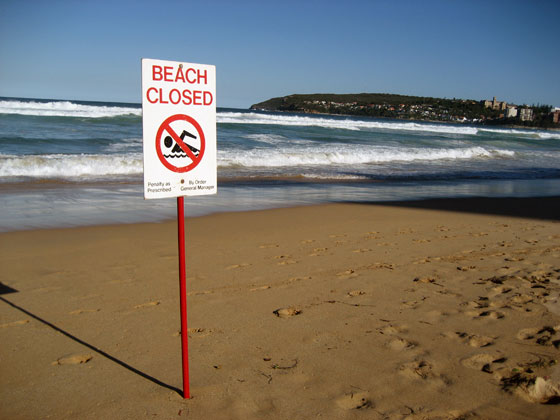 View of Queenscliff:

Further to the apartment hunting story, we viewed a place in Harbord today. It's just north of Manly, very close to Queenscliff. The apartment itself is in prime location for the local shops and amenities: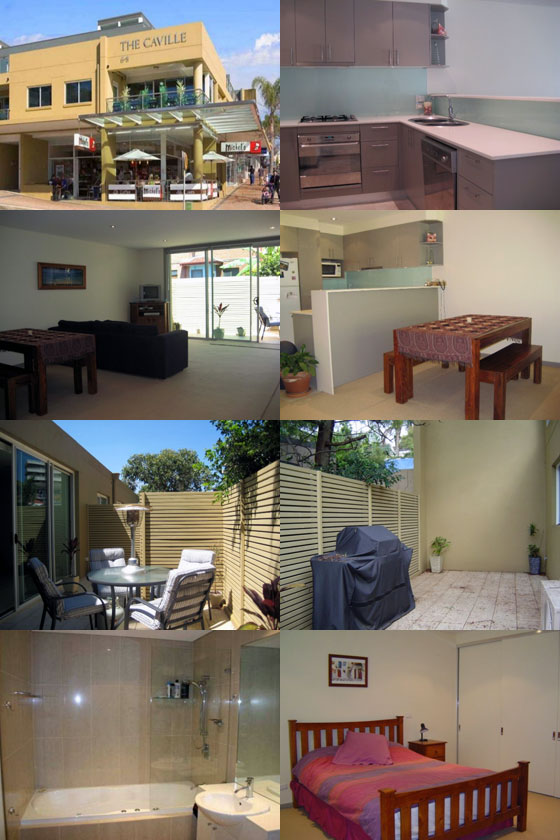 Two other guys showed up at the viewing, so we knew from the off that we'd have competition. The apartment was really nice and, dare I say, better than the place on Tower Street we'd had our heart set on before. It has a large spacious open cooking, dining and living space. It has 2 good size double bedrooms with ensuites, and a whirlpool spa bath. It also has a private terrace area which leads from the living area and the master bedroom. Looking forward to the terrace and barbeque as the weather over the past several days has been fabulous!
We were really impressed, and we weren't alone. We could tell that the other viewers were also interested. We rushed back to the Travelodge to fill out our application forms, and decided to make the ballsy manoeuvre of offering to pay 6 months rent up front. The typical length of a rental is 12 months - we only want 6. We needed to put an offer on the table that had some impact to counter the fact we don't have jobs, references, want 6 months and are from the UK.
We had another property to view in Dee Why but soon realised that it wasn't quite as close to the amenities as it looked on the map. On arrival we quickly realised that this apartment wasn't at all what we were after. Small, heavily overlooked, poor security and it had a bit of a low quality feel to it.
After that we were in need of some refreshment so we grabbed some lunch at a cafe opposite Dee Why beach. The beach seemed really nice and quite different from Manly - quieter, different surf and a little smaller:

Whilst checking out the beach we received word that our tenancy application for the apartment in Harbord had been accepted! We were pretty chuffed - especially considering our last experience. We sign the lease on Friday, looking to move in Wednesday next week. Let's hope the agent doesn't rent it to someone else in the meantime.
The prospect of another week in the Travelodge is slightly annoying - it isn't exactly five stars, but it's certainly competitive. Because of the extension to our stay we've had to move rooms to accommodate pre-bookers. At least once our apartment is secured we can actually begin to relax and start unpacking properly!
Dominoes pizza tonight... mmmmmm... how we long to be able to cook our own food!