It felt a long time coming... finally we are in our new apartment! Hooray! We moved in on Monday evening and are so glad to be out of the Travelodge. Drop us a line if you'd like our new Harbord address.
We signed our lease on Friday at the property agent's office. Stu was very thorough and made sure he read... every... single... clause. I guess that's what happens if you run your own business and sign a lot of contracts. The paperwork is a standard format and issued by the Australian government so you're pretty well protected in law. It would make sense if landlords in the UK adhered to a similar system, rather than being able to write their own. In summary, whilst finding a property and dealing with the sales end of estate agency is a bit of a nightmare, once you sign the lease you are well protected and everything runs reasonably smoothly.  A lot of this is probably due to the fact that the majority of people in Australia rent their homes. A 70/30 split, almost the total opposite of the UK where home ownership is the norm.
Unfortunately the signing did not mean receivership of the keys - we had to wait til Monday for that. So we resigned ourselves to some shopping and gentle walks along the beach. Life is tough! We decided to walk from Manly Beach towards Freshwater Beach through Queenscliff. Freshwater beach will be our local beach, a 5 minute stroll from our apartment:
Freshwater beach - our local: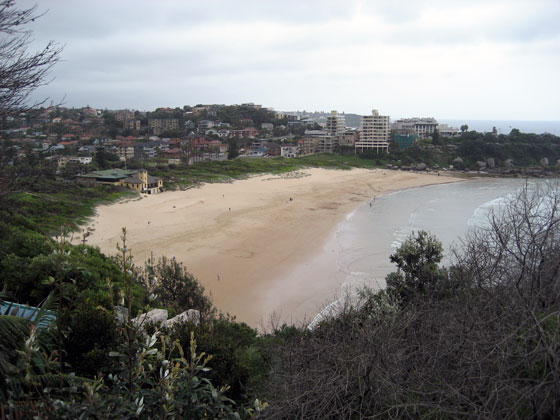 Big spiders: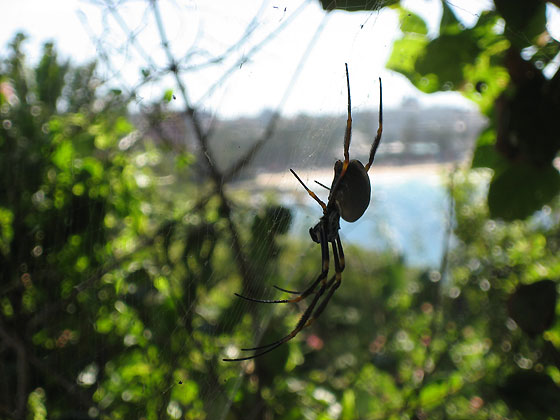 There are some absolutely amazing apartments in Queenscliff, and what a location for views. A little out of our price range though - we saw some places on the market for £4000 per month in rent!

We are really spoilt for choice here in Harbord. There's a great place for fruit and veg, local butchers, fishmongers, three(!) bakers, a supermarket, plenty of café's, a wine specialist and a book store which provides internet for $1AUD per 15 minutes. What more could we want? Although it's not quite in central Manly as we'd hoped it is a lot quieter and essentials are cheaper. You could argue it's a better place to live.
Silver surfer. Some of the public art on display on the walk to Shelly Point: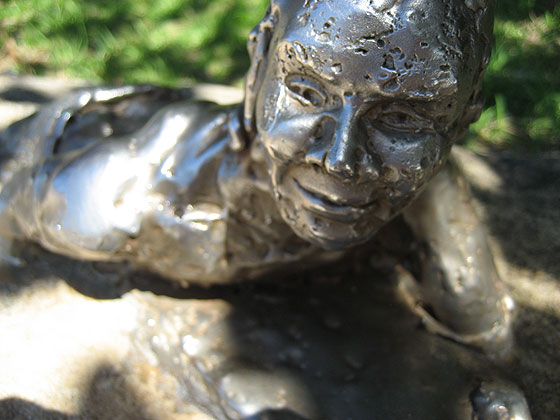 Speaking of internet... we'd hoped to get a broadband installed in our new place. However, after checking out the main suppliers it appears pretty expensive. Even more so as we're only after 12 months of use and every contract seems geared towards 24. Therefore we're currently thinking of just using the bookstore over the road for internet. It will be a shame not to have it at home, but we'll be checking e-mail every couple of days at least. It just seems to be the best option, otherwise we'd end up spending a fortune.
Shelly Point: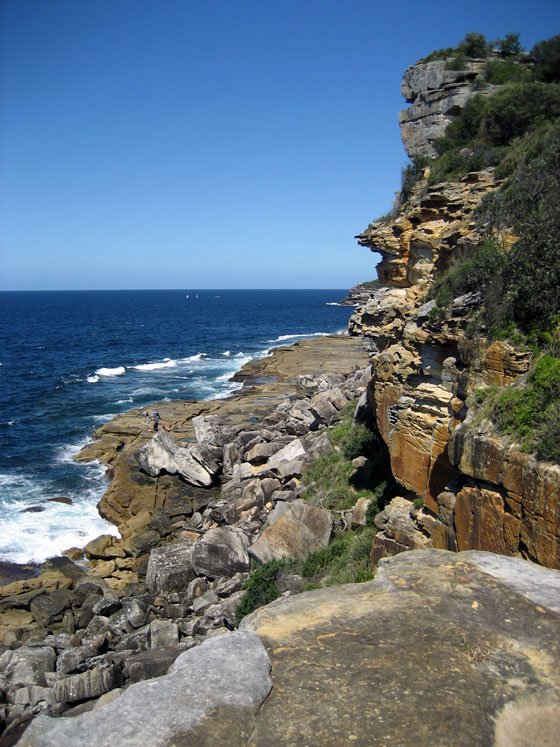 During these last few days we experienced a near disaster. I can now thankfully say NEAR disaster as it seems that no long term damage has occurred. On Saturday Stu bought some antihistamine tablets, as he'd been suffering with the Travelodge air conditioning. The tablets specified that they don't normally cause drowsiness, but to AVOID ALCOHOL! Needless to say, that evening Stu popped to the bottle shop to get some beers and a bottle of wine. He then proceeded to polish off a couple of glasses of wine and finish off with a beer - whilst pottering on the laptop...
The next thing I hear is "Sarah, get a cloth… quick!"
Stu, in a state of antihistamine and alcoholic drowsiness, had knocked the beer bottle over his laptop. The next few minutes were spent frantically wiping the keys and testing to see if the laptop had been permanently damaged. After rebooting it started to make strange beeping noises. After a while, one of the keys wouldn't work and so we both feared for the worst. 12,000 miles away and a dead computer, not good. After a worried night's sleep, and contemplating a claim on the travel insurance, Stu tried again and it booted up OK. The only thing we have to deal with is a sticky backspace key and a faint smell of beer. Oh well, it could have been a lot worse.
Anyway, we are both so happy with our apartment, it is a real land of luxury - Stu is testing out the Spa bath as I write:
The private terrace is great! It's nice to have an area where we can sit outside and enjoy the warm weather with a glass of wine. A home with a "garden" - finally! The next few days are chill out time, enjoying our new place and taking things real easy. Stu has already been pottering with some music. Once we've settled in properly I'm sure we will venture out some more and you'll hear about it here!