The Sunday before last (24th Nov) we drove to Arles, a city of huge importance in Roman times, and many of the Roman remains are now UNESCO Heritage sites. We parked just outside the city walls in a free parking spot, and took a walk into the city. Despite the city itself being very nice, the parking spot we chose was right next to a very grubby looking gypsy site. Bit of a shame really.
Walking around the city itself, there were plenty of things to see. The remains of the Roman Theatre, which you could see clearly through the gate and fence around it. The Roman Amphitheatre, built in 90 AD, was once capable of seating over 20,000 spectators, and put on entertainment such as chariot races and fights. Today, it mainly hosts bullfights, as well as plays and concerts in summer. We also went down into the cryptoporticus, the labyrinth of passageways which was built beneath a Roman Forum (which no longer exists). It is empty now, but the cool temperatures would have made it a great storage area for perishable foods. It was worth a visit.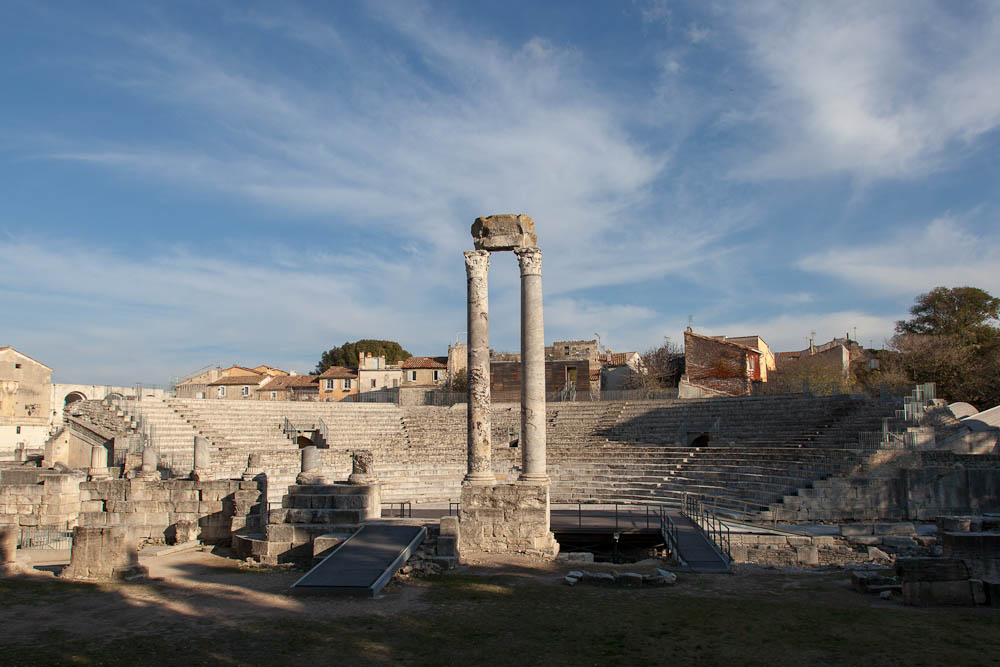 After a nice break in a cafe we headed back to the motorhome. Not really liking the look of the dirty gypsy camp nearby, we decided to drive on to Nimes and found a good site for the night.
On Monday we got the bus into the centre of Nimes, home to the second biggest Roman ampitheatre in the world after the Colosseum of Rome. It dates from the 2nd century AD and dominates the city. There were other lovely sites too, like the Jardins de la Fontaine (Gardens of the Fountain) built around the Roman thermae ruins, dating from the 18th century, and The Maison Carrée which is a small Roman temple built around 19 BC. Apparently this is one of the best-preserved Roman temples in the world. We enjoyed Nimes very much, and found it an easy place to get around with some lovely things to see. We stopped at yet another lovely French cafe for a coffee and slice of quiche. The beautiful desserts and sweets were all too tempting as well, so we couldn't leave without sampling some tarte aux pommes while we were there. It would've been rude not to!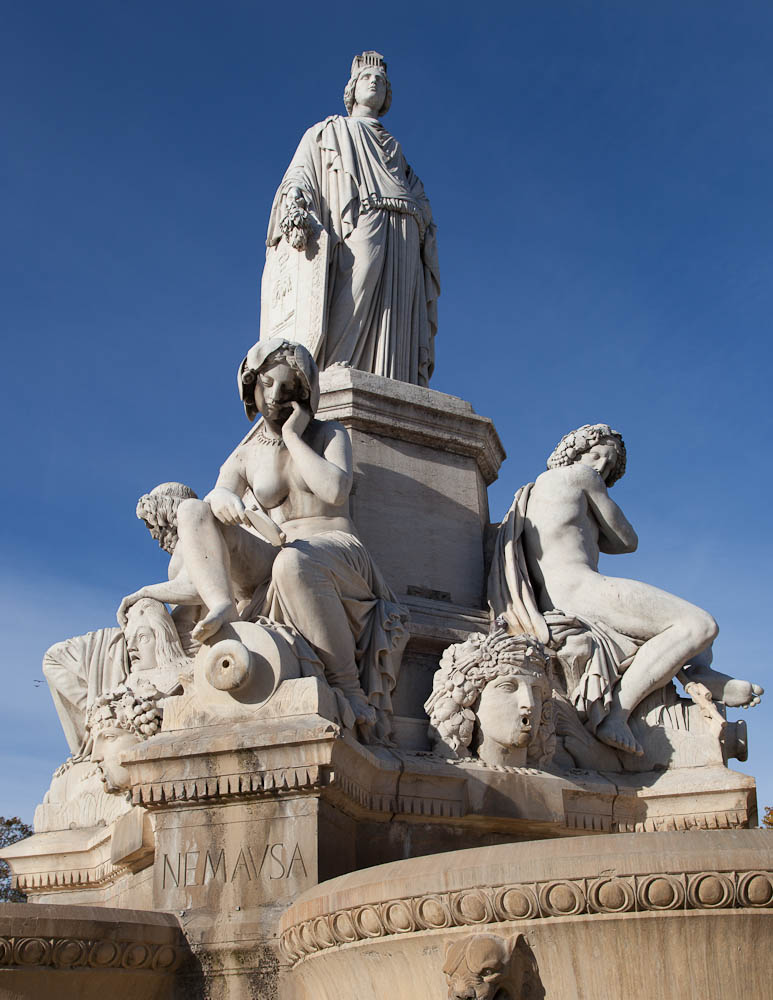 Tuesday became a very long driving day. A couple that we know from Bristol, Debbie and Chris, moved out to France fairly recently. As we made our way into France, and with Chris's birthday approaching, we thought it might be a good idea to pay them a visit. I decided to get in touch with Debbie to check it was OK, and we kept it as a surprise for Chris. They live near a town called Brantome, which was heading north from where we currently were, so decided to do a big push on the the drive and get us fairly close, and we could be there for Thursday - the day before his birthday. We arrived in Douelle around 8:30pm and found ourselves a free stop, meaning we were around 70 miles from Debbie and Chris. The nights are certainly getting a lot colder now, sometimes getting to around zero degrees. As we were in a free stop there was obviously no electric for us, so we ended up keeping our gas heater on all night, which keeps us sufficiently warm.
On Wednesday we awoke to beautiful sunshine. Arriving so late last night meant it was pitch black and we couldn't really see where we had parked. In the sunshine our location looked stunning, parked just next to a wine producers and between two massive vineyards - very pretty. Our big drive the previous day meant we didn't really have too much further to drive to get to Debbie and Chris's the next day, so we had a leisurely start to the day, eventually driving on to a little place called Thiviers. We had intended on staying at a campsite there, but upon arrival we found it to be closed. Fortunately, there was somebody who worked there and they said we could stay out the front of the campsite for just €3 and with full use of their wifi. Their shower and toilet facilities were shut, and their water frozen up, but at least we could stay and use the internet for next to nothing.
On the way to Thiviers we'd had a bit of a near miss. We were driving through a town called Perigeux. Ahead we saw a bridge going over the road, and signs indicated that it was 4.2 metres high - absolutely plenty of space for our motorhome. As we approached the bridge, a truck was coming in the opposite direction. As we both were about to go under the bridge I did have a momentary panic that we might not make it through together, so put my foot down to make sure we made it through before him. Just as we came out from under the bridge on the other side we heard a loud crash. Looking in my wing-mirror I saw that the truck heading the other way had not made it under the bridge. The truck had a big crane and hook on the back of it, and it was too tall for the bridge. The crane had crashed into the side of the bridge and the truck was knocked sideways onto two wheels! It was extremely lucky for us that we had exited the bridge when we did. Had we been a few seconds slower, either the truck would have crashed into the side of us, or we would have been stuck in the traffic waiting for the truck to be rescued. A real close shave! We were feeling relieved to have got through unscathed and happy to get to the site for the night.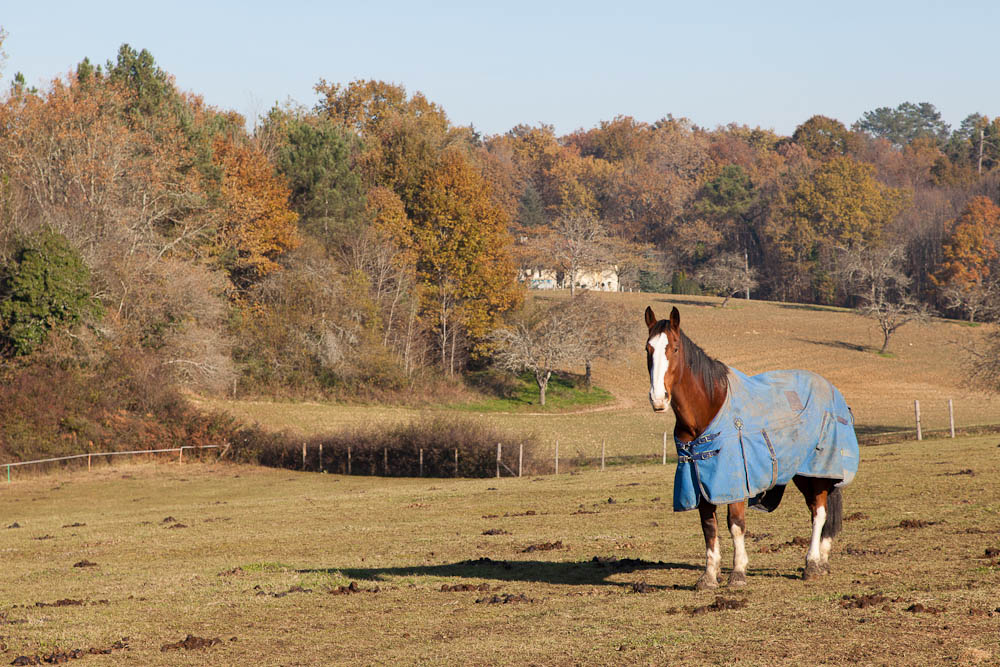 Chris was working during the day on Thursday, so we made our way up to their place in Saint Pancrace, just a little outside Brantome, for around 4pm. They have a huge home surrounded by acres of land. Here they run their charity, Brantome Police Horses, with their parents Roland and Alison. They also have twin four year old girls Chloe and Izzy who are my godddaughters. As well as their horses, they also have some sheep, chickens, seven dogs and three cats. Debbie and Chris were outside to greet us as we drove up to the house. It was great to see them again. Roland and Alison were away in England until the following day, so we had a lovely evening to catch up with Debbie, Chris and the girls.
We ended up staying with Debbie and Chris for a few days. They were very generous and said we were more than welcome to stay as long as we liked. We had a bedroom with an en suite bathroom - quite a change from the confines of the motorhome. It was certainly a lovely break. On Friday, Roland and Alison returned from England, and in the evening they had a couple more friends over for a Thai takeaway for Chris's birthday. On Saturday, Debbie, Alison and I, along with another friend of theirs popped out to a local craft fair. In the evening, there were further birthday celebrations, with more friends round for drinks and nibbles. Sunday was a fairly lazy day, and on Monday Debbie's sister Laura and her boyfriend Nick joined us all.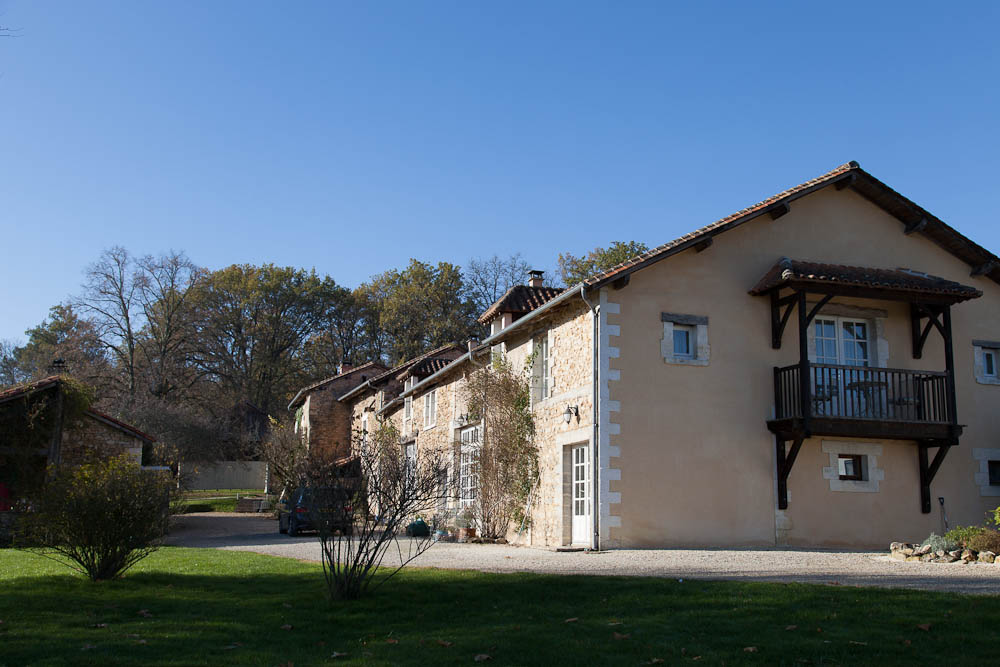 After a lovely extended weekend we said our goodbyes to everyone on Tuesday afternoon - not before both getting a haircut from a friend of Debbie's who happened to pop round. As tempting as it was to stay on, we didn't want to impose any further, and we really needed to get back in the motorhome and start making our way down to Spain. Hopefully we will be able to see our friends again later in our trip, when we drive back up through France on the way to the UK.
We headed in the general direction of Bordeaux, but stopping short at a place called Duras, finding a quiet site there to stay. We arrived after dark, and with not a drop of water left in the motorhome. So in the freezing cold and dark we had to fill up the water tank first, before being able to relax in the warm for the night.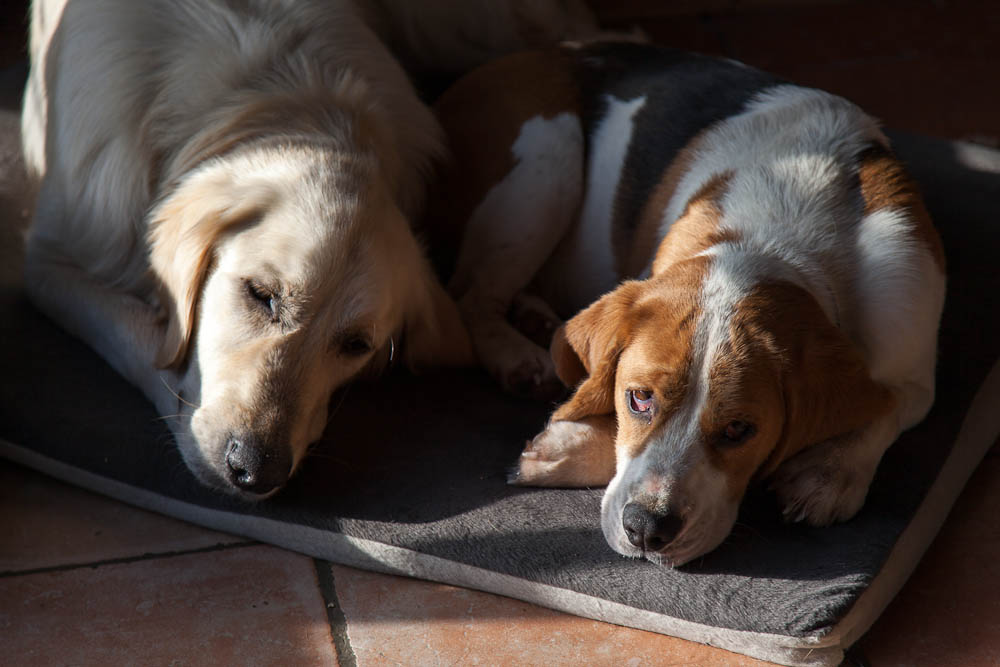 On Wednesday we decided on a lazy day at the campsite. It wasn't very expensive and they had fairly good internet, so we decided to take it easy. Perhaps we had started to get used to staying in one place and were finding it tiring to get back on the road again.
Today we had intended on hitting the road, but after a very lazy start to the day, the prospect of having to plan where we were going, write our blog to cover nearly the last two weeks, and then drive somewhere didn't sound appealing. Instead, we opted for another campsite day so we can get everything sorted, and then we'll head off again tomorrow.