We left our campsite in Duras on Friday, and did a very long drive to take us over the French border into Spain. We only crept just over the border however, and found a free stop along Hondarribia beach, around 30km east of San Sebastian. We arrived about an hour before sunset - very pretty. There were plenty of other motorhomes parking here too, mainly Spanish. It was fairly quiet, with a lovely view across the beach on one side and the small marina on the other. I realise we are only just across the Spanish border, in the Basque Country, but it certainly doesn't feel at all Spanish yet - or at least the image we have of Spain. It does feel different to France though - perhaps a little like northern Europe at the moment.
After a good night's sleep we headed off on Saturday morning to San Sebastian. We had found a camper stop in San Sebastian in our book, but had found a review of it being like a gypsy camp, which is the reason for not staying there the previous night. However, on arrival we were pleased to find that it was perfectly fine. The stop was quite busy and we were worried there wouldn't be a space for us at first, but we soon spotted a place. It had water for us to top up, and only costs €3.20 for the night. We decided it might make it an overnight stop after all.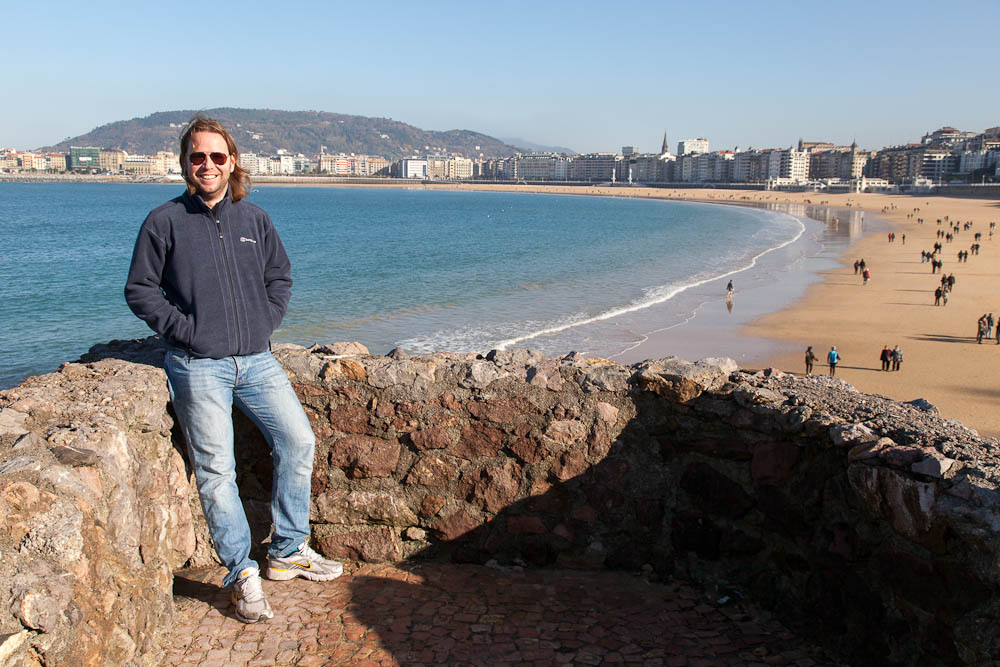 We took a walk into the main area of San Sebastian from the camper stop, just around a mile away. We had heard that San Sebastian was supposed to be very pretty. We were pleased to find that it did not disappoint. The beach there is absolutely huge. It is a really pretty bay, and the houses build up from the beach on the cliffside almost made us think we were on Queenscliff beach in Manly for a moment. The whole place is really clean and attractive, and with the sun shining and not a cloud in the sky, it made for a really enjoyable day.
We took a walk right around the beach, stopping briefly for some lunch, and all the way to the other end. We encountered a mix of different street musicians along the way which was lovely - playing music ranging from old American rock-and-roll to traditional Spanish songs. The traditional group even had a guy playing a saw with a bow, which was very cool. We liked San Sebastian a lot, and were pleased we had stopped for a visit.
Having walked a long way around the beach, and with the sun starting to drop in the sky, it was starting to feel a little chilly, so we opted for the easy option of a bus back to our stop for the night.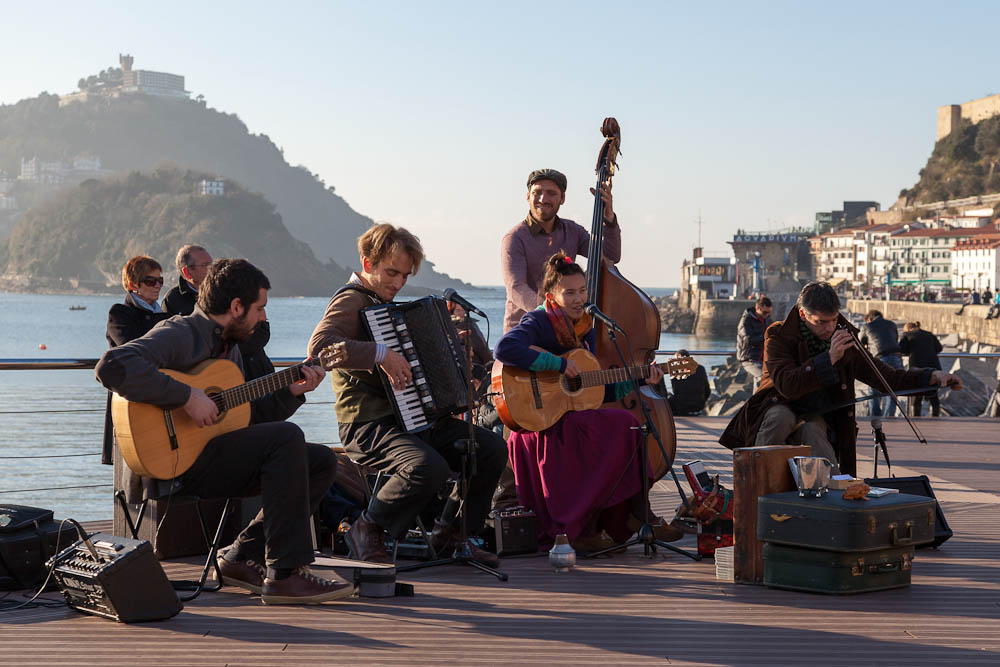 Sunday and Monday were both quite long driving days. We had already planned to get to Stu's mum's place near Pinoso, about 40 minutes drive inland from Alicante, and stay there over Christmas and New Year. With us now nearly six months into our trip, knowing we have a big house waiting for us, and with the cold weather creeping in, we are both ready to take a break from the motorhome for a while. This is why we have decided to push on through Spain quite quickly. We will be able to properly see places in Spain when we head back up in the new year. On Sunday we made it down to Zaragoza, finding a nice campsite for the night. It was interesting how we saw the landscape change gradually from lush green hills, to more dry and barren looking scenes the further south we drove. On Monday, we drove all afternoon down to Ibi in the province of Alicante. We probably could have gone straight to Stu's mum's place, but as we will need to do a big food shop beforehand, we'd rather leave that until the next day when we can do it all, and get to the house early. As today was a long drive we didn't get to our stop until just as the sun was setting, so it was nice to just get some dinner, watch a film and relax.
On Tuesday morning Stu contacted Steve, a friend of his mum's who also lives around Pinoso. He had the keys to his mum's place, so we had to arrange meeting up with him. Once that was sorted we headed off in the direction of Pinoso, stopping at a Carrefour on the way to stock up on groceries. It was a bit confusing when we first got there as to where we could park the motorhome. As we approached the carpark we saw it had a height restriction of 2.5 meters - not suitable with our 3.1 metre high vehicle. So we drove back around the roundabout and along other roads to find somewhere to park. After it all getting a bit stressful, we pulled over and Stu had a look on our GPS map. It appeared as if there was another carpark further on from the entry point we had already been to, so we gave it a try. Fortunately, as we were approaching we saw another motorhome parked there, and realised this was our spot. Perhaps it might be helpful if they put a sign up indicating this carpark for larger vehicles. Anyway, glad to have parked up we headed into the supermarket to attempt to stock up as much as possible for our stay over Christmas and the New Year.
As we left the supermarket with our heavily laden trolley, we were not looking forward to pushing it to the motorhome. Not only was our parking spot a little distance from the normal carpark, it was also up a steep road - it was also not possible to get the trolley onto the pathway. Stu thought the best option would be to get a bit of a run up and get some momentum going for the steep incline, but his plan backfired a little when the tray of beers on the bottom shelf of the trolley slid off, and then proceeded to trip him up as he ran. Despite falling over quite spectacularly, he didn't lose his hold on the trolley handle - which was a good job as otherwise our shopping trolley would have gone crashing back down the road. Nice work Stu! Finally, we got the trolley up the hill and to our motorhome. By this point it was feeling more like summer again as the temperature had risen to 19 degrees. This would have been lovely, if it wasn't for heaving the shopping uphill and then having to unpack it all in the motorhome! Once it was all sorted we headed off to our meeting point with Steve, a few miles out of Pinoso.
Steve gave us the keys, and had very kindly been to the house and turned on the fridge/freezer, water etc. ready for our arrival, and also told us we could call him any time if we had any problems - very good to know! So we set off for the house, making a brief stop along the way for some firewood. The house has no central heating, so we would need wood for the burner.
There was a moment of panic when we first arrived, as we weren't sure if the motorhome would fit down the little road to their house, but thankfully we did fit in fine with a little manoeuvring. As we parked up outside the house we were greeted by the next door neighbour, Paco. A brief "'Ola" is about all our Spanish extends to, but I think he understood.
It took some time to unload all our clothes, food and other belongings from the motorhome into the house. We attempted to light the boiler with very little success. We were a bit concerned that the gas may have run out (the hot water and cooker are powered by gas bottles) but it turned out that it is just a little temperamental to light. Stu opted for the easy option of showering in the motorhome for the time being, where we could heat the water until we got it sorted.
Once all unpacked we fixed a quick dinner and then relaxed in front of the toasty woodburner to watch a film.
On Wednesday morning Stu successfully lit the boiler after a few more attempts, so it was hot shower time! We had a fairly lazy day, the only exertion being getting some wood for the burner. Thankfully there was plenty available just outside the house, and we managed to find some small sized bits without the need for any chopping. Paco came over while we were gathering some wood and gave us a hand too, which was very kind. Despite us not speaking Spanish, and Paco not speaking a word of English, we managed to tell him where we had been on our trip so far (with a little help of drawing with a stick in the sand). We also gathered from Paco that he would help us tomorrow with chopping wood, as he had a chainsaw.
On Thursday, Paco delievered on his promise of the previous day and took Stu outside to assist wih the wood cutting. We hadn't realised that instead of chopping up the vines outisde the house, he was actually cutting up some of his own wood palettes. While Stu assisted Paco, I started preparing vegetables for dinner that evening, but also some for Christmas Day. A bit early I know, but we don't know if we'll be leaving the house again before Christmas, and the vegetables we have will not last until Christmas unless they are prepared and frozen now. Stu returned later in the afternoon armed with a couple of large crates of chopped wood, which should keep us warm for the coming days. He also carried the other crates of wood for Paco and left them outside his front door. A few minutes later, Paco knocked on the door. It appeared that the crates Stu had presumed were for Paco, were actually also for us! An incredibly generous offering for Paco that was very much appreciated.
The last couple of days have been nice and relaxing for us. We have finally got some internet up and running, and we have plenty of food to keep us going for a while and plenty of wood to keep us warm. I think we are going to enjoy this break from our trip. This blog post will be our last for a while, as we stay put over Christmas and New Year.
See you on Facebook and Skype!