On Saturday we left our 'German' campsite at Ramonete. We intended to go food shopping at the nearest Lidl, but as we drove near we realised we wouldn't get our motorhome in the car park. Instead, we headed to a Spanish supermarket - which actually worked out well as it had better variety but still reasonably priced.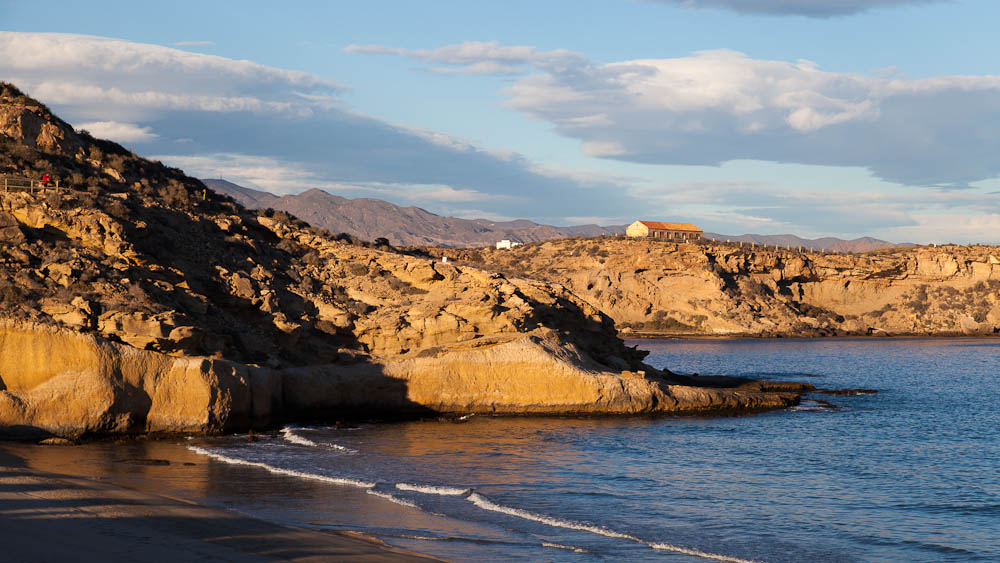 We found ourselves a free stop at Playa la Carolina de Aguilas. It was a really lovely spot, probably trumping our free stop from a couple of days previous. We had a lovely view out to sea and it was really peaceful. The weather was really warm when we arrived mid afternoon, so we decided to set up the table and chairs outside. We realised we had British neighbours on either side of us, and they were all really friendly. First we were chatting to the guy to our left, who gave us a few good motorhome tips - advice is always welcome. Then we got chatting to our other neighbours, Debbie and Mark. I think they, like us, were happy to meet another couple who were nearer their own age.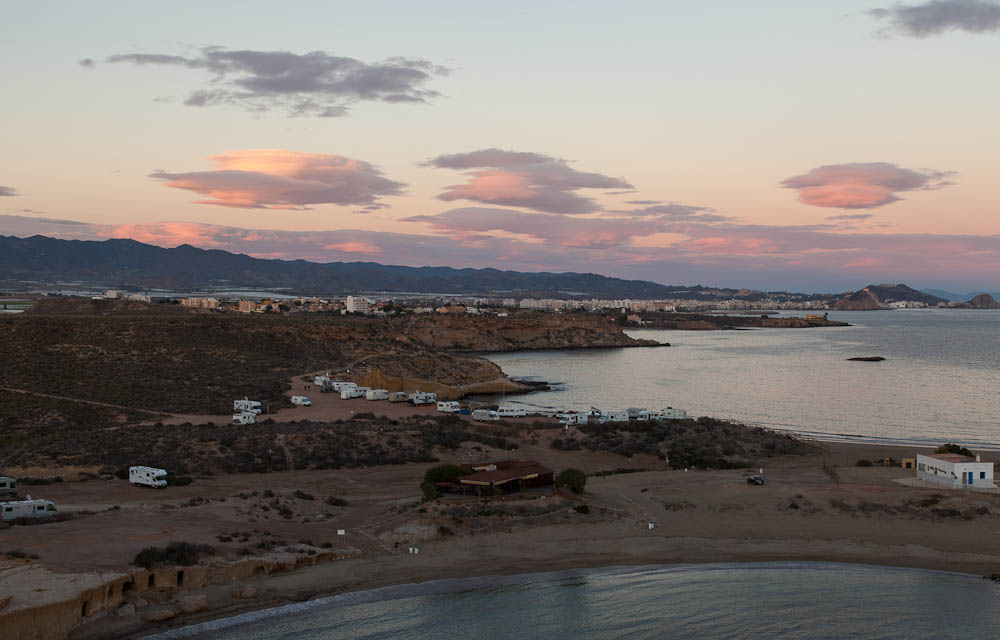 With the beautiful weather, the amazing view and the lovely neighbours, I think this had become our new favourite free stop of the trip so far. The sunset was amazing too, and with a lovely clear night we were treated to a bright starry sky.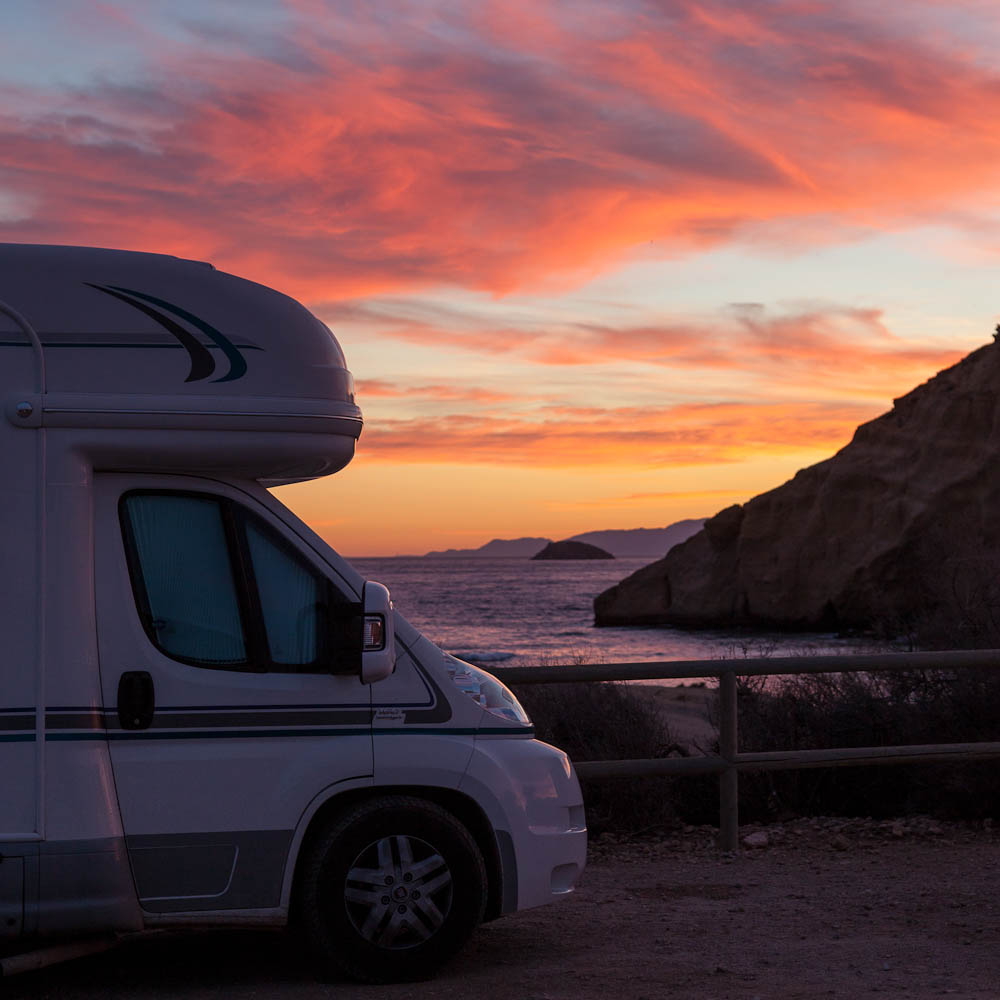 The next day (Sunday), with the weather being the same as the previous day, we were in no rush to leave, so opted for another day and night in the same place. Our neighbour Mark had a blow-up canoe that he was planning on taking out into the sea for the afternoon, and asked Stu if he fancied joining him. Stu obviously jumped at the chance! While the boys were out playing on the water, Debbie and I enjoyed the lovely weather and a chat.
Thankfully, no one fell in the sea while out on the canoe! Stu and Mark returned a few hours later, not with any fish, but happy after a fun afternoon. This is starting to feel like a summer holiday in winter!
On Monday, after some strong winds in the night, Mark and Debbie headed off to their next destination in the morning. After a later start, we left too and headed off to a campsite in Vera. The previous day a guy had come round promoting his new campsite. He gave us a leaflet and told us that it was just €9 a day, with electric, water, wi-fi, washing machines, showers etc. all included. After free stopping the last few days we needed to sort out the toilet, fill with water etc. Plus, free washing machines sounded great, as most places charge around €3.50-5.00 per load. So we took a drive to Vera, a little inland and away from the coast.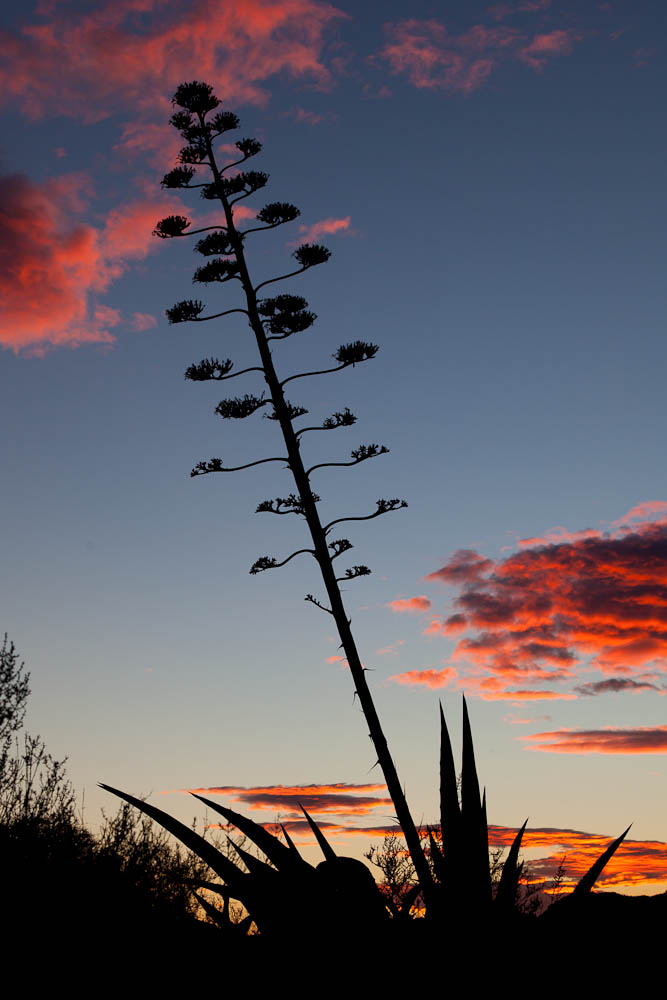 The campsite seemed nice enough, and whilst there were quite a few people there, there was still plenty of space for us. We were a bit disappointed as we parked up that below our site there were some builders who were working on a new sanitary block for the site. The guy at reception advised us that they should have finished in December, but were now working until February. A bit irritating having building work going on - not something he mentioned the previous day when he was promoting his site to us! He did say they would stop at 4pm though, which they did.
We decided to get some washing done, but over at the washing machine area it was a bit chaotic. They had two washers, and one dryer, and there were people hanging around with their laundry bags, with nobody really knowing who was next. Stu took the initiative, and with a few post-it notes, managed to create a virtual queue on the board to help everyone out. (Stu note: my hypersystematising disorder has upsides!). Whilst most people were happy enough with this, it didn't seem to stop one German woman who decided to ignore the queue and proceed to wash 4 loads of washing, one after the other. When I politely asked if she would mind following the queue system, and letting the poor Swedish guy who had been sitting and waiting patiently for the last couple of hours, do his washing, she dismissed me with a flick of her hand and continued with her washing. After a couple more attempts, with the same rude respone, I realised I was getting nowhere. I told her how rude and inconsiderate she was being. She made out she didn't speak any English, but I hope she understood that. Despite talking to the guy on reception about it, his attitute was that it was up to the campers to sort it out - basically not his problem. He then proceeded to moan about the unfinished sanitary block which would solve the issue - but that wasn't really our problem either!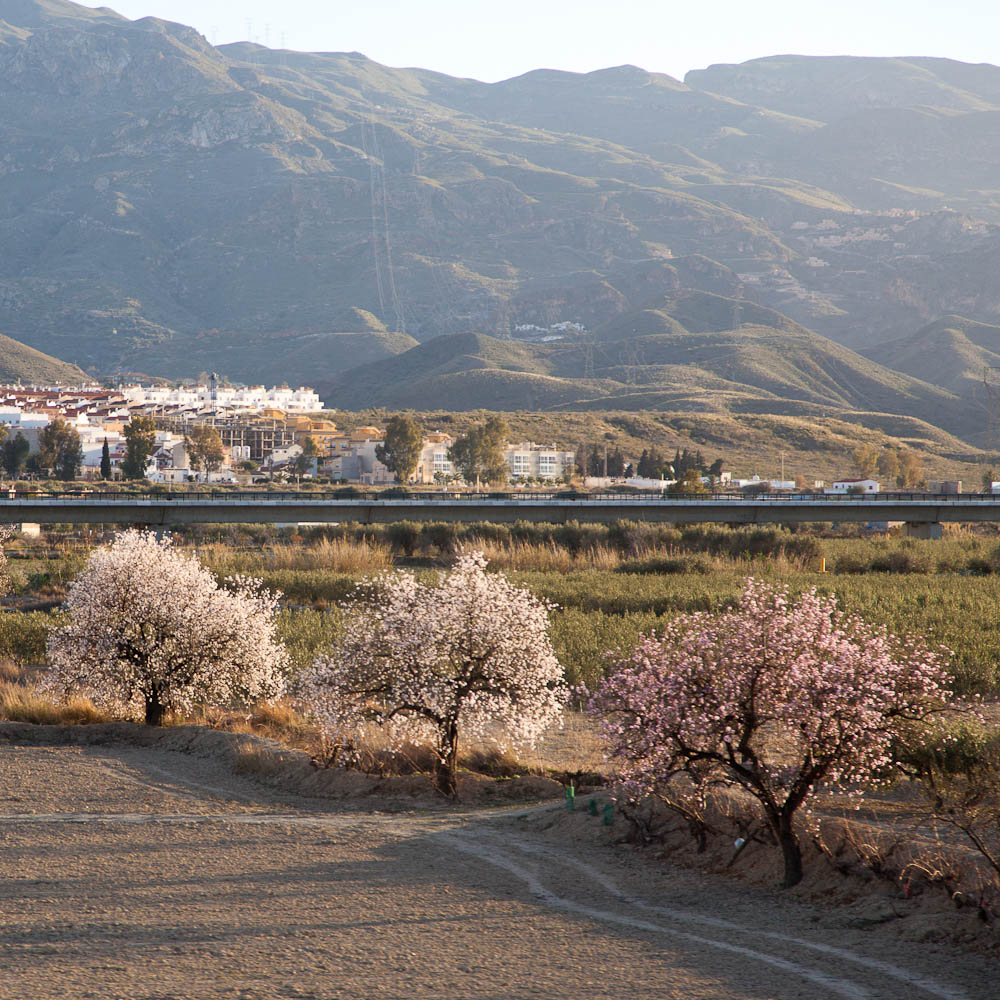 Once the rude German woman had finished her ton of washing, normal service soon resumed and we were able to get our washing done. A further annoyance was the fact that the washing machines had a rubbish spin, and the dryer didn't dry very well. So unfortunately, our washing was not finished until the early hours of the morning.
Not entirely happy with our experience of the site in Vera, we decided to leave the next day. We had quite enjoyed discussing between us some genius acts of revenge we could have on the horrible German woman, but I think our annoyance had waned overnight so we didn't do anything in the end. I wont mention the ideas we came up with!
After a late night sorting the washing, we were not best pleased to be woken at 8am by the builders. At least we got all our washing done and stayed there for €9. The washing alone would have cost us more than that somewhere else. The site was situated next to some Padel courts though, so we decided to park up next to the courts and have a game. Basically, Padel is sort of a hybrid between tennis and squash. You have a plastic bat, rather than a sprung racket, but play with a tennis-like ball. You do underhand serves, and have a net in the middle, but the court is enclosed and the ball can bounce off the glass walls, from which you can return the ball. It was really good fun, and put us in a good mood as we left the Vera site.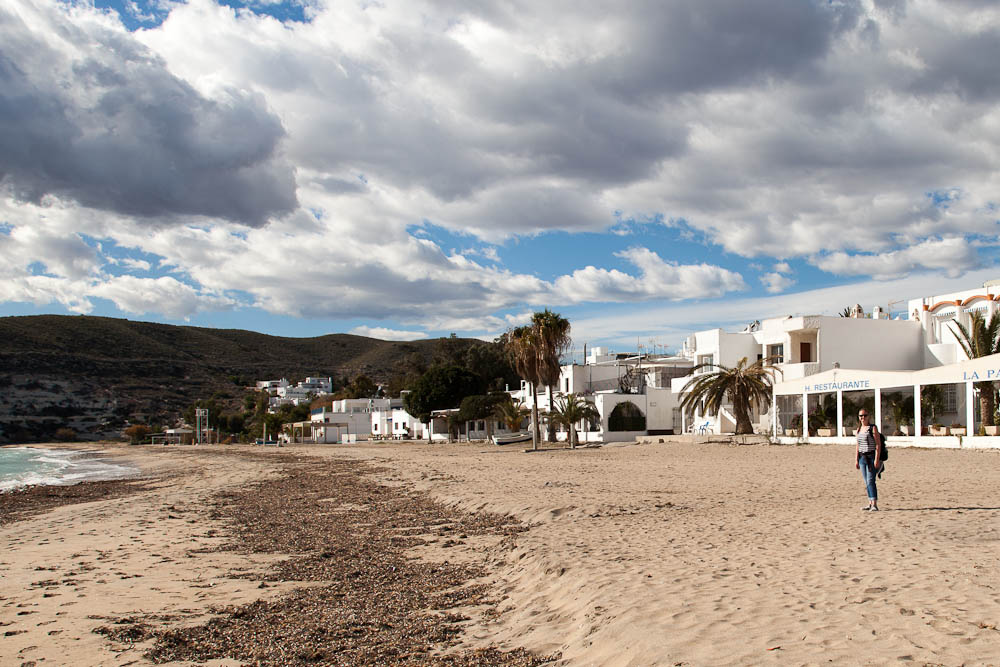 We drove back to the coast, heading slightly further south. We came across a free stop right next to the sea, but it was just off of a noisy road. We met a nice guy who was also parked there with his wife in their motorhome. They were unsure if they were going to stay the night, as he had heard from someone else about people being moved on by the police in the middle of the night. After an hour or so of weighing it up, we opted to leave and find somewhere quieter. We drove to a camper stop we had found in our book, at Agua Amarga. Once again we found ourselves seemingly driving off into nowheres-ville, before suddenly spotting a big group of motorhomes all parked up on the site. It's a great spot, practically on the beach. It's really quiet, with the only noise being the sound of the waves. Stu managed to pick up some free wi-fi too, and with the weather still being beautiful I think this has pipped it as our new favourite free stop. Even better, in the morning a van comes along selling fresh bread and croissants!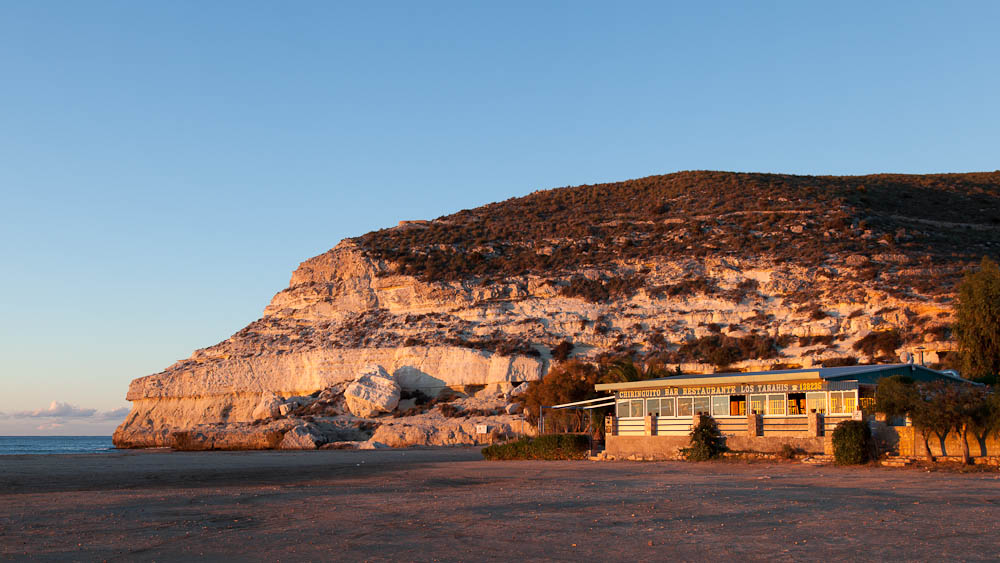 So, it's Friday today and we have been at this stop since Tuesday afternoon, and it has been a great break. Unfortunately, on Wednesday, disaster struck when Stu's SSD hard drive died in his laptop. After a worrying couple of hours, he managed to use another hard drive to get the laptop booted, and fortunately he managed to recover some work he thought he'd lost. He had had the forsight to back up most of his stuff online, which was a great saviour - so although it was a pain for him to sort it all out, he recovered nearly everything. On the plus side, on the same day Stu managed to solve our 12 volt issue.
For the last few months, the 12 volt socket in our motorhome, powered by the leisure battery, has been quite temperamental. It worked fine for the first few months of our trip, but in the last couple of months it would work sometimes, but not others. In the last couple of weeks however, it had stopped working altogether. This is quite a pain, as it was great for charging up electrical items when we are not plugged into an electric supply at a campsite - i.e. wild camping. The only other 12 volt socket we have is powered by the vehicle battery, and we learned back in Slovenia what a bad idea it was using that to charge things! Not be able to start the van isn't our idea of fun!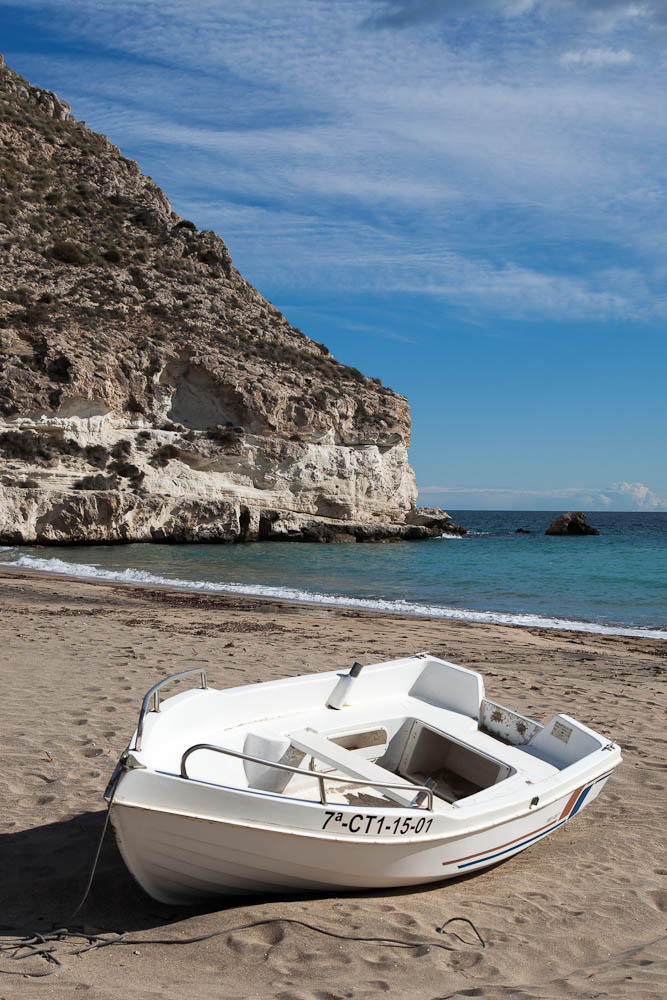 We had ruled it out as being a problem with the leisure battery, as the indicator showed the leisure battery was charging nicely. All our lights work too, which are powered by the battery, so we could only conclude that a wire had come loose somewhere - althought Stu was able to detect voltage coming through the socket with his multimeter. A bit of a mystery. However, Stu had an idea to try disconnecting one of the spotlights, and connecting the 12 volt socket to that instead, and bingo! It has worked! We are now both very happy campers, as we can now charge the laptop, our phones etc. all from the 12 volt charger once again. It might not sound much, but this makes wild camping a whole lot easier.
So the rest of our time here at Agua Amarga - hard drive death excluded - has been very relaxing, and made extra enjoyable with the 'free' wi-fi. We headed out for a nice walk along the beach yesterday. We found a little bar and stopped for a drink. While we sat outside we spotted their pool table, and ended up playing a few games. Stu won most of them, but it's the taking part that counts!
Yesterday morning we heard the bread man arrive. Stu headed out and got us some bread for lunch and a couple of croissants for breakfast. I think we could get used to staying here. Alas, I think we'll head off tomorrow and stay here one last night.