After planning to leave our great free stop in Agua Amarga, on Friday 31st January, we found it difficult to tear ourselves away from the beach here and stayed here a couple more days. The warm weather, beach, sea view, 'free' internet and guy delivering croissants and bread every day was too much of a temptation!

We finally left Agua Amarga on Sunday 2nd Feb, after enjoying pain au chocolat for breakfast, heading down to a campsite in the Cabo de Gata Natural Park, near Nijar. After several days free camping, there are a few things that we needed to attend to - toilet, water etc. - so it made sense to go to a proper site with facilities. It was a fairly nice campsite at Los Escullos camping, although some of the pitches were a bit awkward to fit into. We tried one spot, with no success after a few attempts, finally making a tricky reverse park into another pitch instead. We found the other campers to be very friendly here, with a few fellow Brits stopping for a chat. The guy parked opposite us with his family was very friendly, and he joined us in the afternoon sitting outside in the sun. Stu let him have our old camping books, as we have the new ones for 2014, which he was very grateful for, offering us a drop of wine as a thank you.
The next day (Monday) we decided to take advantage of the padel court. We only had time for a two sets, so it ended equally with a set each. We finished just as some ominous grey clouds started making their way towards us. Thankfully they didn't bring any wet weather on this occasion.
On Tuesday we left the site heading for Motril. We stopped along the way to get some shopping done at the Carrefour. Stu had also bought himself a guitar from eBay while we had been at the last campsite. He managed to find some free wifi in the Carrefour carpark, but it was a really bad connection. He needed it to sort out his payment for the guitar, but it was proving to be quite difficult. After half an hour or so of faffing, it seemed the internet was not going to work properly, so we continued our journey.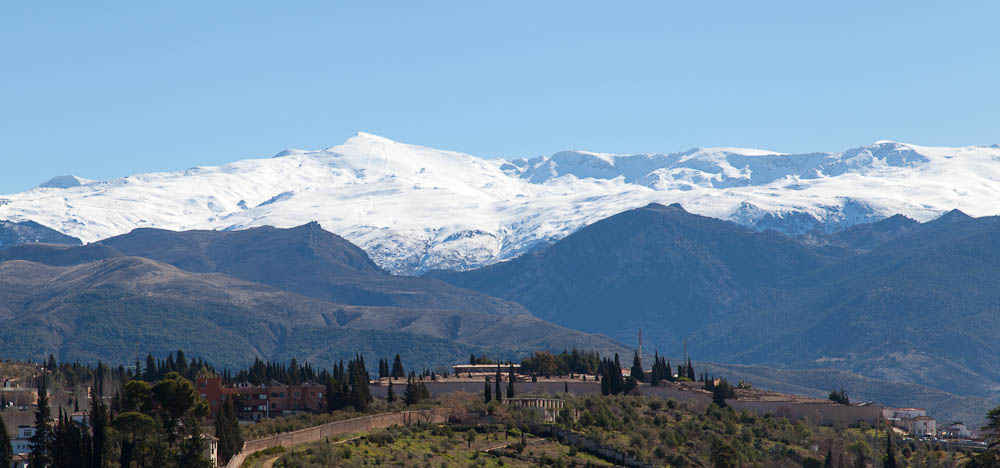 As the sun was starting to set, we were on the look out for a free camping stop in Motril, but couldn't spot it. We found a campsite, but when Stu had a look inside he said it didn't look great, plus there was an extra charge for the wifi so it didn't sound good value for money. Stu asked if he could buy some wifi usage without staying at the campsite, so he could sort out his eBay purchase from the carpark outside, but the guy on reception said no. Seems a bit daft to turn down money, but it was up to him. Anyway, we headed up the road and found a free spot where a couple of other motorhomes were already parked.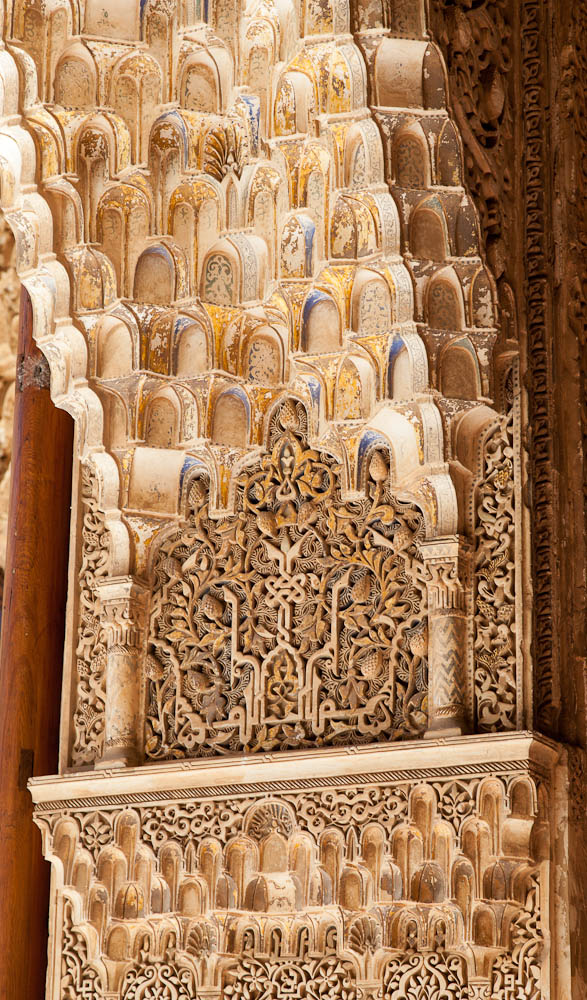 Before it got dark, we decided to try and find the other free stop again, as we couldn't be sure about this one. After taking the turn of where it was supposed to be located according to the GPS location, it turned out to no longer exist, so back to the other free stop again. As we were driving towards it we noticed that one of the motorhomes that was parked there previously was driving past us down the road. Upon arrival, all the motorhomes had gone, so it seemed fairly obvious that this stop was not reliable and they had been asked to leave by the Police. Reluctantly, as we were both tired after a lot of driving, and it was now dark, we decided to stay at the campsite after all. This was another ridiculously tight spot to park on the pitch, not helped by the tree stump at the back of it which shaved off an extra foot of space for us to back into. We managed to just about fit in, parking on the diagonal and almost infringing on the pitch next to us. Why they have such ridiculously tight spots for motorhome parking, I don't know. Our vehicle isn't even one of the biggest ones! Unfortunately, we were also situated under a low tree which squeaked against the side of the motorhome everytime the wind picked up. Stu managed to hack some of it back using the stabliser winder, which improved things. Then we discovered that the wifi - which we had to pay extra for - was totally crap. The reception was unbelievably poor, even with our aerial, so Stu asked for his money back. Fortunately, we still had the log in details, but it was still a pain to use. At least Stu managed to get enough reception to sort out his eBay purchase - finally!
On Wednesday we left the naff campsite, after not having a great sleep, due to wind and rain in the night, and not helped by what was still remaining of the sqeaky branch! We took a drive up to Granada. This drive took us away from the south coast, heading north and inland past the Sierra Nevada mountain range. This was a lovely drive, and you could see some snowy peaks in the distance. The site was a lot better than the last place. The wifi was included, although we were told that they normally charge for people staying less than three nights. We didn't know how long we were staying, so Stu managed to get it included. We arrived mid afternoon, so took tbings easy for the rest of the day, just booking a taxi and tickets to visit Alhambra the following day.
Thursday was an earlier start that usual for us, with the taxi to Alhambra arriving at 10:20am. We were advised by reception that a taxi was more relible than the bus, as you are allotted an arrival time at Alhambra to pick up your tickets, and they don't like it if you are late. Thankfully, the taxi was on time and we arrived in plenty of time to get our tickets and make our way around.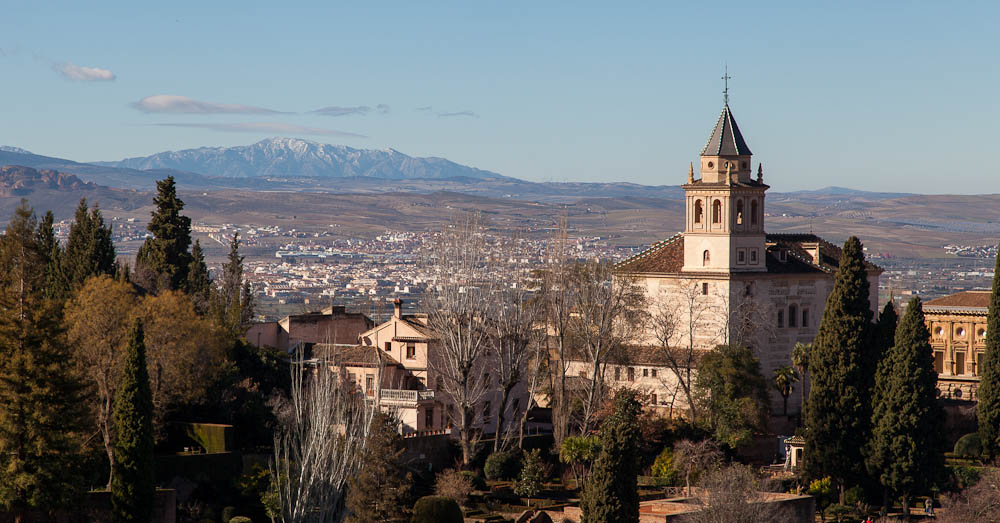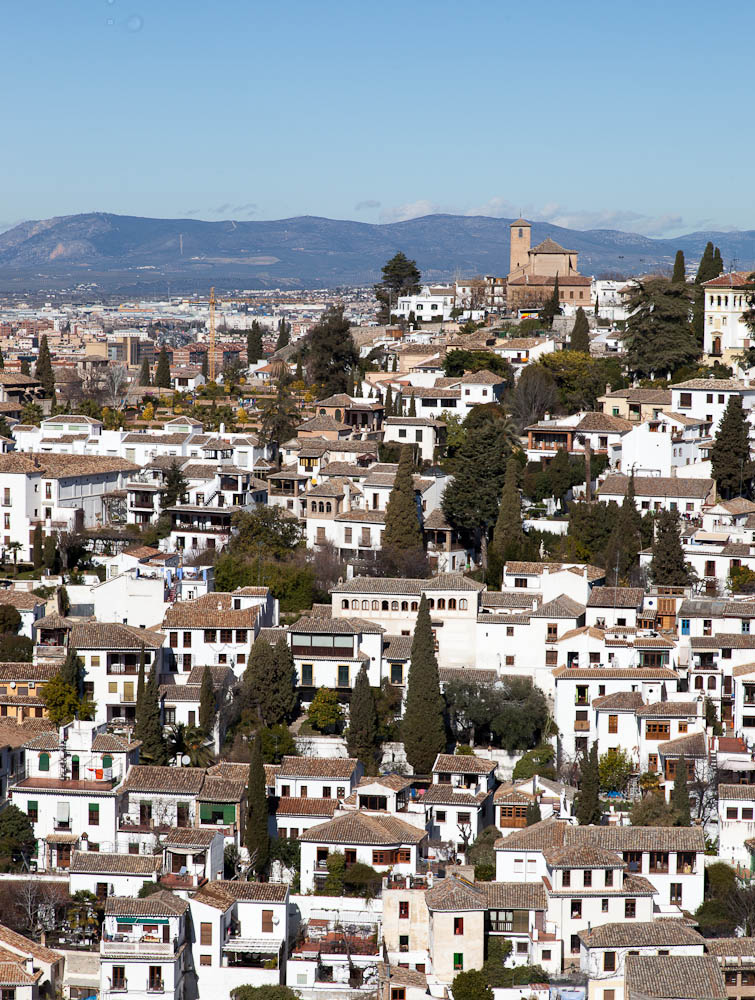 The palace and fortress complex of Alhambra was originally constructed in 889 on a much smaller scale. It was only in the mid 11th century that the ruins were renovated by the Moorish king Mohammed ben Al-Ahmar of the Kingdom of Granada. The current palaces and walls were built by him. The Alhambra is Spain's most significant and well known Islamic architecture site, and therefore also one of its most popular attractions. We had been given an approximate timetable of when to see the different areas of the site, although the entrance time to the palaces was fixed, and we had to make sure we were there at the allotted time.
We took a walk around the Generalife, an area of pretty gardens, constructed as a leisure area for the Granadan monarchs. Next we went to the Alcazaba, one of the oldest areas of Alhambra and its military area. A walk up the steps to the watchtower here gave a wonderful view over the town and countryside below, as well as out to the Sierra Nevada.
The final area we visited, at our strict entrance time, were the Nasrid Palaces. These were, without a doubt, our favourite part of Alhambra. The decorations within the palaces were amazing, many consisting of Arabic inscriptions that are manipulated into sacred geometrical patterns. The only slight annoyance was being told by some of the staff to wear our rucksacks on the front. I'm not entirely sure the reasoning behind this. I can only assume they didn't want us bashing into any of the monuments, but perhaps warning us to be careful would be better, as carrying a rucksack on the front is not at all comfortable. On the whole, Alhambra was a real highlight - well worth the visit.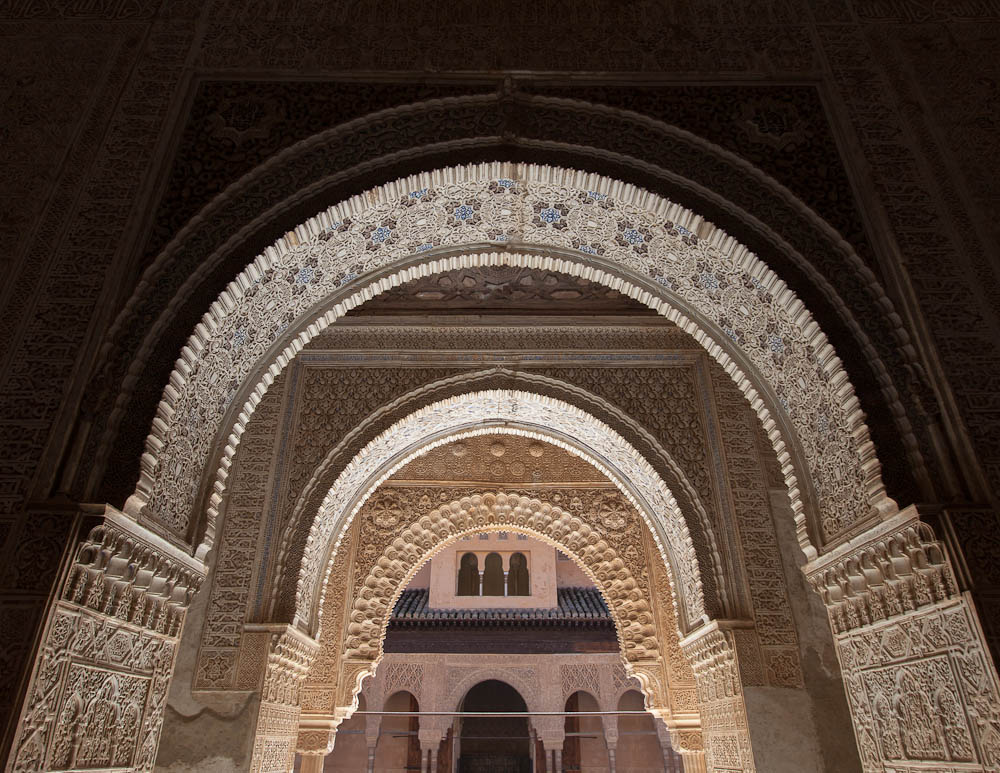 On Friday we took a rest day at the site in Granada, and then left on Saturday. We took a long drive to Ubeda, about 130km north of Granada. We had read this was supposed to be a nice town to visit, but we found only one place to stay that was anywhere nearby. Most of our drive it had been raining, and it was still raining on our arrival at the site. Stu had a look around the site, but they wanted €20 and it seemed a bit of a dump. It was a shame we had driven all this way, but the cost, the campsite and the weather were telling us to move on. The owners of the site looked a bit perplexed when we drove off - I guess most people probably pay the money regardless. (Stu note: people need to be told via their wallets).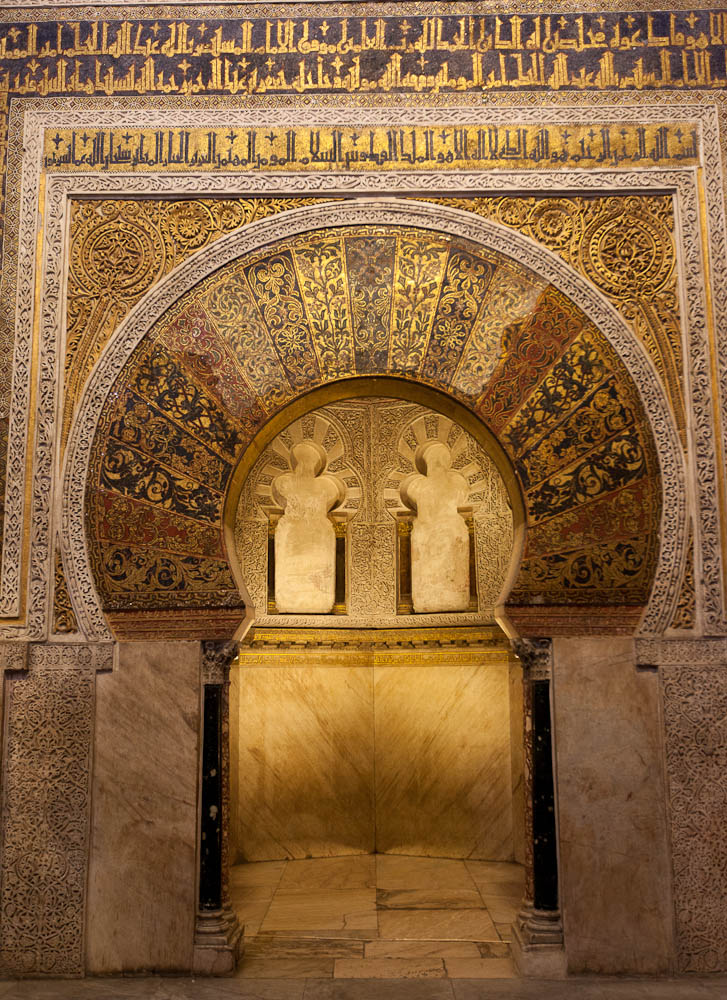 The next place to visit was another 100km or so away - Cordoba, to the west of Ubeda. At least the drive was quite pleasant - mainly just thousands of olive trees for as far as the eye could see. Cordoba was a must-see for us, so when this site turned out to be an even more expensive €26 a night, we had to swallow it. The weather was still pretty miserable by the time we arrived, and it just got progressively worse through the evening and the following day. Neither of us fancied walking around Cordoba in the violent wind and rain, so with the forecast looking better for the following day, we stayed at the campsite in the dry on Sunday.
Neither of us had a very good sleep last night, as the rain was still lashing and the strong winds rocked our motorhome. A good job we picked a spot sheltered by a wall, otherwise it would have been worse. I think we were getting a taste of the current weather back in the UK!
Fortunately, by this morning (Monday) the weather had completely cleared up. The wind had dropped, the rain had stopped and the sun and blue sky had returned. We took the bus into the centre of Cordoba, and took a walk around. We liked the place almost immediately. A very attractive city. It has many little side streets to explore - it reminded me a little of Venice, but a lot cleaner and a lot less graffiti!
We stopped for lunch at a little restaurant called La Flamenka. It turned out to be a great choice as the food and drink were superb. I opted for some kind of slow cooked pork cheek with potatoes, while Stu went for pork shoulder with aubergines - both delicious. I had my first glass of Sangria since being in Spain - very nice it was too. It wouldn't seemed right not to order a dessert as well, so I went for a choclate, cream, caramel, walnut delight while Stu opted for a cinnamon pastry with pumpkin jam. They also very kindly offered us a free Spanish sherry too after our meal.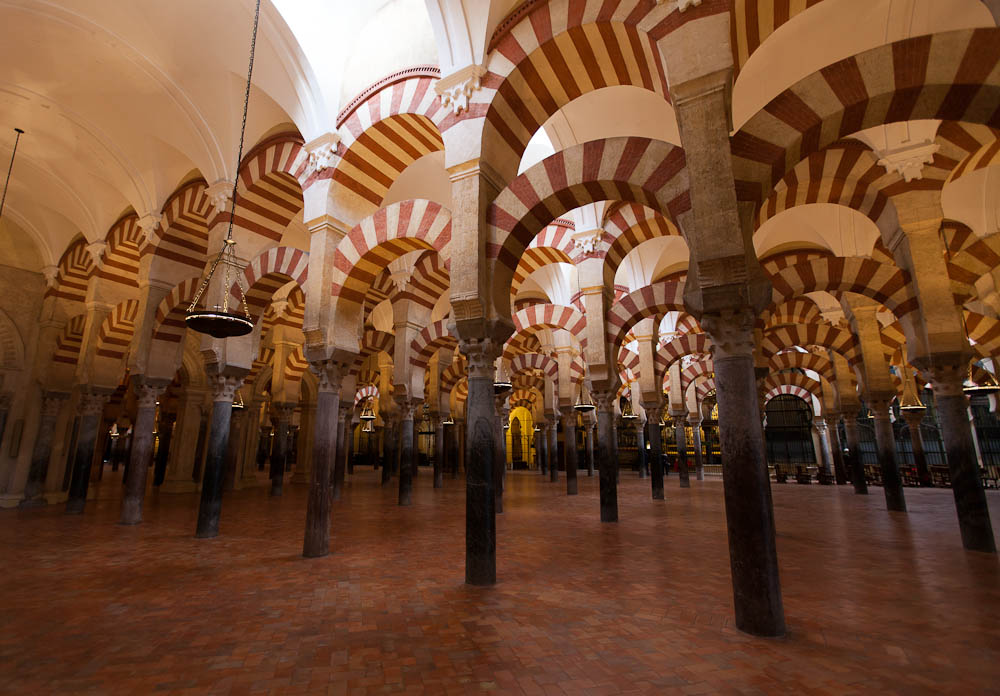 We headed the main symbol of the city, the Mosque-Cathedral of Cordoba. This is a medieval Islamic mosque that was converted into a Catholic Christian cathedral. The mosque is regarded as the one of the most accomplished monuments of Moorish architecture. The place is absolutely huge. It contains over 800 columns inside, which are made from jasper, onyx, marble and granite - the pieces of the Roman temple which previously occupied the site. The cathedral is very impressive, some of the carved wooden seats were particularly interesting.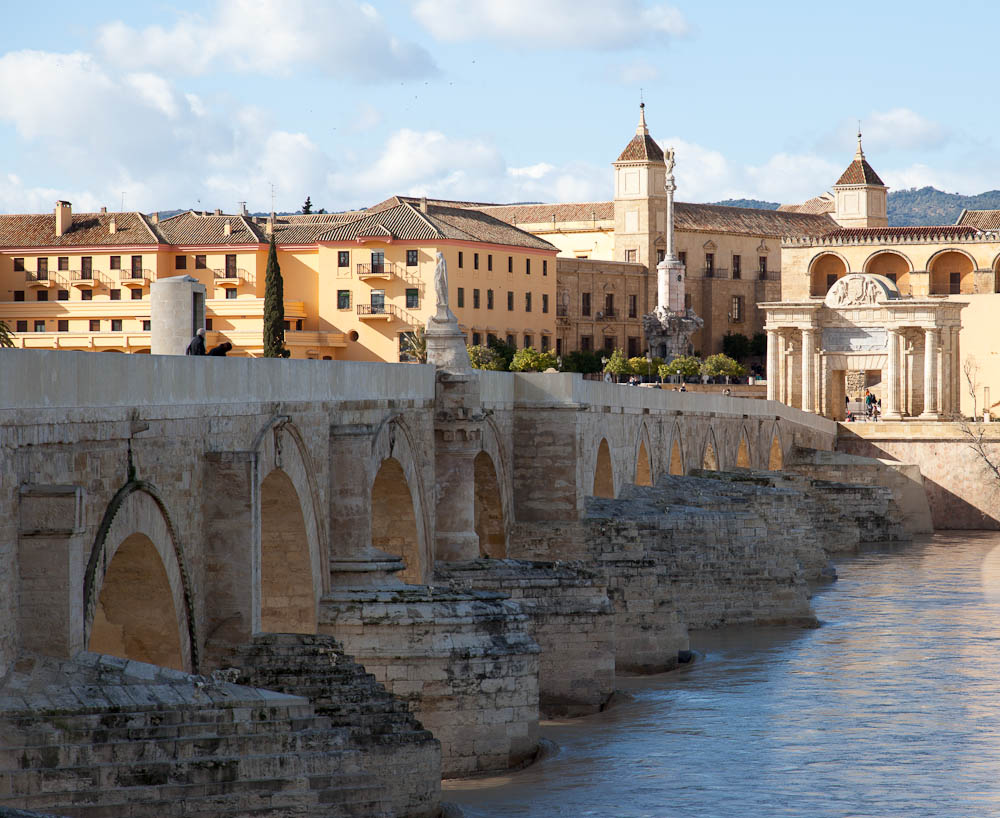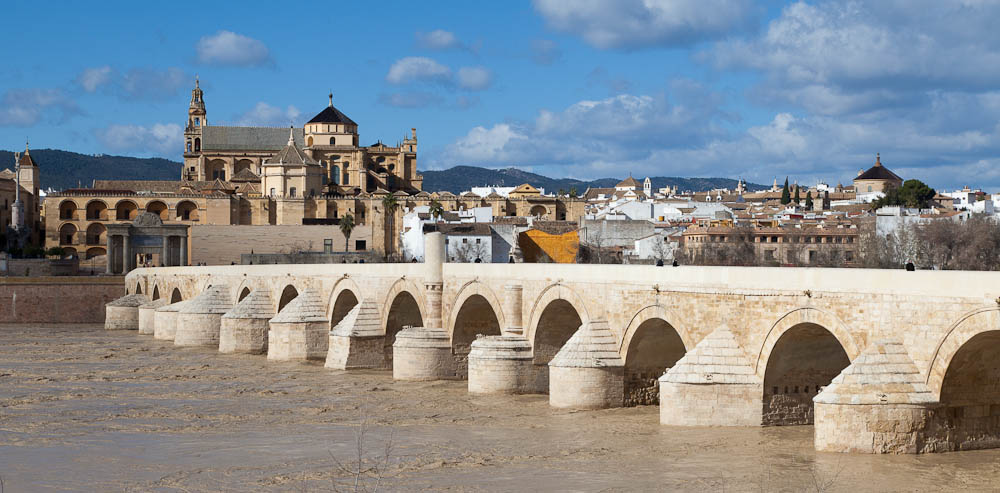 After this we took a more general walk around. We crossed over the Roman bridge, enjoyed a couple of beers in the sun - a lovely day and a great city to visit.