Last Tuesday we left our site in Cordoba, driving to a free stop at Archidona - about two-thirds of the way down to Malaga. It was an area next to a sports centre and car park. Certainly nothing fancy, but we were happy enough to take it for free. For some of the afternoon there were a few guys loitering outside the sports centre with a bottle or two of beer. We were initially a little concerned, but they actually kept themselves to themselves and showed no interest in the motorhomes parked up. They all left by the evening anyway, probably put off by the chilly night and then the fairly heavy rain.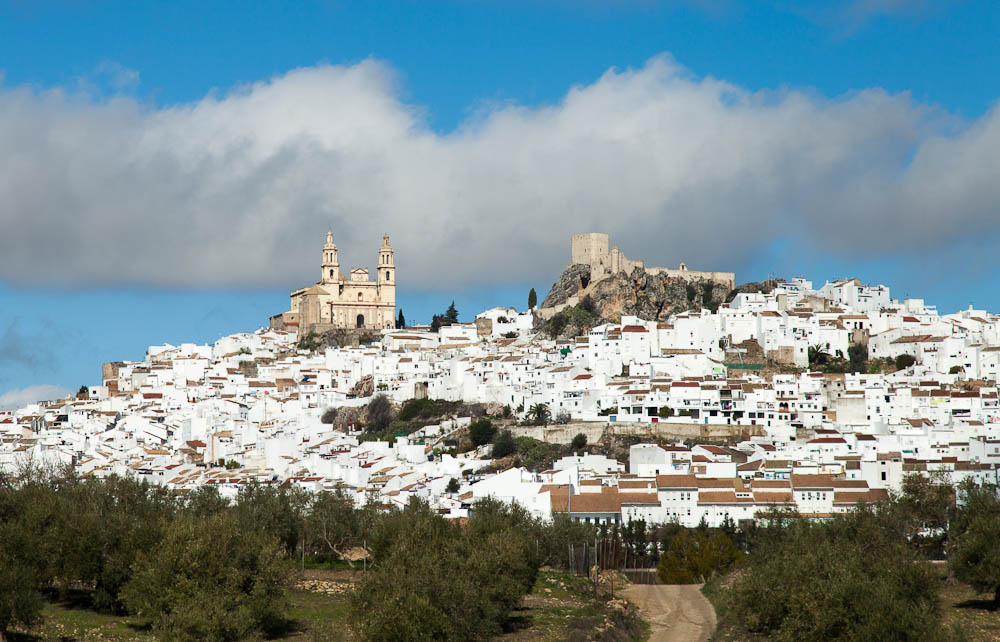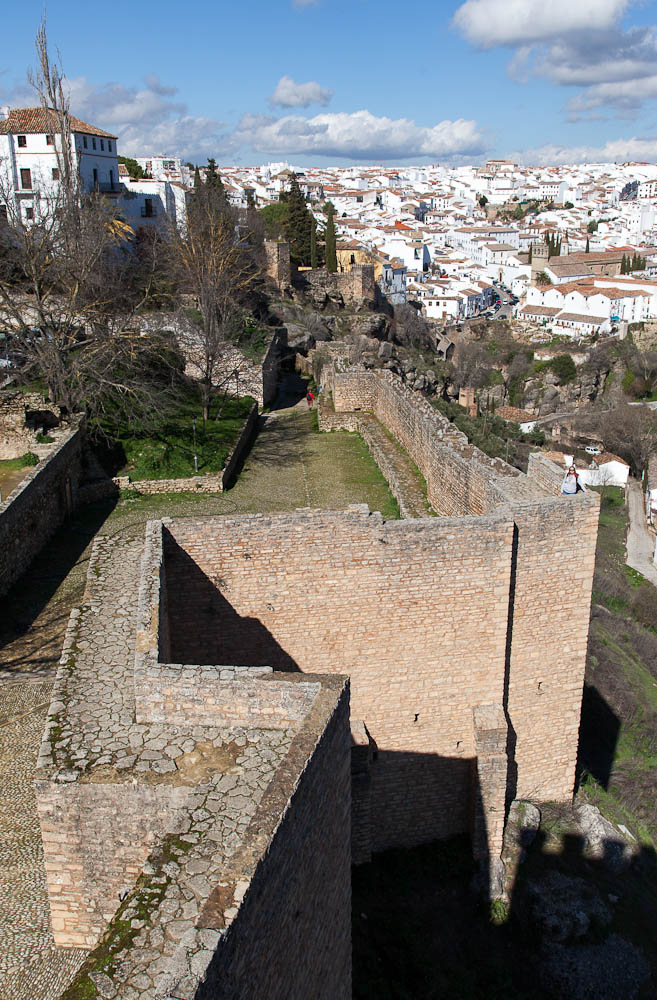 On Wednesday we awoke to more rain - not what we have been used to in southern Spain - and drove west to Olvera. We had originally intended on heading south back to the coast and visiting Malaga. However, after some research we found there to be no campsites or parking areas for motorhomes at all anywhere near Malaga. When we did some research about what there was to see and do in Malaga, we didn't find anything that was a must-see, so instead we were happy to give it a miss. We knew we definitely wanted to visit Ronda out to the west, but the only campsite we could find was on our GPS, which provides little information. As the weather was still wet, we knew we wouldn't be venturing outside anywhere for the next couple of days until it cleared up, so we took the safe option of a site we found in our camping book located in Olvera. This wasn't too far from Ronda, but we could at least be sure what facilities it had etc. The site was fine, and really quiet. We spent the next couple of days here while the rain continued relentlessly.
By Friday morning the rotten weather had finally cleared, and with the sun shining we headed to Ronda. We needn't have been concerned about what the site at Ronda was like, as it turned out to be pretty good, despite it not featuring in any of our books. It had its own bar/restaurant, nice big pitches, was fairly quiet and had good facilites. Considering it is the primary site for access to Ronda, it wasn't too expensive either.
After settling in at the campsite, we took the mile or so walk into the centre of the city. We needed some lunch, so stopped at a place which had a view over the city walls and across another part of the city and countryside - a really beautiful view. Lunch was great too, with Stu opting for the oxtail, a regional speciality, and me going for tapas. This turned out to be a fantastic lunch - the food, beer, weather and view all coming together nicely.
We really liked Ronda straight away. A really beautiful city set in stunning surroundings. It is siutated in a mountainous area, about 750m above sea level. The city perches upon the El Tajo canyon, which is carved through the middle of the city by the Guadalevin River - a stunning sight. The Puente Nuevo (New Bridge) is probably the most spectacular of the bridges in Ronda which span the canyon. This bridge took 42 years to build, being completed in 1793, and fifty workers were killed during the construction. We found a path which led down into the canyon, stopping at a point halfway down which offered a spectacular view of the bridge. A truely amazing structure.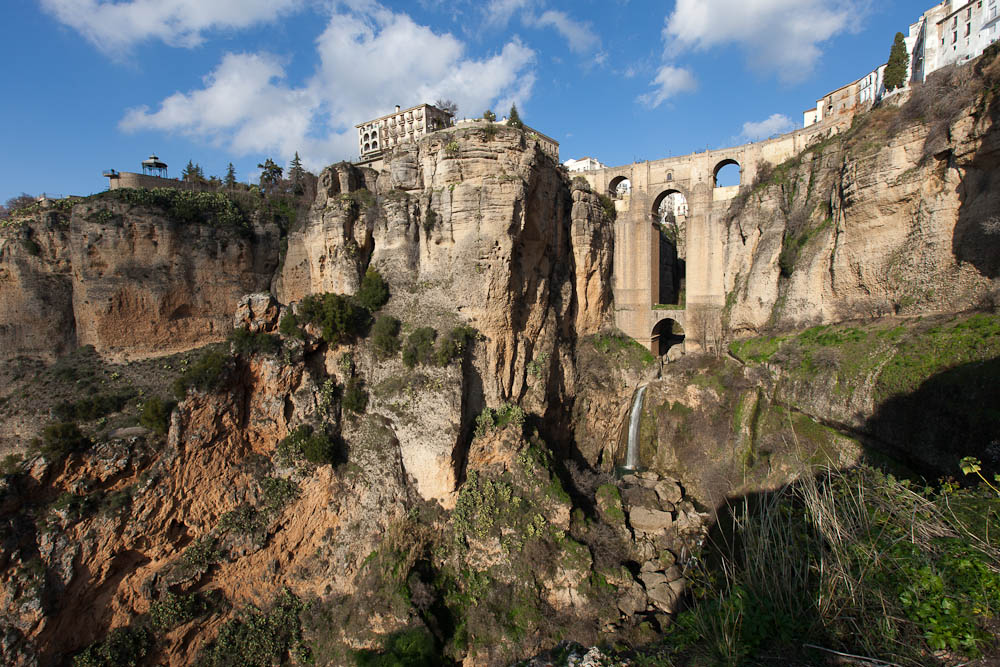 After a fantastic walk around the city, we walked back to our site, stopping for a couple of beers at the bar on our site, after which we decided to also have our evening meal there. The meal was really good. Not our first experience of having a great meal at a restaurant located on a campsite - not what you might expect.
On Saturday, some rain had returned so we decided to stay at the site for the day, just venturing as far as the restaurant for some dinner once again. The food was still good, although opting for the cheese platter after our main course didn't turn out to be a great idea. I'm not sure a cheese platter is a common dessert in Spain, as it turned up with some slices of cheap Spanish cheese (a bit like chedder) and a handful of mini breadsticks. Not quite what we expected.
The weather had improved once again by Sunday, so we took the opportunity to do some washing in the morning. We hung it outside, so it would hopefully dry throughout the day, and took another walk into the city. Our first destination was Plaza de toros de Ronda, the oldest bullring in Spain. Thankfully there was no bullfight going on at the time, but we took a walk around the ring itself and through the museum rooms.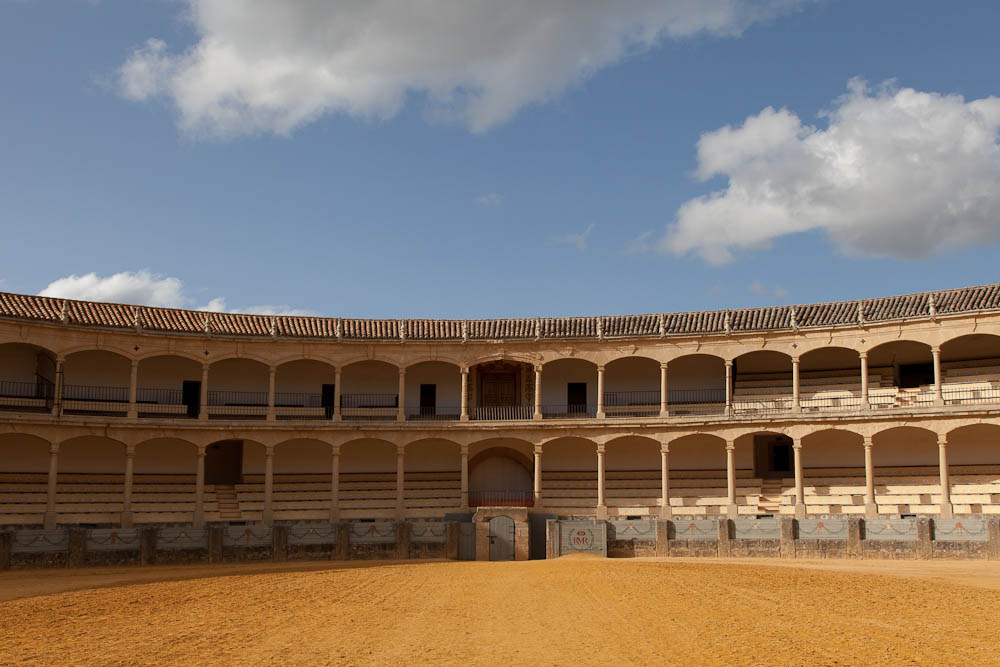 The rest of the day was spent taking a fairly casual walk around Ronda, enjoying the beautiful scenery, with a couple of stops along the way sampling some of the treats the Spanish bakeries had to offer. We thoroghly enjoyed Ronda. Certainly a highlight of our trip in Spain so far.
Back at the site later in the afternoon, we were a bit disappointed that our washing still wasn't dry - despite the warm day, the washing line was in an enclosed area which unfortunately didn't get much of the sun. Instead, we had to erect a small line in the motorhome to hang the clothes on overnight. It made our motorhome a little more cosy than usual, but it did the trick.
On Monday we drove from Ronda - passing through some fantastic mountinous scenery - and headed south, back to the coast, to Marbella. We made a stop at a supermarket along the way, and found there to be a Mark's & Spencer and Habitat on the same site! Most of the people we overheard in the supermarket were clearly British - we have found where all the ex-pats live.
After a long drive, and a mammoth food shop in the largest supermarket I think I have ever been in, we headed straight to our campsite and just stayed there for the rest of the day.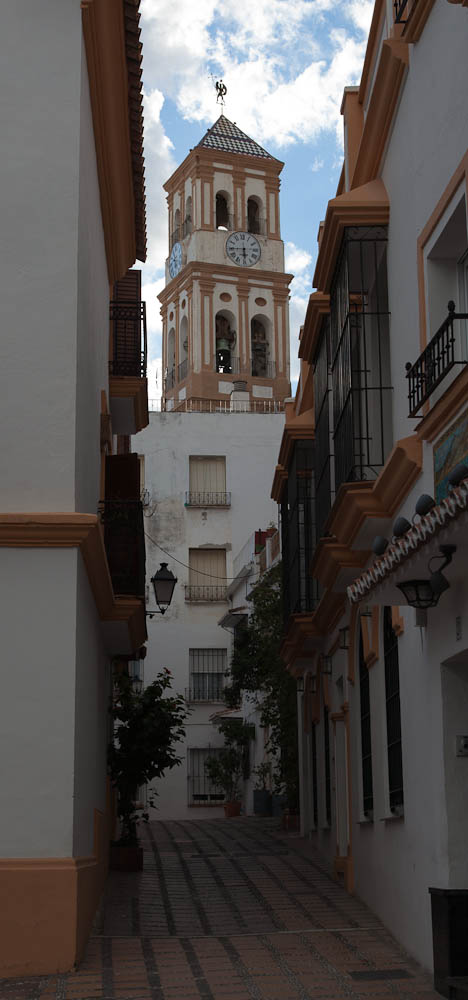 Yesterday (Tuesday) we took the bus to the centre of Marbella, just a couple of miles or so further along the coast fronm our site. We were fortunate to have a sunny day, so we took a casual stroll along the seafront. We had expected Marbella to be fairly touristy, and it certainly was. It was a pleasant walk, and there were more than enough options of places to eat and drink along the way. Whilst we had already had a small lunch before leaving our site, we opted for a quick drink and some tapas in one of the eateries along the seafront. I suppose, predictably, the food was very average. However, after our seafront walk we headed away from the coast into the old town of Marbella, and this was much more up our street. Despite this being such a touristy place - as you would expect - the old town was very pretty, not heaving with tourists (although it may get busier in the summer months), was very clean and had some much more attractive and classier places to eat and drink. After a lovely walk around the old town, getting happily lost along the tiny backstreets, we decided to stop for a drink at a quiet bar - initially enjoying the pleasant evening outside, but moving in as the sun began to drop.
A couple of drinks later we were starting to feel hungry, so took a brief walk to a restaurant nearby. The food was nice enough, and made for a suitably pleasant end to a lovely day. Stu's only gripe was with the waiter at the restaurant. The service was fine, but the waiter didn't seem too impressed when Stu requested a decanter for the red wine we had ordered. The waiter thought he knew more than Stu, and said that decanting would "kill the wine". Stu wasn't impressed, but insisted on a decanter anyway. The waiter's bad attitude resulted in no tip for him! We couldn't be bothered waiting for a bus back, so took a taxi instead. Stu note: decanting the wine had the desired effect.
Overall I thought Marbella was quite nice. Of course, it doesn't hold the charm of smaller places, like Ronda for example, but for a big city and obvious tourist destination for many Brits and other Europeans, it was a nice enough place to visit - particularly for the old town. It is actually nice to be here out of season, as I'm sure it would get packed out in the summer months.
Today we had a very lazy day at the campsite, as we had probably drunk a little too much throughout the previous day in Marbella. We seem to be set for lovely weather, at least for the week ahead, so it doesn't feel a waste to spend a day not venturing out.