We ended up staying at our site in Marbella for just over a week in the end! Whilst we only ventured into the centre once, we were happy to make the most of the quiet site and the glorious weather. It was a very relaxing week for us. On a few days we took a walk down to the local beach, finding a good restaurant in the perfect location. The service wasn't especially quick, but we were never in any rush and the food was great. The only slight irritation were the looky-looky men who came to our table every now and then selling sunglasses, belts, bags etc. Whilst most were easily got rid of with a polite "no thanks", a couple were very persistent which was a bit of a pain. The rest of our time in Marbella we sat out in the lovely sunshine - it was a lovely break (within our break!). We ate out in the campsite restaurant on our last night, where we discovered the pool table - if only we had noticed that before!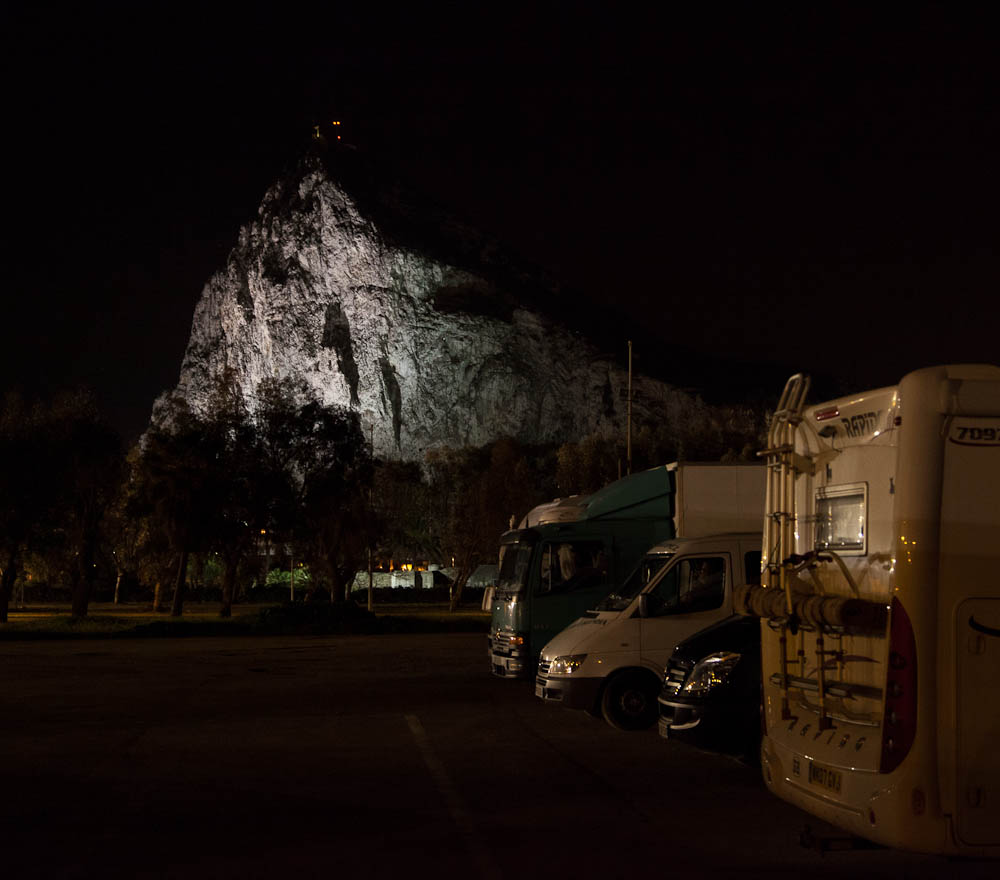 We finally left Marbella on Tuesday lunchtime, after some water and LPG top-ups, heading down towards Gibraltar. We located a free camper stop, in sight of the 'The Rock' just outside of Gibraltar, and still in Spanish territory, at La Linea. We had learned that this wasn't an especially nice part of Spain (40% unemployment and high car crime), but it was the closest place we could stay in the motorhome. On the plus side, it was free! Arriving late in the afternoon we just stayed at the stop for the rest of the evening. Thankfully, there were plenty of other motorhomes at this stop too, so it felt like safety in numbers.
We made a early start on Wednesday, riding our bikes into Gibraltar, as we were about 0.5km from the border. Crossing into Gibraltar was no hassle, just being asked for our passports by a friendly immigration officer - very quick and easy. We seemed to be making our way over with the morning commuters, so plenty of people crossing the border at one time, but with no problems. The first obvious sign of being on British soil? A red telephone box!
Stu needed to post his old hard drive back to the suppliers, so they can send him a replacement, so we headed first to the post office. He had waited until we were in Gibraltar so we would hopefully make use of a more reliable postal service. After that, we found a nice cafe with and, being that we were now in British territory, opted for a full English and a cup of tea!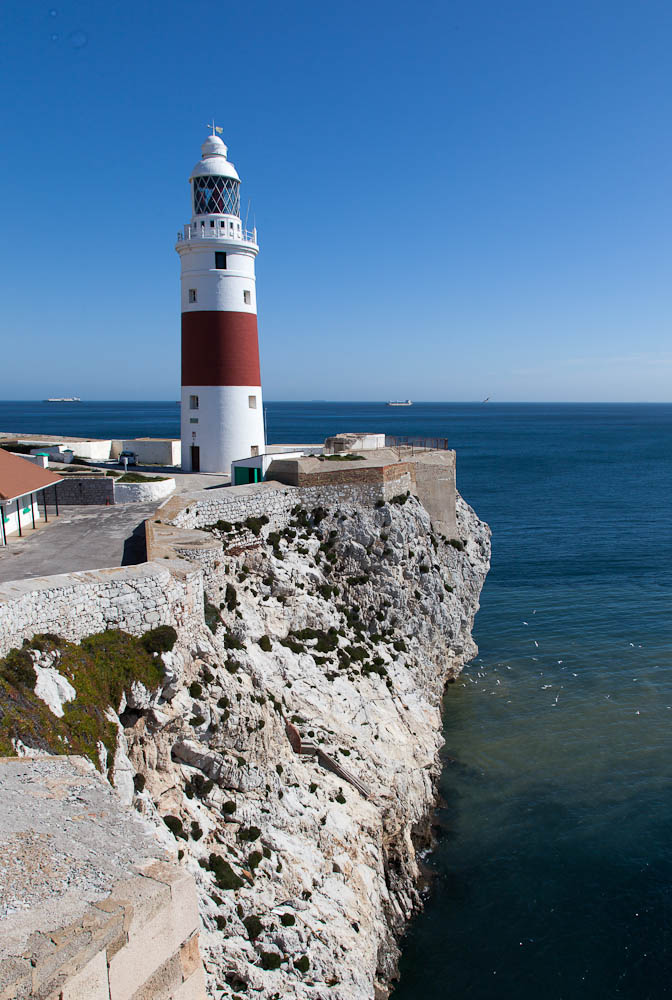 Now with some calories to burn, we took a nice ride around some of the coast. There were some lovely views across the bay, with a clear view over to the African continent. With Spain, 'UK' and Morocco in view, it was a rare opportunity to see three countries in one go. I wouldn't say that Gibraltar looks especially British, although there are the odd reminders like the telephone boxes of course, as well as the shops - BHS, Next, Dorothy Perkins to name but a few. There are still plenty of Spanish here so you still know that Spain is very close by.
After a lovely ride we decided to head to the cable car station. This is where you can get a quick ride up to the top of The Rock. We weren't sure if they would let us on with our Bromptons, but it appears that they have recently changed their rules, now allowing people to bring their fold-up bikes - yay! The cable car ride was pretty cool - I always love a cable car ride - and it only took a few minutes to get to the top.
As we were about to disembark we were warned about the Barbary apes (known as apes because of their lack of tail, despite actually being monkeys - and the only population of their kind in continental Europe). We were advised not to feed them, and to keep our bags close to us and closed. A good job we were warned, as no sooner had we left the cable, one of the larger apes took a liking to a German man's rucksack and proceeded to jump on his back! We made a quick exit straight to the cafe for the next hour or so, enjoying a London Pride (at €4 a bottle) and a lovely view over The Rock and across Gibraltar, the bay and beyond.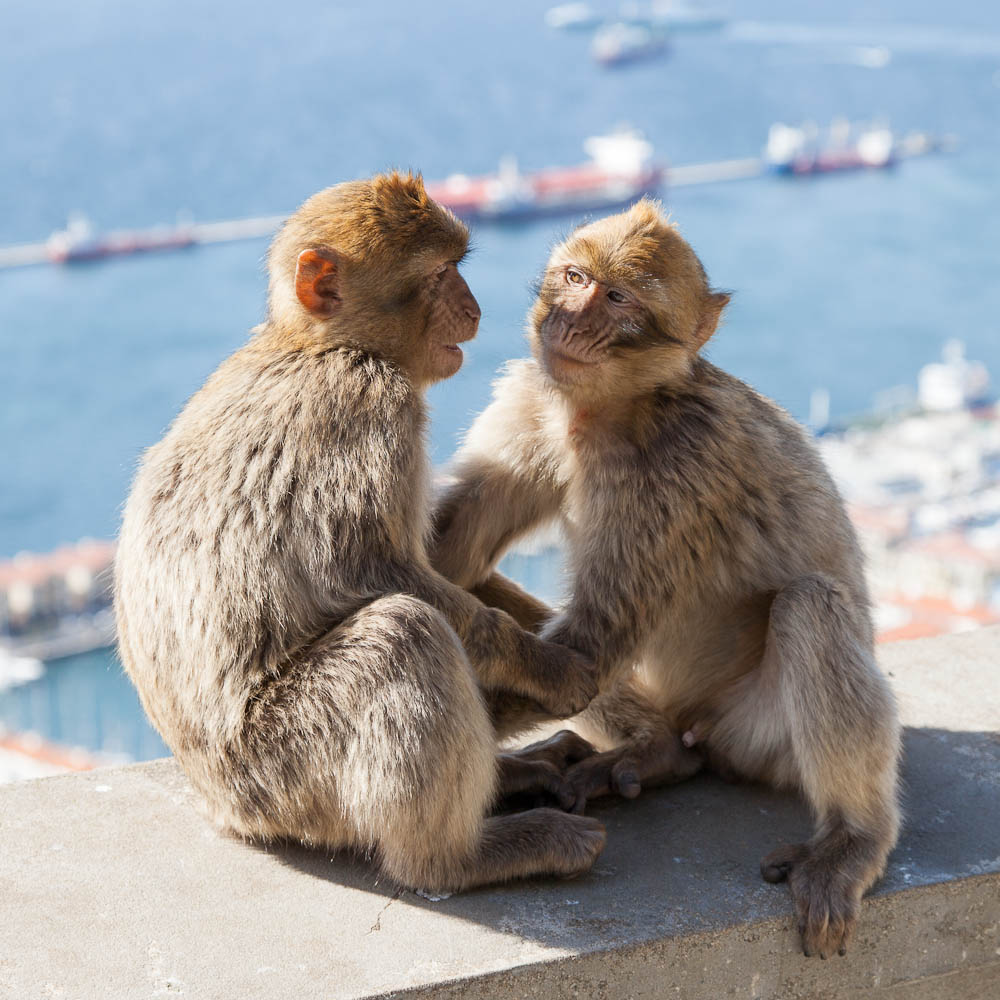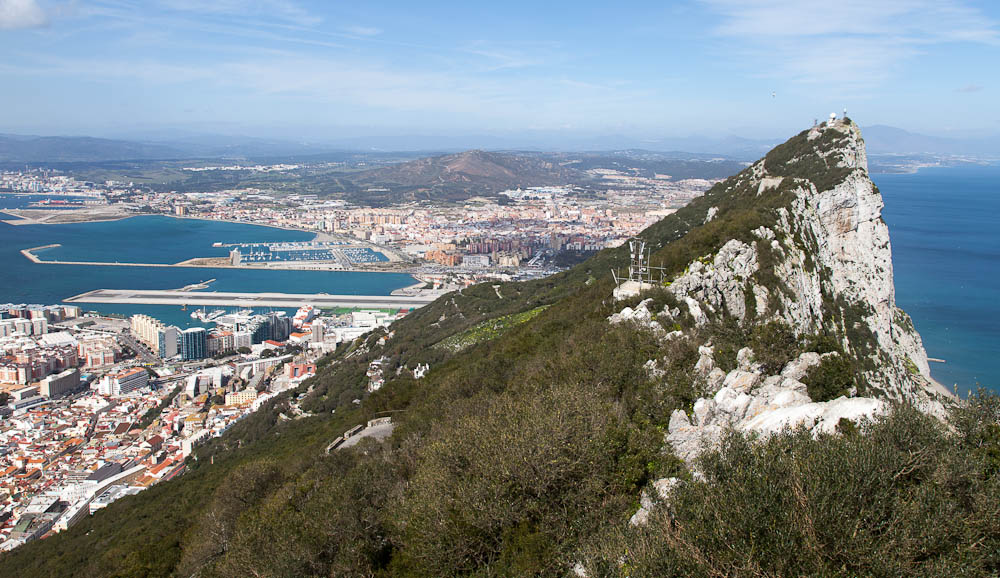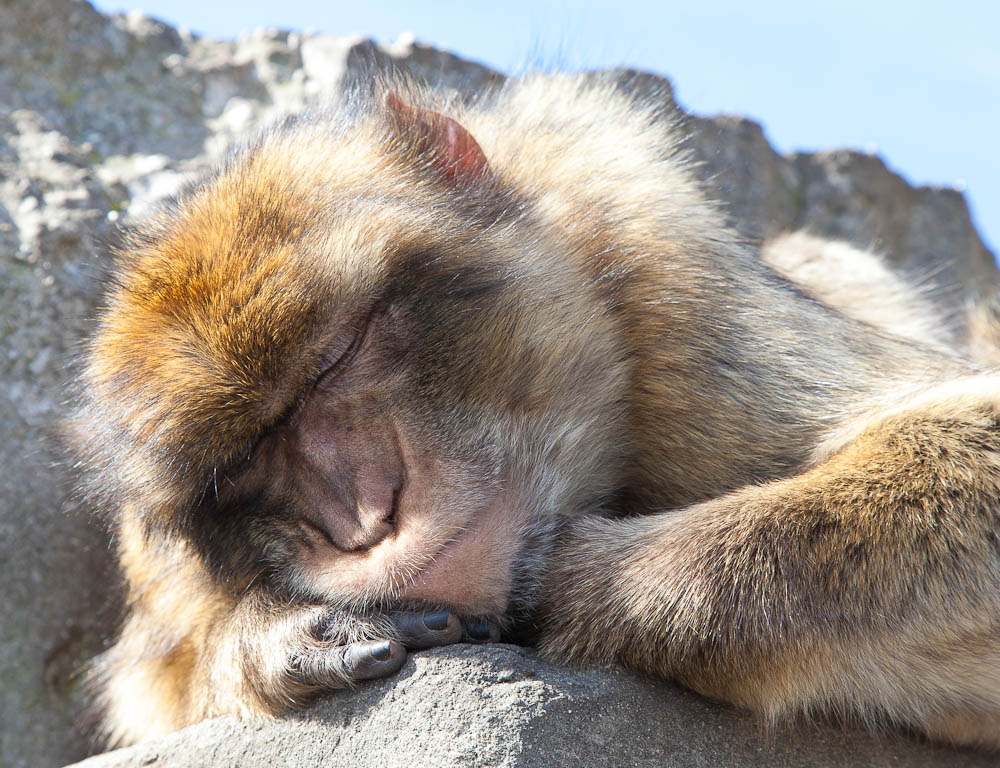 After checking out the viewing platform, as well as a few of the curious apes, we took the bikes out for the slow descend down. The views were stunning on the route down, and we encountered yet more apes along the way - some enjoying a sleep in the sunshine. We hadn't anticipated the route being quite as steep as it was, and the brakes on my bike started to squeak like mad as they heated up. We took in every viewpoint on the way down - Gibraltar was well worth the visit if just for these!
Feeling hungry again, we decided to make the most of our visit to the 'UK', finding a pub serving fish and chips, pies etc. We found a lovely spot to sit in the pub garden, and took full advantage of the London Pride on tap. The food was great, but we felt very full afterwards.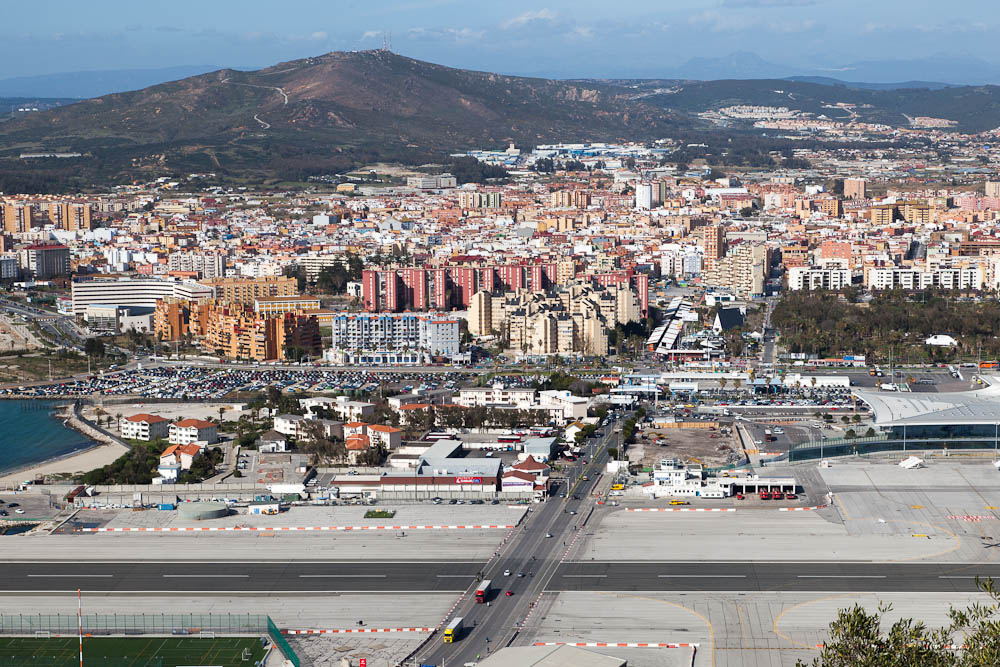 After a great day we decided to head back, cycling back towards the Spanish border. Crossing the border into Spain was a very different experience than our morning crossing. There were massive queues of traffic. Fortunately, as we were on bikes, we managed to skip the worst of it, although there was still a queue of bikes and motorbikes too. It didn't take us too long though, maybe about 10 minutes of queueing, but it became quite clear that the Spanish authorities aren't too happy with people coming back into Spain. They seemed to take a lot of enjoyment in stopping almost every car that passed through, and even some of the motorbikes. We got asked for our passports again, but thankfully no searches. (Stu note: Sarah, what were you hiding?!)
We were happy to find our motorhome were still where we left it - La Linea seemed a bit dodgy, so you never know! As it started to get late we could hear someone was playing some really loud music somewhere. It sounded like it may have been coming from the buildings opposite our carpark. The earplugs came in very handy that night.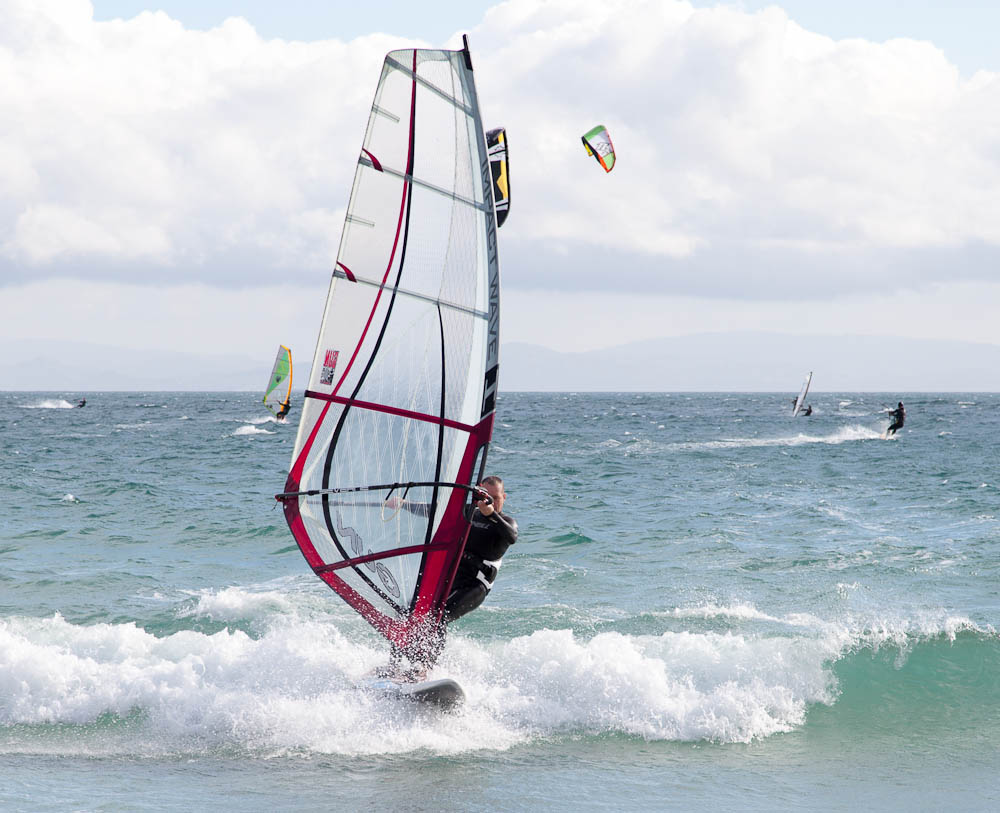 We felt that we saw everything we wanted to in Gibraltar in one day, and couldn't see any reason to stay another day. So, on Thursday we left La Linea and carried on our drive west along the coast towards Tarifa. Upon finding that our free camper stop didn't seem to exist, thankfully a local guy pointed us in the direction of another, right on the beach. We had arrived just at the right time too, as a few minutes later we saw a couple of other motorhomes arrive with nowhere to park. We have a lovely view of the beach and across the water over to Morocco. Stu even managed to find some wi-fi, which made our free stop even better.
Today (Friday) we had a relaxing stay at our free stop, taking a little walk along the beach to watch all the kite flyer, kite surfers and windsurfers on the beach - it all looked like great fun. There were also plenty of other people arriving today, and with it not being a massive parking area, it was quite entertaining watching the motorhomes squeeze into the most unlikely parking spots. I think we did well with our spot!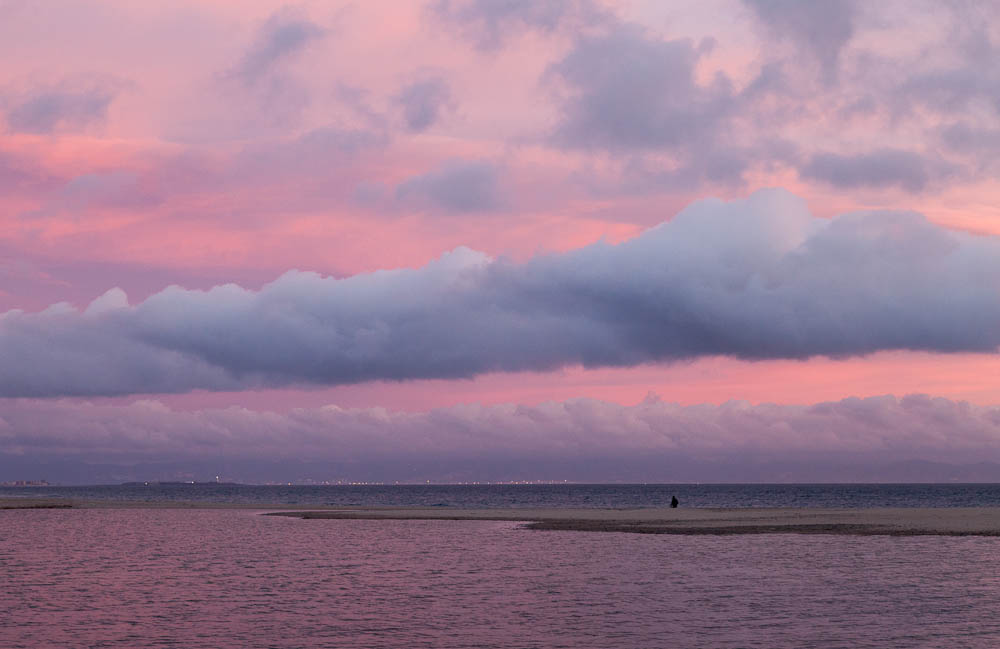 Today (Saturday) it is raining, so we figured that staying here for another night and then heading off tomorrow is a better idea. There seems little point in paying a campsite, for us just to sit in the van