Sunday before last (2nd March) we left our lovely free stop on the beach, and drove to a campsite at El Palmar. There was no specific reason to visit here, other than needing to find a good place to get all of our washing done, as it was really starting to pile up. The washing machine here was actually located in the owners house, so it felt a bit weird at first to be going in and out of someones home. They didn't seem to care though, and we managed to get five loads of washing done for €15, so not too bad. The weather wasn't extremely warm, but we just about managed to get it dry by hanging it outside over the course of our two days at the campsite.
We left El Palmar on the Tuesday, driving to El Puerto De Santa Maria. Our intention was to stay in Cadiz, but the only options we had for camping were free stops, and they didn't look particularly inviting after doing some research. Instead, we opted for the campsite at El Puerto De Santa Maria, from where we could get a ferry over to Cadiz. A much better option.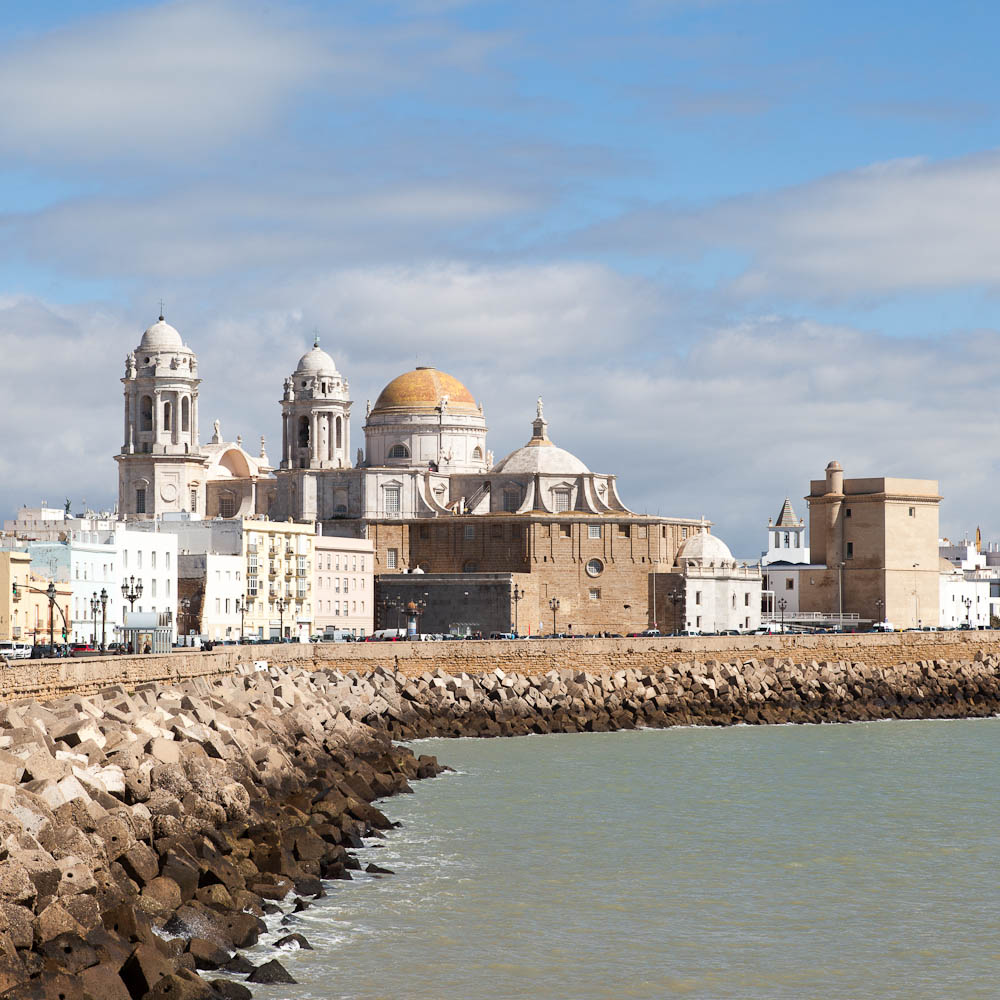 The campsite at El Puerto De Santa Maria was very efficient, being given pass cards for access in and out of the site and being escorted to our pitch. It was a big campsite though, so it was nice to have an efficient service. The only slight annoyance came around midnight when we could hear a few guys in a campervan nearby having a nice, loud conversation outside. It went on until around 1am, when they thankfully went to bed.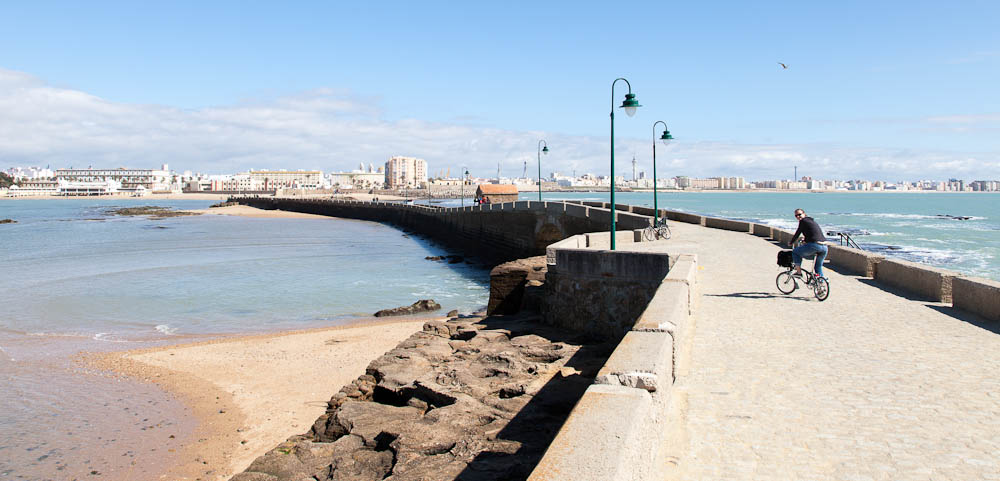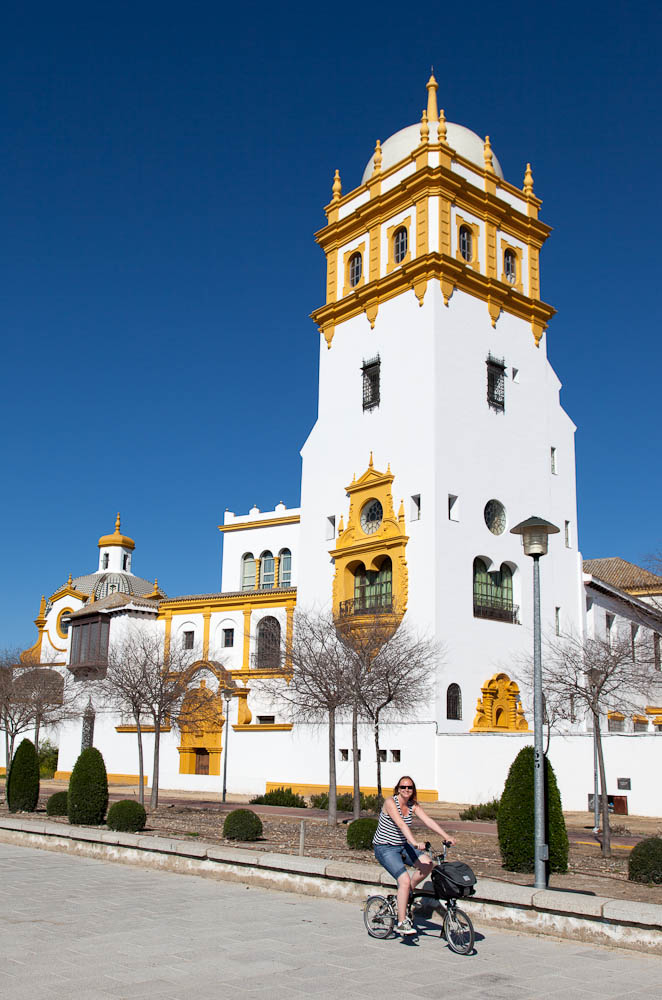 On Wednesday we rode our bikes down to the ferry terminal, and took the ferry over to Cadiz - it took around half an hour. The weather had really turned warm, and it was a beautiful day in Cadiz. Whilst there were some nice old buildings to see - Cadiz possibly being the oldest city in Europe - it was easy for us to see everything we needed to in a day, especially with the convenience of the bikes. The cathedral is probably the most impressive of the sights, being able to take in the rest on a casual ride around. We found a nice park area for a well needed drink towards the end of the afternoon, before cycling back to catch our ferry.
By Thursday the weather had really started to heat up. By the time we had driven to Seville, the temperature had reached 23/24 degrees. We found a great camper stop located near the river port of Seville. It was basically a huge car park right next to the water, but it had a separate section for motorhomes, along with toilets, showers and free wifi. Considering its proximity to the port and to central Seville, it was surprisingly quiet too.
After a spot of lunch we took the bikes for a ride into the centre of Seville. Our impressions of the city were good almost immediately. Seville has a really nice feel about it, and it also has some big, shaded park areas as well as some beautiful buildings. As we rode around we were both soon in agreement that Seville was our favourite big Spanish city visited - and even among our favourites of the big cities on our trip so far. One great point about Seville for us was the cycle paths. It was totally geared up for cycling, unlike most other places we have visited in Spain. The paths are clearly marked out - OK, not all the pedestrians have quite got used to them, as you get a few people walking into them - but on the whole, this made access into and around Seville really easy.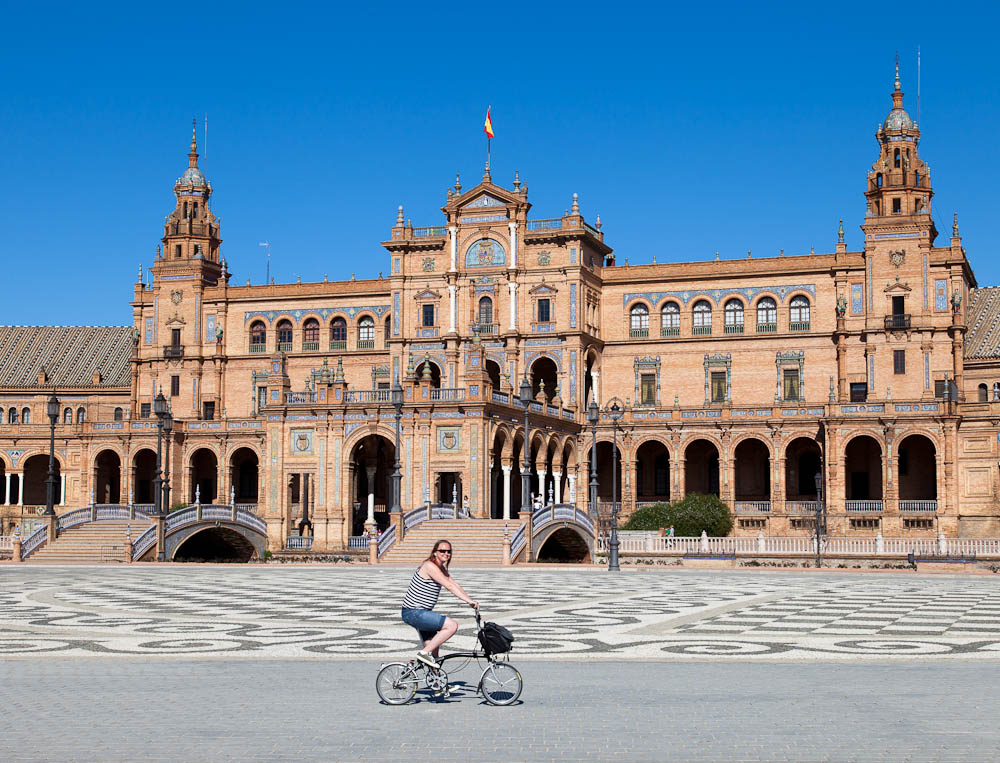 As the weather had turned quite hot, we both needed sun cream - the first time we've really needed it since the summer. We loved the Plaza de Espangna, a big crescent shaped plaza with a lovely old building built in the 1930s for the expo, and some beautiful tile work, with pretty bridges going over a little moat around the building. There seemed to be loads of nice looking places around the city to eat and drink outside. We cycled to the Cathedral - a very impressive structure, and then just took a casual ride around, before heading back to our camper stop - just about a ten minute ride from the centre. It was a warm evening too, with us needing to keep a couple of windows open overnight. Definitely feeling like summer again!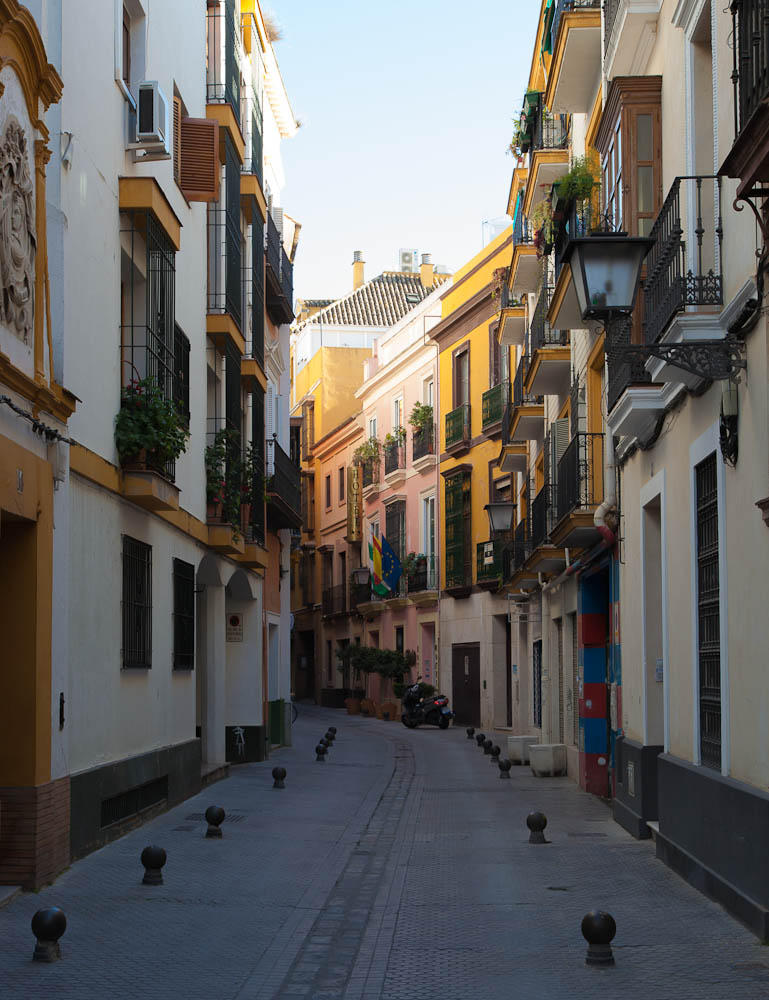 On Friday it was yet another hot day, and we ventured back into Seville on the bikes again. Having lost my tapestry needle somewhere in the motorhome a few days back (which I need for putting my knitting pieces together) I looked up some wool shops in Seville. After finding the first couple to be shut, it was third time lucky. I had already prepared what I needed to say in Spanish, with the help of the internet, but when trying to pronounce it to the man in the shop, he didn't understand me. In the end, I think my mime of a needle made more sense to him, and I came away with a brand new set of needles - success! Stu note: I think I've booked most of our campsites using mime!
We found a lovely place in a pedestrianised area of Seville for a few beers in he afternoon, before heading back to our site once again.
On Saturday we ended up staying around the camper stop, for a relaxing day enjoying the hot weather, with the original intention of leaving the next day. However, on Sunday we decided to book an evening flamenco show. We headed into Seville mid-afternoon, on foot this time, finding a nice place to get some tapas and drinks, before moving onto the flamenco show at Casa de la Memoria. It was a very intimate show, with only around 30 or 40 people in the audience. Not really knowing what to expect or what we would make of it all, we both absolutely loved it. The show consisted of a guitarist, a singer and then a male and female dancer. The guitarist was amazing, and whilst the female dancer was great, I think the male dancer stole the show - he was fantastic. The music and dancing was very dramatic, and you couldn't help getting into the rhythm of it all. We were both really glad we had come to see a flamenco show, and it topped off our visit to Seville.
On Monday we left our stop in Seville, driving slightly south-west to El Rocio - now only around an hours drive from the Portugal border. We found a nice site, the plan being to visit the local town of El Rocio, but also take some time to make plans about where we want to go in Portugal over the next couple of weeks. We spent the rest of the day relaxing in the hot sunshine, putting the awning up for the first time in many months, for some welcome shade.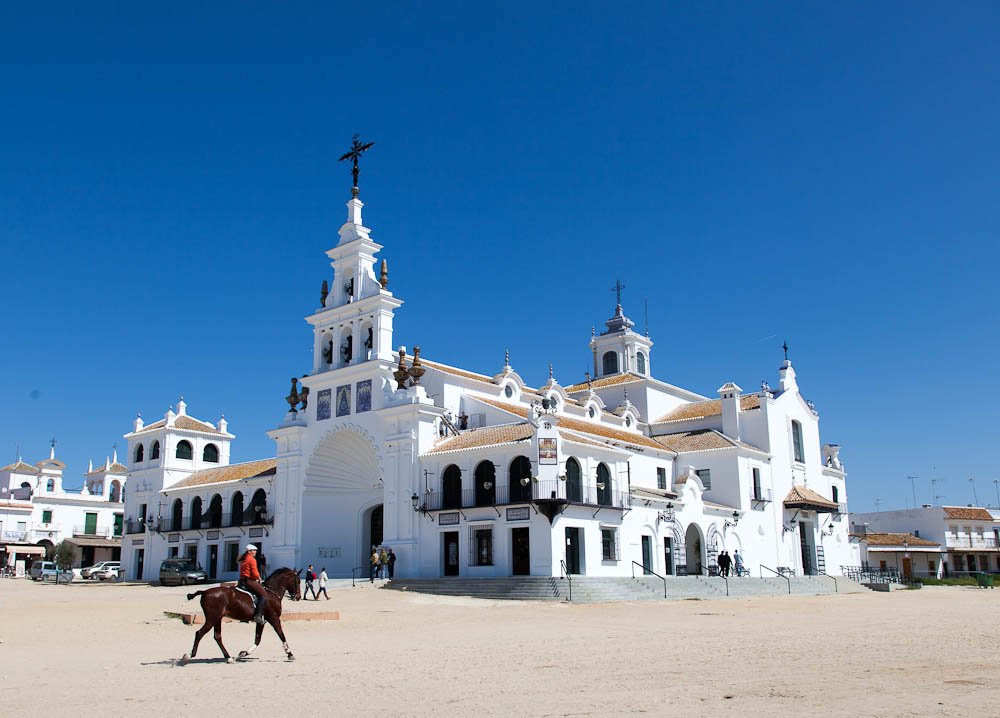 On Tuesday we took the bikes out for a ride into El Rocio, only a few minutes cycle down the main road from our site. We discovered that it wasn't the best place for riding bikes, as the roads are all sand! The town looked like some sort of Spanish 'wild west' town. Some of the buildings were quite striking, but is was easy to see around the whole place in a few minutes as it's very small. We stopped for a tapas lunch at a place with some welcome shade - the day had turned into a bit of a scorcher! After some food we took a look at the church, as it appeared to be the main building of note in the town, which contains a famous statue of the Virgin and Child. It is this statue that is the focus of the annual pilgrimage, known as the Romeria de El Rocio, which draws around a million people to El Rocia from many regions of Spain. Thankfully, no pilgrimage while we were here, so we could easy get inside to see the statue and its elaborate decorations.
We took the bikes off the sand and along a walkway where we could ride around a big wetland area. We spotted a few different water birds, including a massive group of flamingoes standing 50 metres or so away from us in the water. One of those occasions when Stu wished he had his zoom lens!
Feeling we had seen all we needed to in El Rocio, we headed back to our site, enjoying the rest of the hot day under the comfort of our awning.
Today (Wednesday) the stunning weather still continues. As we haven't done so yet, we shall spend some time today getting a plan sorted for the next part of our trip in Portugal, so we should be ready to leave here tomorrow and have some idea of where we are going!