On Thursday we left Spain (our home country for the last three months!) into Portugal. We found a camp stop in Tavira, and just about managed to squeeze ourselves in between two other motorhomes, so we could still reach the free wi-fi from reception. We rode our bikes into town, and whilst there was some nice little streets and a nice bridge over the river, it wasn't anything that special. We had come here as Tavira featured in the top ten list of places to visit in Portugal in a couple of our guide books, with even a whiff of a comparison with Venice (it's nothing like Venice). To be honest, we didn't see what all the fuss was about. We had a ride around the town, although the cobbled streets made it difficult in some places, we felt we'd seen everything in around an hour.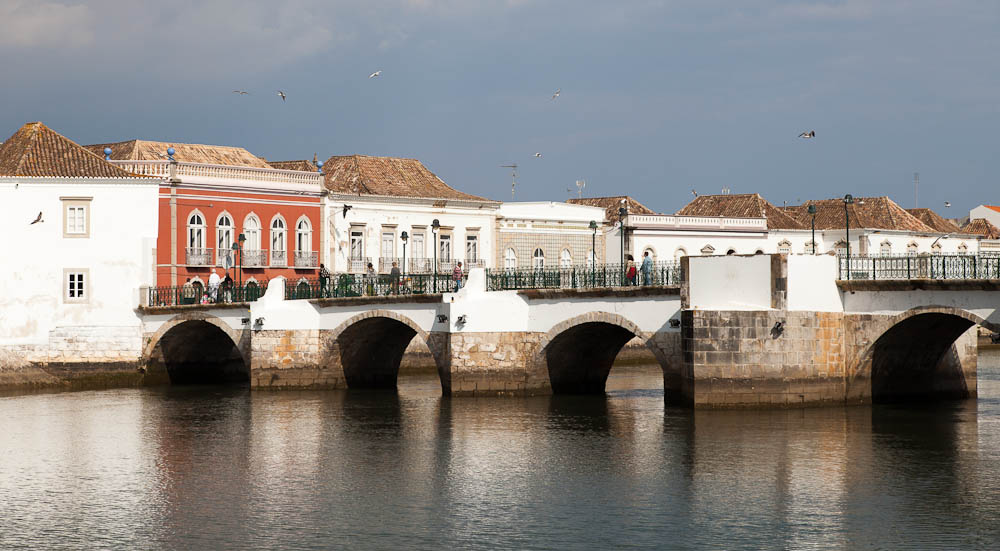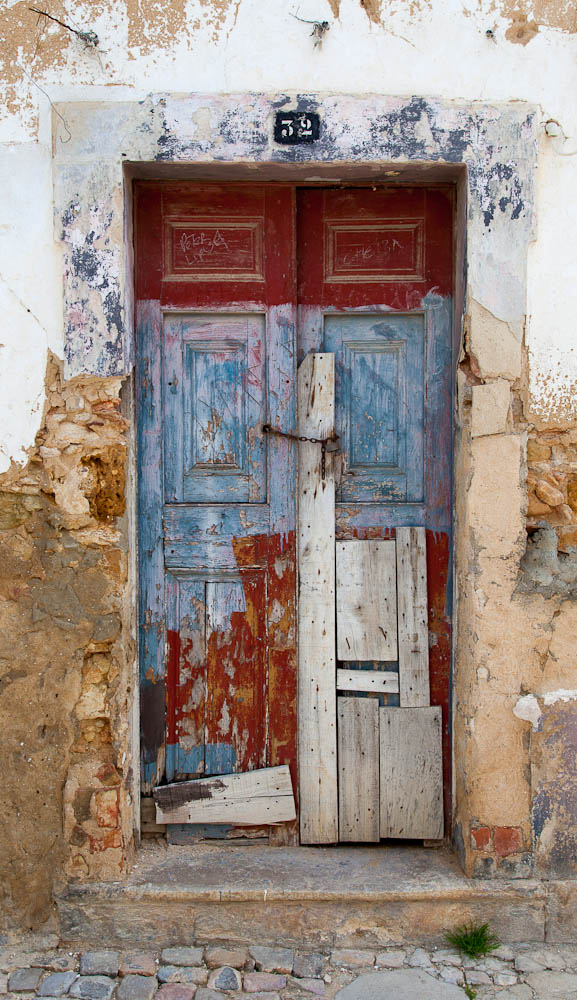 We had our first experience of the showers at the camp stop on Friday morning. Thankfully, we were only here one night so they would also be our last. The women's showers were amongst the worst I've come across in our entire trip so far. There were five showers to choose from, although there was only one that was barely useable. It didn't have a shower head so you were effectively washing yourself under a large running tap. The others consisted of one where the shower tray was flooded, the second had a manky wooden grate in the shower tray to stand on (no thanks), the third provided no water at all when the taps were turned, and the fourth sprayed water horitontally out of the side of the shower head. I guess we fnally discovered why this place was cheap! Lets hope this is not the standard for the rest of Portugal.
We drove on to Olhao where there was a free stop. After parking up we had a general meander around the town. Some great houses and tiny streets to get lost in - some good photo opportunities. It felt very authentic. However, after an hour or so we felt we had seen all we needed to, so decided not to stay the night here, instead driving further west to Silves. (We opted not to go to Albufeira, as this was a big resort, and also somewhere we had been on holiday before).
At Silves we found another free stop - basically a massive car park right next to the town. Although most of the spaces were in the main car park, we found a more open space at the far end, and really lucked out by getting a spot right next to the river - possibly the nicest spot in the whole park! The German guy we parked in front of was a bit grumpy, asking us to move forward a bit so we weren't as close to his motorhome. The first time we've been asked to move in a free camping spot, as generally you park wherever you like. We kept him happy though and left him a little more space.
There were plenty of interesting bird noises coming from the river. We spotted quite a few, including huge storks flying up and down the river bringing food back for their young.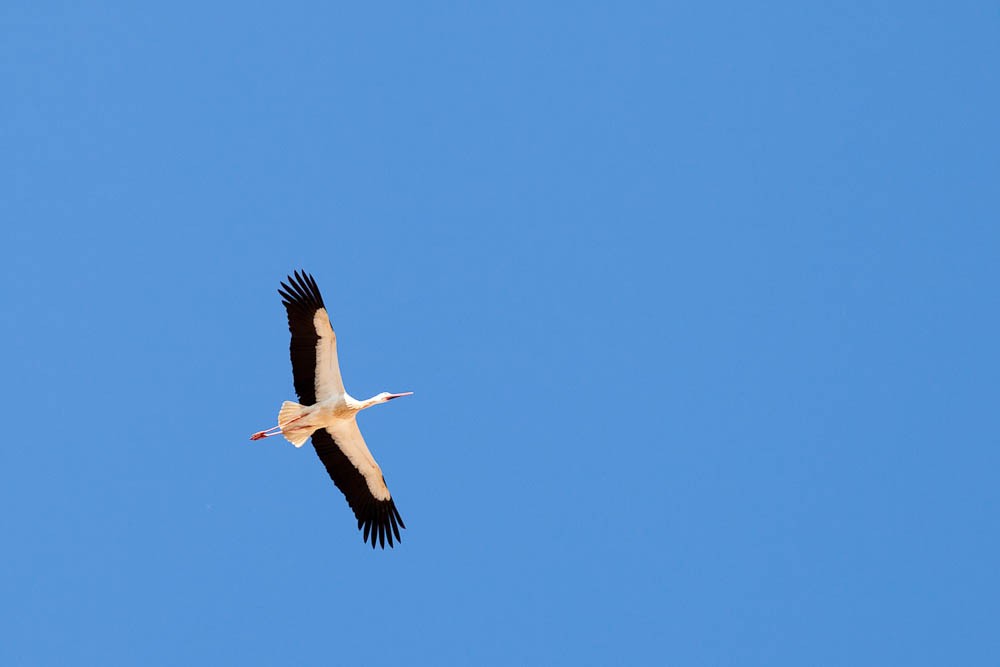 On Saturday morning we were woken by some new Austrian neighbours arriving just before 9am, and deciding that the first thing they wanted to do was do a couple of hours of vacuuming! I have no idea how you can spend that long vacuuming a motorhome, and why you would pick a really hot morning.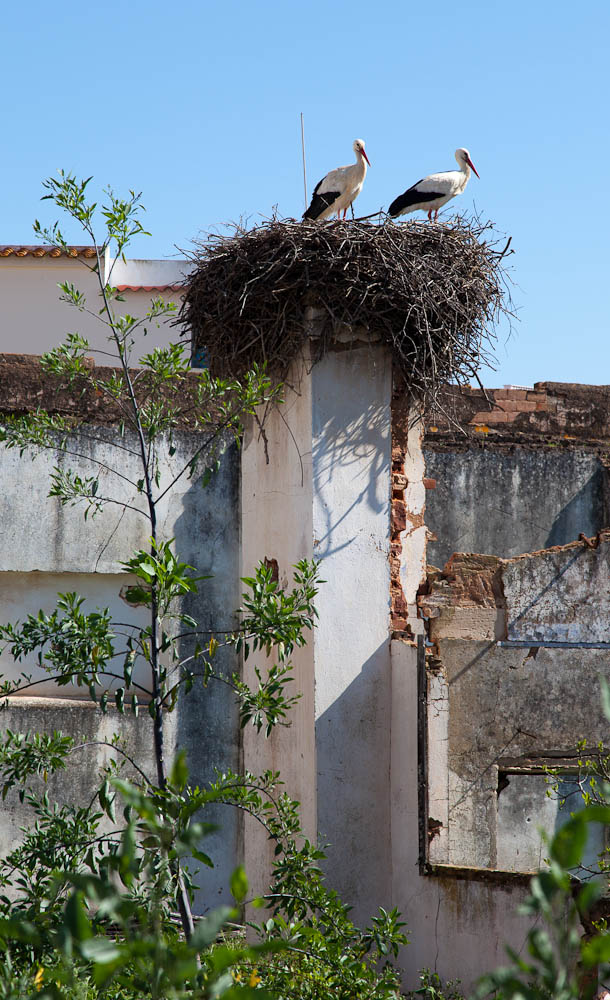 We took a walk into Silves, as the centre was only really across the road from us. We were making our way to the castle, when we spotted a huge birds nest on the roof of a building, with a stork sitting inside. Thinking that was a great find, it was only when we walked up the next path that we spotted about another four or five similar nests across another building. Then another five or so, all perched on the pillars of an old semi-demolished building. When we had spotted the stork the other day with something in it's mouth, we now figured that it was carrying a stick or branch to use for making the nest. It was an amazing sight. I'm not sure the big attraction of Silves for storks, but we hadn't seen any before or since.
Silves was a pretty town. The Castelo (Castle) was quite nice, and you could walk along the walls and look out for views across the countryside. They also had a little coffee shop selling their own artisan beer, so it seemed rude not to stop and sample some. After a bite to eat and some of the tasty local brew, we took a little more of a wander around the town, before heading back to the motorhome. It was a beautiful warm evening, as the lovely weather still remains with us in Portugal, so we sat outside in the sun by the river.
On Sunday we left our free stop in Silves, driving on to Portimao. We found another large motorhome parking area here for just €2.50 a night - not bad at all. Whilst Portimao is a big resort in Portugal, we tok the bikes out for a great ride - even finding a proper bicycle path for some of the route along the coast. The views across the beaches and along the coast were fantastic. The coastline is pretty, and quite reminiscent of parts of the Great Ocean Road in Victoria, Australia with the sandstone rock formations slowly being eroded away by the water. We found a little cafe with a view over one of the beaches, stopping for a cool beer on yet another hot day. Well, we are on holiday after all!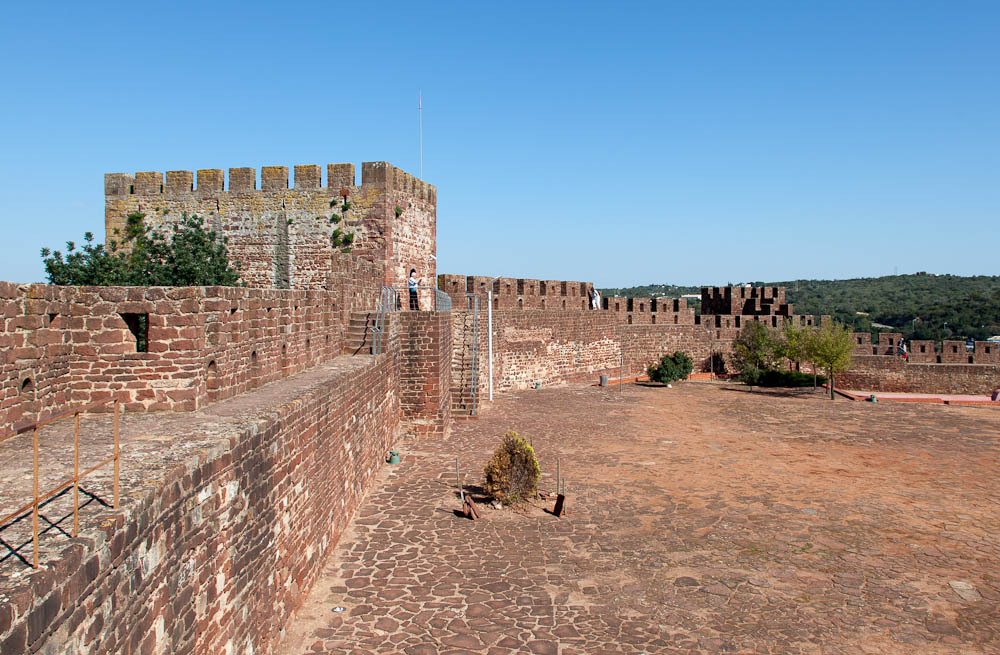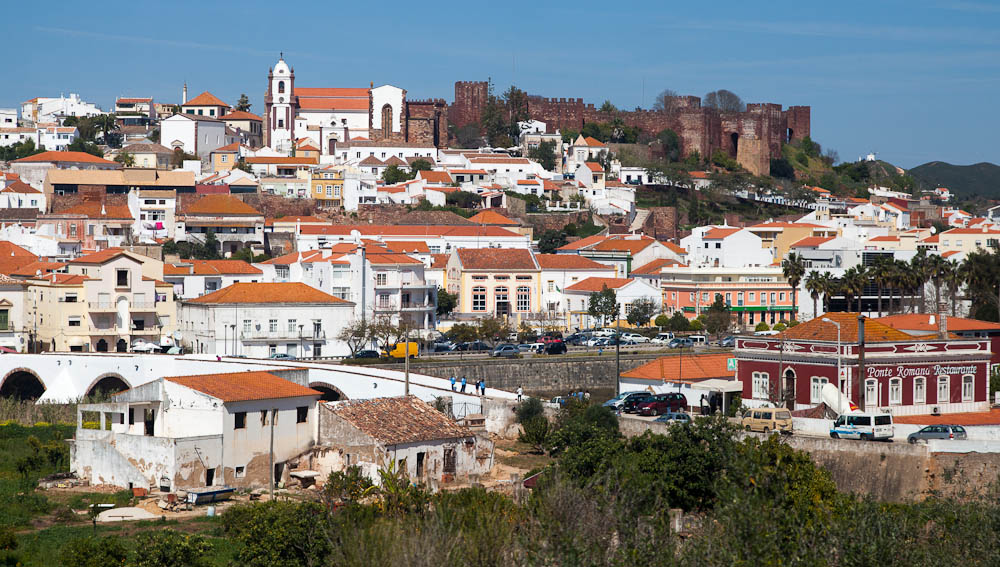 On our cycle back towards the camp stop, we also rode along by the harbour and part of the town. Considering that this is a big holiday resort, it was still quite pretty and worth the visit. The beaches here are really nice - and surprisingly empty. Despite the fact that we are still in mid March, the weather is fantastic. It was slightly annoying that despite the good nature of putting in both a bike lane and a lane for disabled people, people still walk in both lanes with complete disregard for looking where they are going. Still, having the lanes at all is still a step in the right direction. (Stu note: Welcome to my world as a disgruntled cyclist!)
Being in Portugal for a few days now, we were quite surprised on hearing the language. I looked up a few words in our phrasebook, as I think we expected Portuguese to sound a lot like Spanish. In fact, I would say it sounds closer to an Eastern European language (Czech) than Spanish. For example, "two beers" (a phrase we often use) is "doss cer-vay-sa" in Portugeuse - pronounced as "doy-sh sirvezza".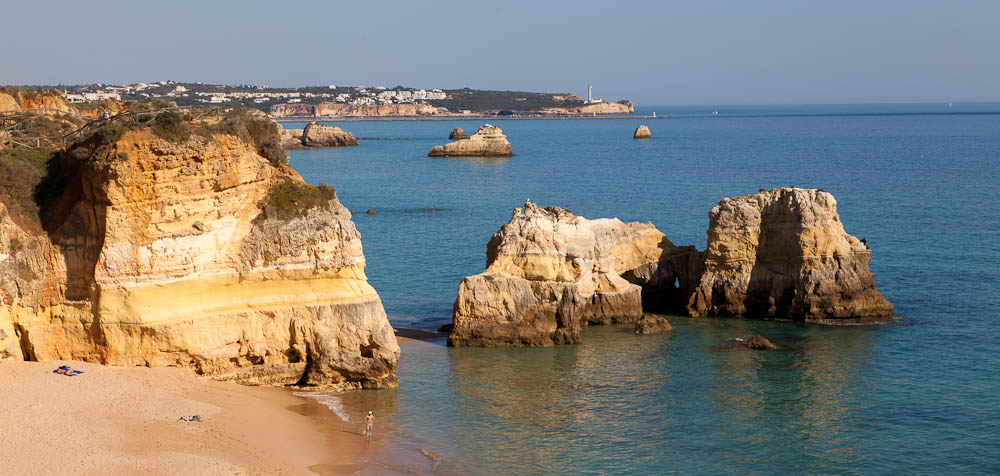 We left Portimao today (Monday), heading to Lagos. We weren't planning on visiting the town, but instead parked up right by a beach. We saw some more of the beautiful coastline of this area of Portugal. Walking down to the beach we found a little restaurant, so had lunch here with a beautiful view of the beach and out to sea. I decided to try the grilled sardines - the local catch of this area. I think it may have actually been my first taste of sardines ever, and have to say they were fantastic!
After lunch we took a walk across the beach, and then Stu spotted a sign for a boat tour of the caves and grottos along the coast. Stu waved over to the man moored up in his little boat just off the beach, and we were off. The man didn't speak a word of English, so we just trusted him to show us what needed to be seen. The trip was great, as we got to see more of this beautiful coastline. The sandstone rock formations, arches, caves grottos were fantastic. Even some secluded little beaches that you could only access from the water. An impromptu but great little escursion. (Stu note: I take full credit)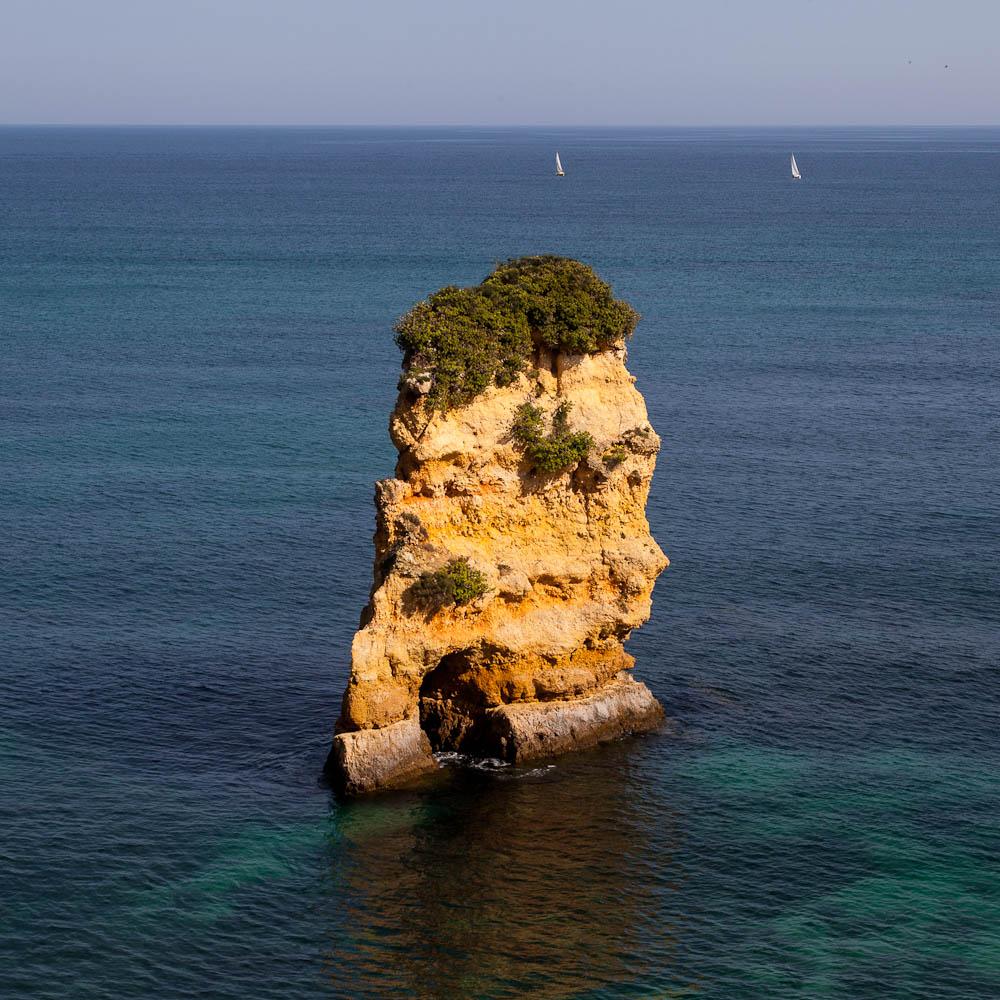 We drove on to Sagres, arriving late this afternoon. The campsite we're staying at seems very quiet. We have a generous 5pm check-out time tomorrow, so I think we may relax for the rest of this evening and leave our exploring of the area until tomorrow morning.
---
Mac DeMarco
Cooking Up Something Good
The Brian Jonestown Massacre
Satellite
The Brian Jonestown Massacre
Anenome
The Brian Jonestown Massacre
Straight Up And Down
Johnny Marr
The Right Thing Right
---