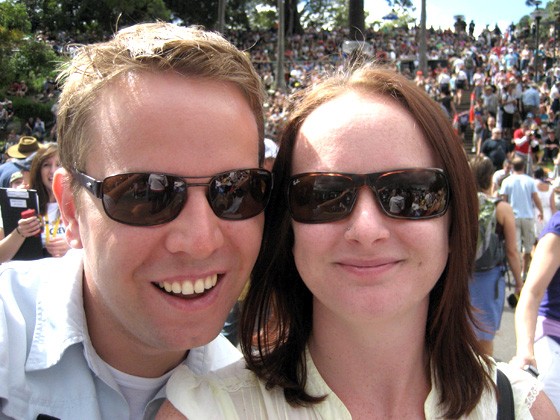 Last Sunday we witnessed history in the making and attended the 1st Australian Redbull Flugtag at Farm Cove in the Royal Botanical Gardens. Flugtag is a tradition that originates from Austria, and literally translates to "Flying Day". It's a competition where lunatics launch home-made flying contraptions from a 6m raft into the water. Points are awarded by a judging panel for creativity, performance and more importantly distance! It's the funniest thing we've seen in a while.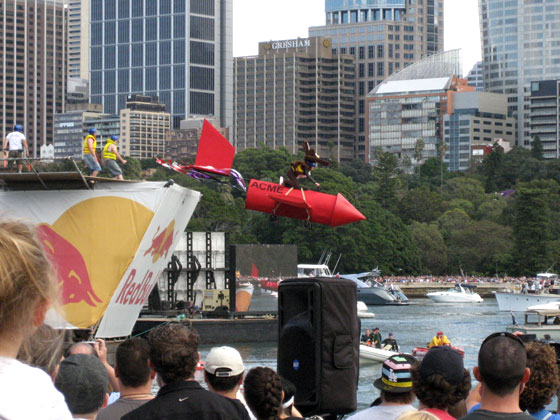 The event started around 11am and was attended by some 50,000 people. It was presented by a crazy weatherman from one of the news channels on Australian TV. Some of the entrants were highly amusing - most that we saw not really managing beyond 10 metres. We managed to last until around 2pm before we decided to grab some lunch from Circular Quay.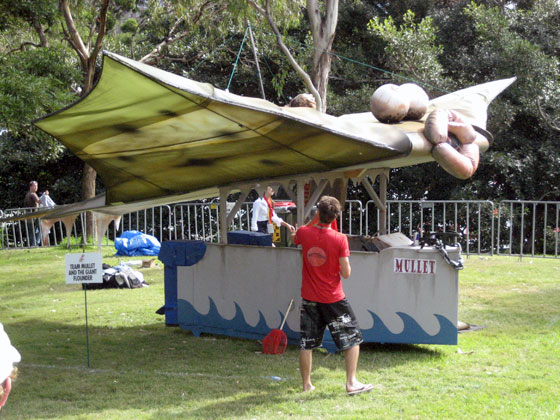 Last week we also experienced our first real taste of bad weather. Up until now, the only heavy rain we've encountered has been at night. However, both Monday and Tuesday were complete washouts. When it wants to rain over here it pours! But hey, we've been lucky up til now. Stu took this as a good oppotunity to finish up some work on a website, and I continued reading my book.
We've also taken the opportunity to give our local restaurants a try. Some faired better than others...
Last Thursday we decided on the local Indian. The menu didn't offer the wealth of choice you often see in England. We should have known something wasn't quite right when the onion bhajis turned up with a dipping sauce - of tomato ketchup! (are we in Knowle? should I have ordered chips with my rice!?) The main meal was disappointing, lacking flavour and spice. At the end we were offered a "complimentary glass of Port". Stu refused, but I'm not one to turn down a free drink ;) However, upon finding not one, but TWO black flies taking a swim in the port, I was put off. I don't think we'll be going back again in a hurry.
Thursday we decided to try out The Bronzed Onion. We started off with their signature dish - a bronzed onion. The waitress recommended it, so we thought we'd give it a try. It's an onion coated in spices and then deep fried, served with some spicy mayonnaise. As simple as it sounds, it was actually very nice. The main meals were pretty good and the service was great. I'm sure we'll be popping back many more times.
Following the couple of days of rain the sunny weather returned. I thought I would make the most of it and do some sunbathing on the patio while Stu finished off his work on the website. I managed to finish reading The Count of Monte Cristo - which I highly recommend by the way!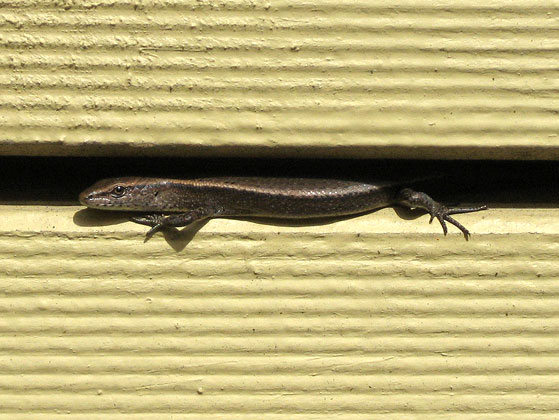 On Saturday we headed back into Sydney. We decided to take a walk past Mrs. Marquarie's Chair through to the Botanical Gardens. It's a huge and beautifully landscaped area, a stark contrast to the CBD. There is lots of wildlife to see, including wild Cockatoos.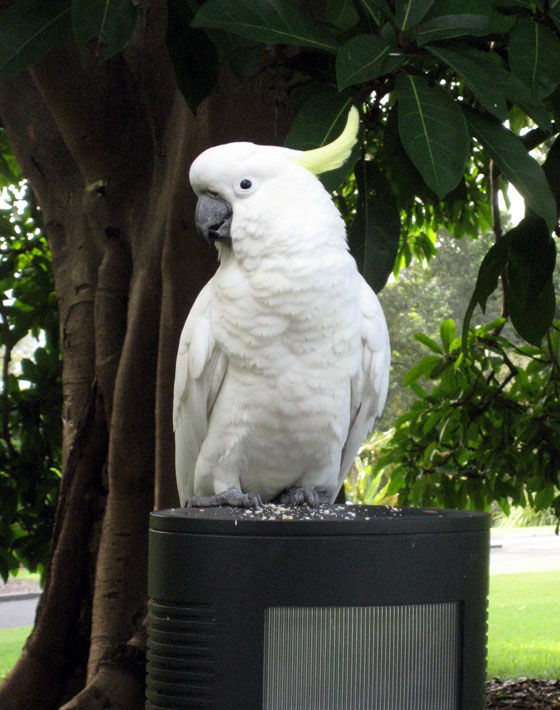 On walking through one area we heard what we thought were noisy birds. When we looked up we realised they weren't birds, but bats!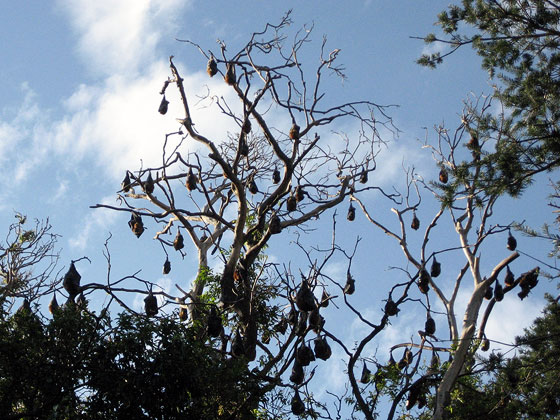 And they aren't small either, this species has a wingspan up to 1.5 metres! There were hundreds hanging in the tall trees. Every now and again you'd see one fly off - it looked like something prehistoric.

After spending a few hours in the gardens, we took a stroll through the CBD. It reminds me a bit of central London, except it's a lot cleaner and nicer! We needed to find ourselves a drink, so after strolling through The Rocks markets, we found a Bavarian bar/restaurant. We had a few pints of Lowenbrau and sat outside to watch the world go by. The food was OK and the beer was very nice - if a bit expensive. It was fun to see the men and women staff wearing traditional Bavarian dress.
After much talk about how he misses playing his guitar, Stu decided to buy one. We headed over to Warringah Mall yesterday and he managed to pick up a cheap electric guitar with cable and case for well under £100 - not bad I thought. Quite a relief for me, I was worried he'd spend a fortune!
When we got back from the Mall it poured with rain - we'd made it home just in time. By the evening we had a terrific thunderstorm!