Since our last entry we've had a whole barrel of fun. We have been nipping to Freshie (that's Freshwater beach to us 'local people') for a swim and the odd bit of surfing, plus we have finally sampled a taste of the city!
I've got in touch with Ivette, an old Medisure colleague and friend. She came to the UK and lived in Weston-Super-Mare for a while, before returning to Oz around 5 years ago. She was planning a visit to Sydney from her home in Queensland for a few days. It seemed a good opportunity to catch up, so we agreed to meet for a drink down town.
This was our first trip to the big city. We bought our FerryTen passes and caught the Manly ferry to Circular Quay. It's quite breathtaking watching the city skyscrapers then the Opera House and finally the Harbour Bridge gradually come into view. Famous sights that you've seen a hundred times on TV and in magazines, but when you are actually here it's quite different. Is it me, or do things always seem bigger when you see them in real life?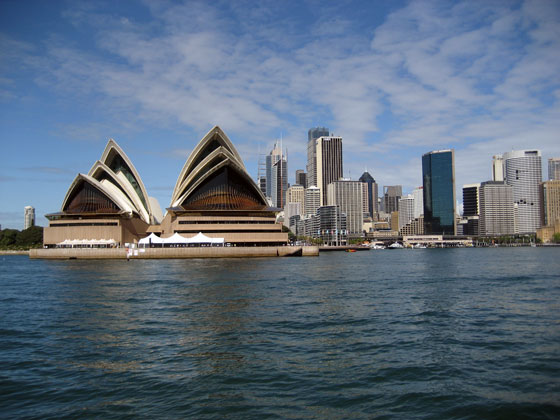 What a beautiful looking city. You can see where the council's AUD $158m 'beautification money' was spent for the 2000 Olympics!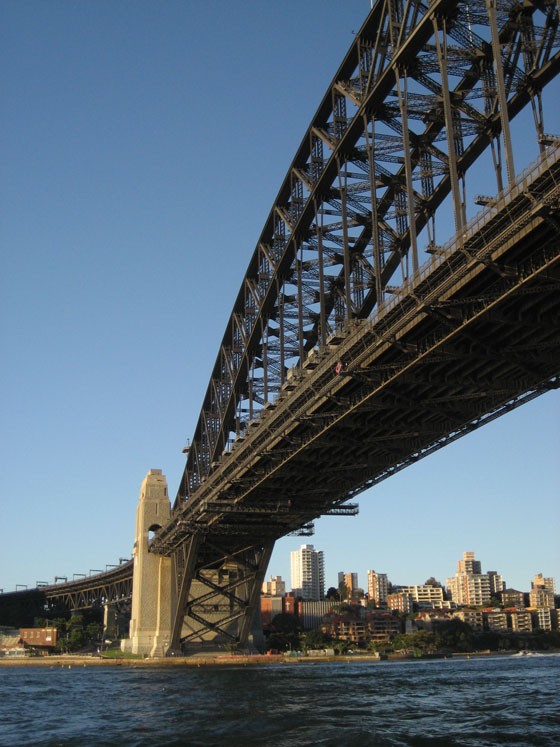 The ferry is a great way to travel from Manly to the CBD, taking just 30 minutes. A slightly more expensive 15 minute alternative is the Jetcat, which is primarily aimed at commuters. We wanted to be able to take in all of the sites and we were in no great rush, so the ferry was the best option. On the ferry there are posters exclaiming "Manly - 7 miles from Sydney, 1,000 miles from care". We'd have to agree with that sentiment!
Once we arrived at Circular Quay, the first stop had to be the iconic Sydney Opera House. We were impressed. The detailing of the tiles on the outside is quite amazing.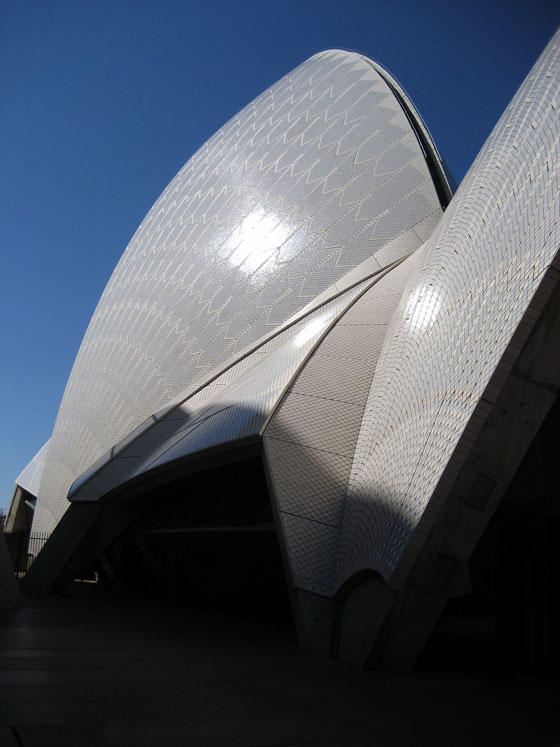 It's incredible to think that this building is approaching 50 years old! Stu and I are looking forward to catching a show there at some point in the future.
We took a short wander up some steps to the fringes of The Botanical Gardens: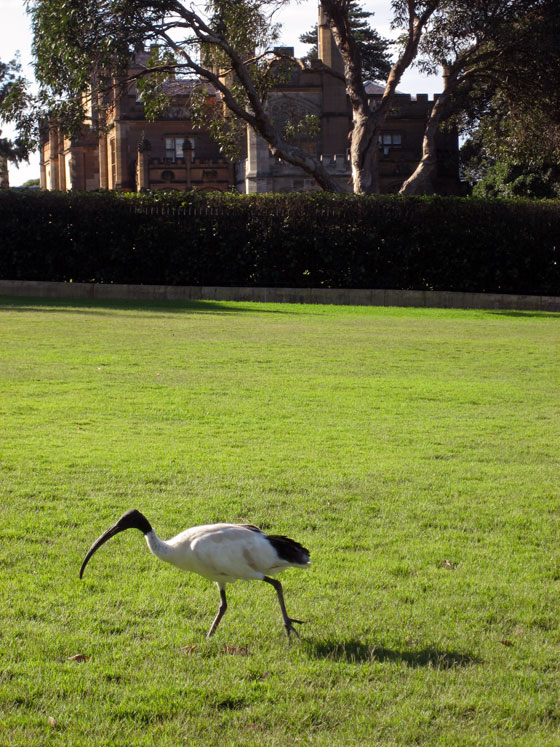 "Mooncatcher" - Art on Display: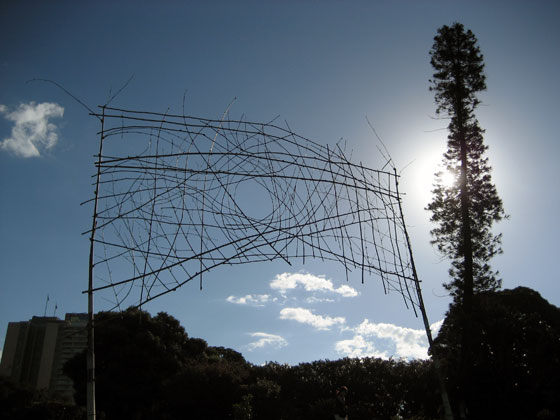 Unfortunately we didn't have long till we met Ivette, so we decided that it would be a better idea to head back for a proper look around at a later date, perhaps with a picnic.
We met Ivette and grabbed a quick beer in Lenin bar. We then decided to venture into the Minus 5 Ice Bar upstairs. Hovering at around the -16.7c mark it was a far cry from the 25c outside! Its $30 for half an hour, a cocktail in a glass made of ice, hire of a thick coat, gloves and boots. They are strict about the amount of drink and the time limit, as your body cannot process alcohol at this temperature. No wonder the Russians slur their words!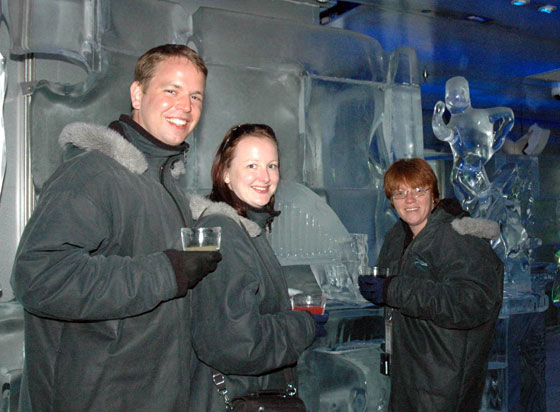 After the ice bar, we followed our ears to a band playing at the Opera Bar. After a few beers Ivette led us to The Rocks and a pub called The Observatory. It was nice enough, a good place to grab some pub grub for a reasonable price. This was where we said goodbye to Ivette, and we caught the ferry back to Manly. A good day had by all!
On Tuesday we decided to check out the Easter Show, held at the Sydney Olympic Park showground. A bargain AUD$32 ticket entitles you to use any public transport for the day, plus entry to the show. Amazing value! So we hopped from Manly to Circular Quay then connected with another ferry that took us up Parramatta River. It takes about an hour as it makes other stops along the way, but still, not a bad way to travel. There are some spectacular properties dotted along the riverbank, although you won't get much change from AUD $5m!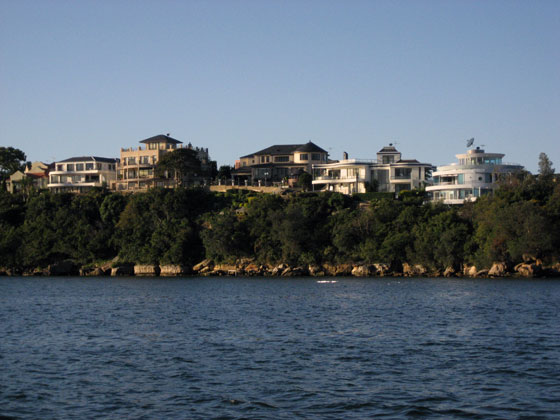 Once there we were told we'd come on the right day, as the crowds were really small and there were no queues - superb! It had all the things you'd expect - theme park rides, cafes, stalls etc. We had the opportunity to watch some sheep being sheared and cows being milked. We decided to give a few of the theme park rides a go. A couple of the roller coasters were good, although Stu suggested the ride below (bearing in mind we hadn't actually seen it in action):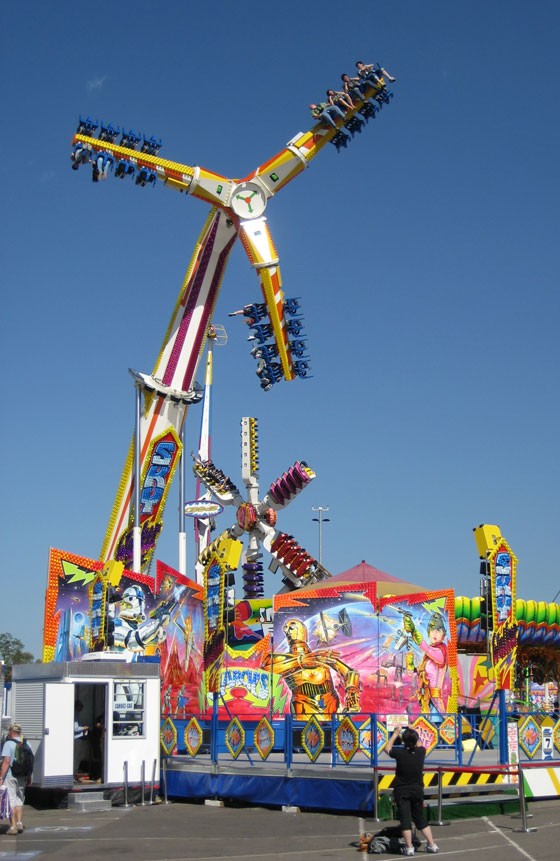 We soon realised that it hoists you in the air and then proceeds to spin you around through every conceivable angle. We both gripped on for dear life, I did scream a little bit too!
Today we've been rather more relaxed. We decided to head to Freshie for a bit. However, the waves were pretty big in there today. So we did less swimming, more body surfing on the waves. Well, I tried to. More often that not I just managed to get wiped out by a wave and get loads of salt water up my nose! Stu stuck at it longer than I could.
The front page of the Manly Daily has featured a story about a 2m Great White at Freshie beach: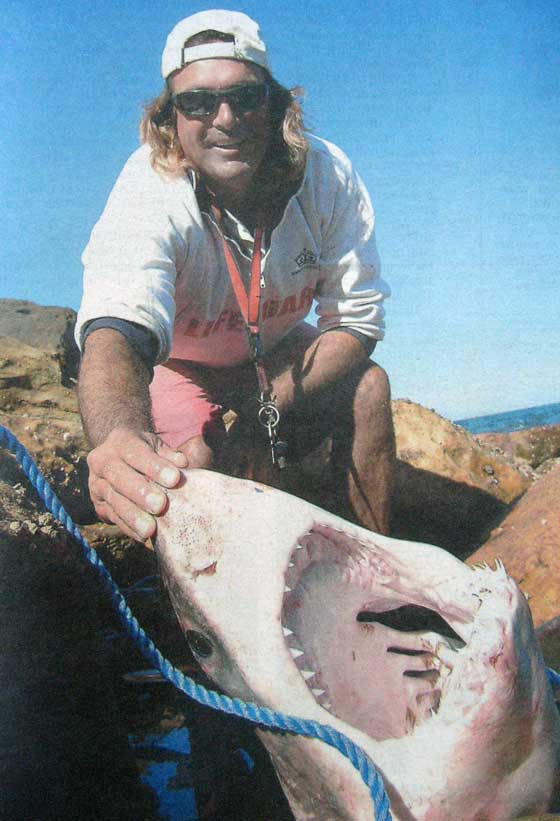 Apparently it appeared sick and had swum into the shallows. Lifeguards managed to drag it back out to sea, but unfortunately it washed up at Queenscliffe beach a little later and died. The same news article also mentioned that Manly beach was evacuated on Sunday as someone reported a shark sighting. Scary!