Wow, I can't believe that it's been a fortnight since the last entry! We are still having a lot of fun. Time is flying by pretty quickly, 2 months have already evaporated!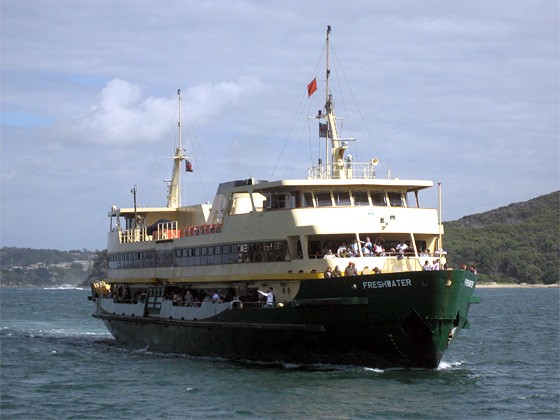 We are currently enjoying the lunchtime concert every Wednesday at the Sydney Conservatorium of Music. Entry is by donation. For the bargain price of $1 you get to enjoy an hour of music by the current students. The last 2 concerts have been really good, a trombone ensemble playing Bach and a percussion ensemble playing the compositions of Steve Reich.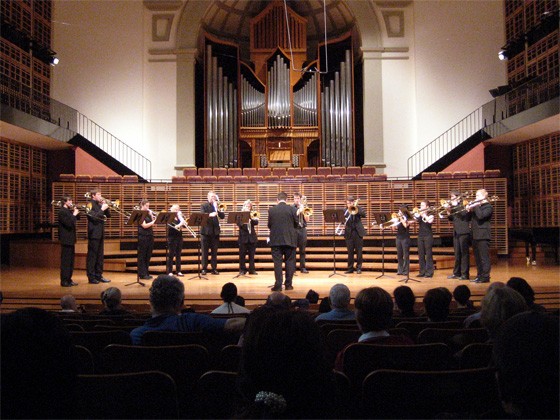 The latter was exceptionally good, with some virtuosic marimba playing. Steve Reich was a pioneer of the minimalism movement during the late 60's and early 70's, and it's a style that really appeals to me - think Brian Eno with classical instruments. It's inspired me to write some new music, and pickup the guitar a little more often than usual.
We have also looked around the Art Gallery of New South Wales, which is situated on the south edge of the Botanical Gardens. It was enjoyable, some notable paintings by the old masters, and a particularly impressive painting of the Crimean War (I should have noted the artist!). They currently have the Archibald prizes on display, including the famous (well over here anyway) Heath Ledger portrait. There was too much to see in one visit, so I am sure we'll go back.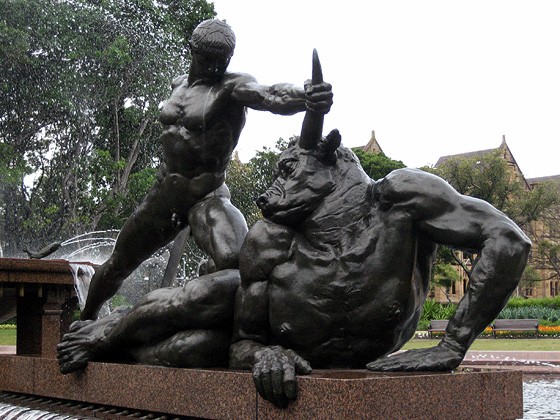 We've also visited the Museum of Contemporary Art, which is near Circular Quay. This was a lot more up my street! I particularly enjoyed the San Diego loaned pieces, especially Paul McCarthy's "Pot Head" (I Googled for a picture but was unsuccessful). Again there was too much to see in one visit, so we will head back there again I am sure.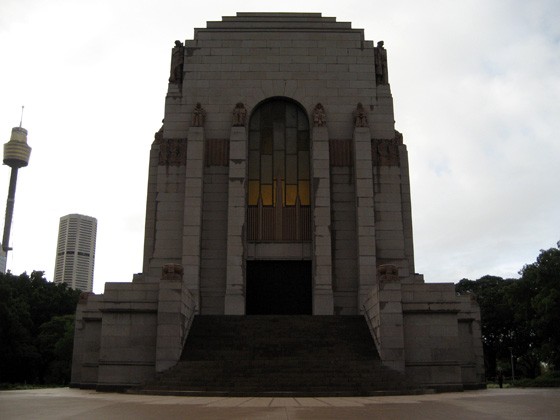 We've become a little more familiar with the CBD, stopping for lunch at a place called Evolution following the lunchtime concert. The centre is pedestrianised, clean and furnished with all of the expected shops. I think it will be a good place to work as most things are within walking distance.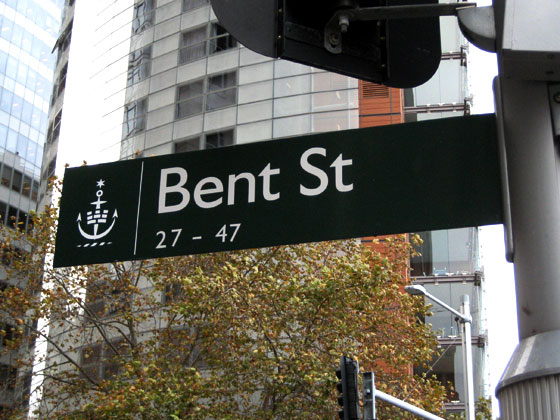 The weather has taken wet a turn for the past couple of weeks. Yet more records have been broken, this time "the wettest April for 40 years". It's painfully obvious that climate change is inescapable. With rain comes the reading, Sarah has been slowly working her way through the eBooks on my eReader. I've been reading up on ANTLR, Spring and NHibernate. I think Sarah's choices are probably more conversation friendly, so I'll leave it like that!
With the cooler weather we have both been out running a few times along the beach at Manly, to Shelly and back again - about 9k in total. Certainly a lot more interesting than running 20 laps around Redcatch park! I've gone out a couple of times on the body board; the waves were too choppy for the long board. Had a couple of close calls, scary enough for me to reconsider what level of bravery is appropriate for 6ft rip curl waves. I guess that's a good thing!
I also wanted to note a few of the differences that we've picked up on between Australia and the UK:
People - Friendly and relaxed. We had one local state "don't take this the wrong way, but ya's both got bee-yoot-ifull teeth"! A rather strange thing to say at random! Apparently people from the UK have a reputation of having bad teeth. Have they been watching too much Austin Powers? Rather odd, but quite funny nonetheless!
Money - The Australian economy seems built on two major items; Iron Ore exports and Financial Services. I'm probably over simplifying, but they regularly feature on news reports. The Aussie Dollar is pretty strong against the pound at the moment, roughly $2.1 AUD for every £1. If we'd have come in 2000 we could have got $3 for every £1!
Housing - Same problem as the UK, not enough affordable new houses being built. Coupled with mortgage rates in the 8-9% region and you can see why most Australians have it pretty rough at the moment. Rental vacancy rates are currently at a little under 1%, with the ideal being around 4%. Good news for buy to let property investors I guess. If you want a house then be prepared for either a shocking mortgage or building your own.
Jobs - I can only really vouch for the IT sector, specifically jobs that match "Senior .NET developer". There seems to be a lot of contracts available, and the rates look promising. Lots of financial sector work, and a few consultancy positions. I've read in a few places that most IT professionals tend to leave Australia as it's considered a bit of a backwater. I can't really comment on that, except that Bristol is probably a bit of a backwater when compared to London! It's a contractors market - no question about that.
Food - Fruit and veg is comparable in price to the UK. Alcohol is more expensive, especially the imported beers. Be prepared to pay the same for a schooner (330ml) as you would a pint (568ml) at UK prices. If you look around you can get a good deal, our local bottle shop sells boxes of Chardonnay for around £10. On the plus side meat is pretty cheap; you can buy a really nice fish fillet or a steak for about £2.50.
Fuel – Cheap. Roughly 70p per litre. However, the trouble is in the fluctuations. It's not uncommon for the price to increase overnight, without warning, by up to 10p per litre. The increases seem to coincide rather suspiciously with weekends and holidays. Apparently the government are putting measures in place to try and monitor and control the fuel companies.
Weather - No doubt it's better than the UK. Aside from the odd wet spell it's coming into autumn now and still sunny and 20+ degrees outside. The air is warm and the sky is clear.
TV - Gernerally rubbish with a lot of adverts. It's mainly old UK and American series - even show repeats of The Benny Hill Show. The editing is laughable and there is plenty of swearing! Neighbours is marketed over here in the same style as Eastenders! We have managed to catch "The Footy Show" a couple of times. It's dedicated to the discussion of Aussie rules football, although they seem to spend most of the show just ripping it out of each other. We know absolutely nothing about the sport but it's probably the funniest thing we've seen on Australian TV, and we aren't sure that it's intentionally comedic.
Language - They have a really funny way with the language - quite hard to explain unless you hear it for yourself. A couple of outbursts we've heard include "that bloke's a GOOSE!" and "He's a bloody mong... not mong as in mongoloid, but street talk for stupid person"... pardon?